AJ and Drey from the "Queer Eye" reboot are engaged, and Twitter is ugly crying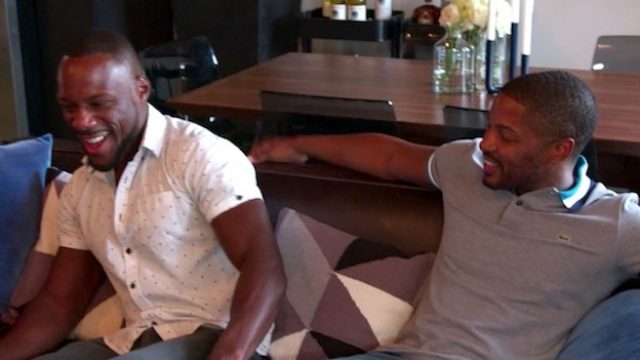 Reboots are back and more fabulous than ever! Ever since Netflix brought back Queer Eye For the Straight Guy, the world has fallen back in love with it. The show, which originally aired on Bravo, had been off the air since 2007. But as we all know, everyone loves a good revival. Netflix in particular is great at bringing back shows we once loved and making them, somehow, better than ever. Along with shows like Sabrina the Teenage Witch, Fuller House, and Lost in Space, Netflix sure has a way to remind us of what we once loved.
The new Queer Eye has been a huge hit, especially with its timeliness. The Netflix version of the show stays true to the original: Five experts assist someone with a "makeover" on their life. In the original Queer Eye, this typically was about clothing and lifestyle. And though the same is true in the reboot, there are slight alterations. For example, the original show was all about the five hosts helping a straight man get his style together. In the Netflix reboot, not all of the men are straight, and the show is certainly more emotional than the original run. Like, we're constantly in tears watching it.
In the fourth episode of the new series, we meet AJ Brown. He needed help coming out to his stepmother because his relationship with his boyfriend Drey was getting pretty serious. In the episode, AJ's stepmother is supportive of his sexuality and even encouraged him, hinting that she has a feeling he might be getting married soon. Well, she sure was right: AJ and Drey are engaged!
We won't even pretend we're not crying over AJ and Drey being engaged. We are absolutely sobbing.
Members of the new Fab Five are thrilled for AJ and Drey.
Naturally, Twitter is beyond thrilled for the happy couple, and for AJ overcoming his fears of losing his stepmother. It's safe to say that Queer Eye has some of the most supportive fans out there.
https://twitter.com/udfredirect/status/966814666067456002
The reactions are full of crying emojis and happy GIFs.
Some people want to know if the cast of Queer Eye will be invited to the wedding. (We hope so!)
https://twitter.com/udfredirect/status/966812887724560384
We so wish there could be an AJ/Drey spinoff. (Netflix, make our dreams come true yet again?)
Congratulations to the very happy couple! We'll be over here crying the rest of the day.