Aidy Bryant is starring in a new body-positive Hulu series, calling it "the show I dreamed of seeing when I was 14"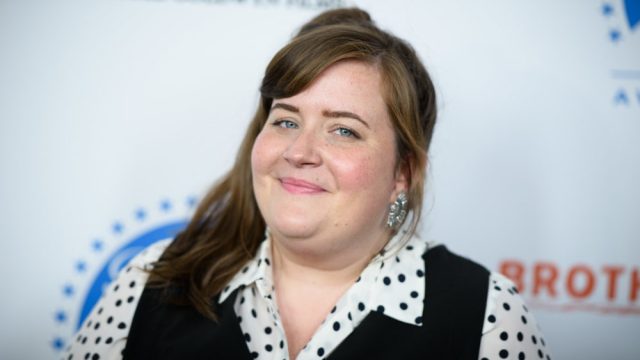 Incredible human Aidy Bryant is once again hitting the small screen, but this time with a brand-new role. The Saturday Night Live comedian is starring in the Hulu adaptation of Lindy West's Shrill: Notes From a Loud Woman. Hulu has ordered six episodes of the series, which is based on the New York Times bestselling memoir.
According to The Hollywood Reporter, Bryant will be playing a "fat young woman who wants to change her life—but not her body. Annie is trying to make it as a journalist while juggling bad boyfriends, sick parents and a perfectionist boss and as the world around her deems her not good enough because of her weight. She starts to realize that she's as good as anyone else, and acts on it."
A story about a curvy woman whose main goal in life isn't to fit into society's impossible standards?! Yes, please.
Even better, Lorne Michaels and Elizabeth Banks are slated to executive produce the comedy, so you know it will be comedic gold.
Bryant took to Instagram Wednesday, August 1st, to announce the exciting news.
"We are working hard to make the show I dreamed of seeing when I was fourteen," she wrote. "A fat woman with a full dynamic life on TV!!! More to come but this is a dream come true and I love you!"
She also promised her fans that her hilarious presence on Saturday Night Live isn't going anywhere: "Ps don't worry! I'm still returning to my beloved @nbcsnl."
We're so excited for this show, and Bryant sounds like the perfect person to bring West's memoir to life.
"I want to do my own damn thing and I also want to be able to have breakfast, lunch and dinner and not be afraid to live my damn life," she once told People Style. "So I can't get into fasting all day to try and survive a certain dress or something like that, it's not going to happen for me."
Hear, hear.