Aidy Bryant defended Amy Schumer's new movie "I Feel Pretty" from backlash saying its message isn't body-positive
Since the trailer for Amy Schumer's new movie I Feel Pretty debuted, the internet has had a mixed reaction. The basic premise of the film is that an "ordinary woman" wakes up after a fall believing she is the most beautiful, confident, and capable woman on the planet. Aidy Bryant appears in the film as well, and defended her decision to act in a movie that many think carries a message that wouldn't hold up to her body-positive values. ICYMI: Schumer described the premise of I Feel Pretty on The Ellen Show as:
"My character Renee, she kind of has low self-esteem and she really wants to be pretty and just feel all the parts of life that open up to you when you're just gorgeous, and then I fall off my bike in SoulCycle and I start seeing myself as a supermodel," Schumer explained.
The internet took offense to the problematic premise that a woman can only achieve true confidence if she has supermodel looks. However, if the movie is any good and delivers on the structure of all movies, Schumer's character will likely come to the realization that supermodel looks and a thin body does not equal happiness, confidence, or true beauty. However, we won't know any of this until the movie is released on April 20th.
https://www.youtube.com/watch?v=cVx9EFK3DWE?feature=oembed
Aidy Bryant shared a photo promoting I Feel Pretty when one eloquent commenter wrote: "I won't be supporting a movie that continues to perpetuate fat phobia and the notion that for a woman to be confident she needs to look a certain (read: thin, white, rich) way."
https://www.instagram.com/p/BgRoOAvnWLV
Bryant replied with the following:
"I hear what you're saying. I encourage you to see the film. I think you'll find that's not the case. I'm very proud to be in a movie that tells the story of someone who believes confidence is directly tied to looks but learns that confidence comes from within. It's a movie I wish I could have seen when I was 14. Through my short time in this industry I have been sent all kinds of demeaning scripts where my body is the punchline. I choose my projects carefully with exactly these things in mind. Change cannot happen overnight and this movie is a step in the right direction."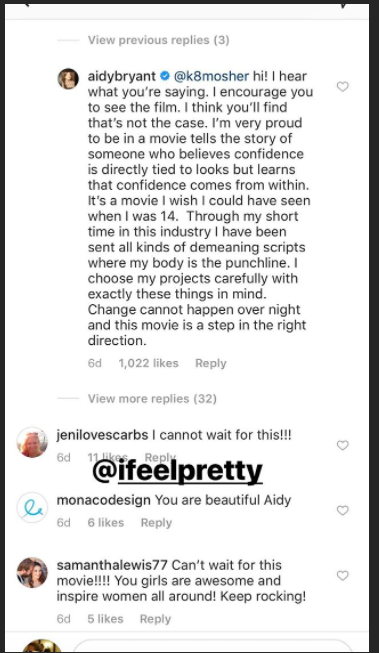 The commenter heard Bryant's plea to "see the film" before pre-judging it and responded with, "given the present moment of the culture/society we live in, I am inspired to ask for better, kinder, and more real portrayals of all women, especially those in marginalized bodies."
Social media critics who have reservations about this film worry that the moral core of the movie is born out of a woman's mistaken belief that she can only be confident if she's supermodel thin and traditionally pretty. Wouldn't it be fantastic if we had movies that didn't revolve around women's bodies, that we didn't have to compare bodies to be able to get to some enlightened moral epiphany? Let's just have movies with people of all shapes and sizes in them and not have their appearance be the axis of story. But to nod to Bryant's point, we haven't seen the film yet, and we trust Bryant's instincts when she signed on to do this film. Art and entertainment will continue to shrink and suffer when we pre-judge someone's work from a two-minute trailer.
Maybe we'll pick this conversation back up after we've seen the film.