We're officially obsessed with Aidy Bryant's *unusual* honeymoon pics, and you will be, too
Forget the beach! Sign us up for an Aidy Bryant-style honeymoon complete with poolside views, amazing weather, and…a trip to a cheese factory. After marrying her comedy writer beau, Conner O'Malley, in April, Bryant trekked overseas for their honeymoon. The newlyweds just toured a cheese factory, and we now know what our ideal future honeymoon looks like.
The Saturday Night Live star posted pictorial proof of their cheesy excursion to her Instagram Story Thursday, May 31st. She and O'Malley donned "condom"-like garb to dive into the world of dairy and see how that good, good cheddar (or maybe parmesan? Gouda? Pecorino?) is made.
Bryant and O'Malley wed almost exactly one year after Bryant announced their engagement on April 27th, 2017, and about 10 years after they started dating. The two began their relationship in 2008 after meeting at the Annoyance Theatre in Chicago where they both were performers.
Now, the newly-formed Bryant-O'Malley family is starting out married life in the best way possible — clad in blue ponchos and hairnets, surrounded by wheels on wheels of cheese. From a hilarious duo like these two, we'd honestly expect nothing less.
"When you love cheese but you have to wear a condom to learn about it," Bryant captioned one of the photos in her Insta Story.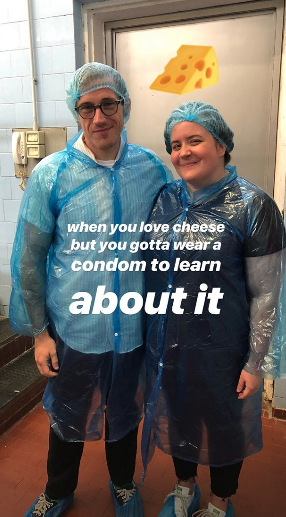 We agree — the whole body condom thing was so worth it. Just look at that gold mine!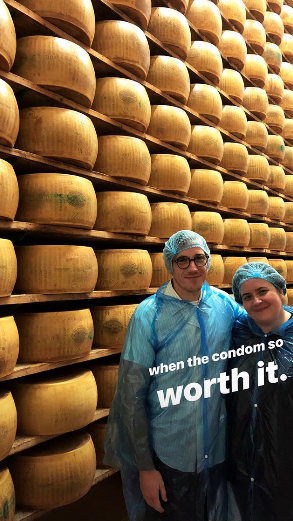 Don't worry — Bryant and O'Malley aren't ~just~ hitting the cheese factory on their honeymoon (even though we wouldn't have a problem with a cheese factory tour-only vacation). They've also been indulging in some of the more luxurious aspects of their destination vacay.
Here's the couple hanging out on what looks like a rooftop pool overlooking lush mountains and a perfect blue sky.
https://www.instagram.com/p/BjSbOyZnMRN
TBH, we're more jealous of the cheese than the pool, but that's just us. We hope Bryant and O'Malley continue to live their best and cheesiest lives during the remainder of their honeymoon.
Congrats, guys!