Aidy Bryant's portrayal of the female astronaut who didn't get to go on the space walk is so frustrating and so perfect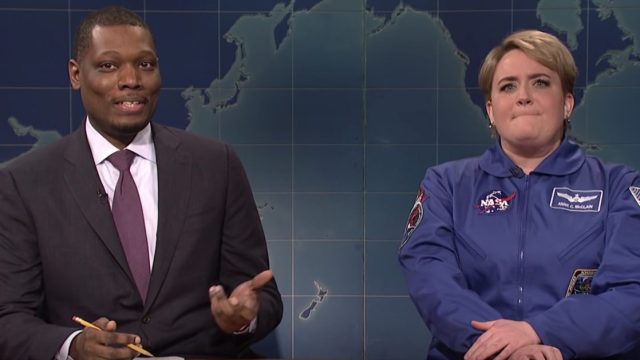 We were thrilled last month when NASA announced the first all-female spacewalk in history, which felt like a giant leap forward for womankind (especially during Women's History Month). So we were beyond disappointed when NASA revealed the all-women mission was no longer a go because there weren't enough spacesuits for the female astronauts.
On the March 30th episode of Saturday Night Live, Aidy Bryant played Anne McClain, the esteemed astronaut who won't get to go on the would-be historic walk. Michael Che interviewed Bryant as McClain, noting that simply going into space is an "amazing accomplishment" on its own. Bryant/McClain clearly attempts to mask her extreme rage and disappointment in an effort to not seem "difficult" (which almost every woman on the planet can relate to).
Watch the moment below:
Insisting how NOTmad she is by the injustice, she says, "They can make a special space suit for a dog, or a special space suit for a monkey, but human girl? Only one get to be moon queen! Addressing "all the little girls out there," she said, "you can all become astronauts, just not at the same time."
We don't know whether to laugh or cry at this genius bit, but here's hoping NASA takes notes and starts leveling the playing field for all of their astronauts soon.