Standing ovation! These 25 African American ballerinas paved the way for Misty Copeland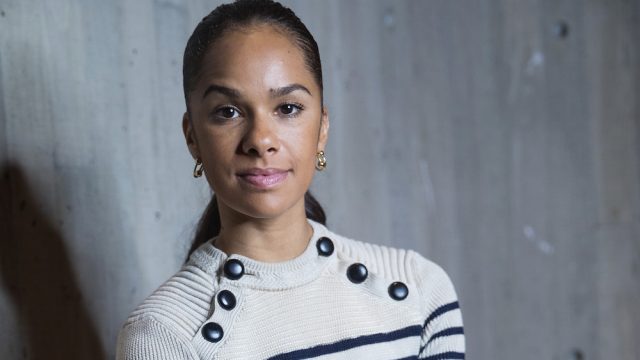 In 2015, Misty Copeland made history — becoming the first African American prima ballerina of a major international company, American Ballet Theater (ABT). Since then, she continues to inspire and amaze. Aside from her work onstage, she is incredibly generous in sharing her love of ballet — especially with the next generation of African American ballerinas — through mentorship and involvement in Project Plié, which encourages diversity in ballet.
Her most recent book, Ballerina Body, includes an excerpt from Copeland's journal, in which she discusses the first time she heard about the African American ballerinas who came before her:
"When I joined ABT at 19 years old I knew I was passionate about ballet and that I was also different. I was a mixed-race woman with just over 5 years of ballet training under my belt ... After about 6 years in the company, the article was written, The New York Times' "Where Are All the Black Swans? It hit me harder than I ever imagined. I learned of ballerinas I'd never heard of. Why didn't I know who they were? Why aren't they a recognized part of ballet history?
Very few dancers of any ethnicity reach the highest levels of ballet, but it is hard to know how many African American dancers might have succeeded were it not for segregated dance schools, outright racism, and, even in recent history, more subtle forms of exclusion. In order to continue as professional dancers, many African American ballerinas turned to other forms of dance, while some joined African American ballet companies like Dance Theatre of Harlem.
As Copeland has expressed many times in books and interviews, representation and mentorship matter. With this in mind, here are some of the African-American ballerinas who should definitely be recognized for their place in ballet history (and history in general):
1Raven Wilkinson
In 1955, Wilkinson was the first African American to be part of the illustrious Ballet Russe de Monte Carlo. Misty Copeland told Vanity Fair that when she saw this picture of Wilkinson, she "cried upon hearing a history I didn't know much about," but that she "found comfort in knowing that there was someone else out there like me who had danced in an elite 'white' company and faced adversity. This sparked something in me that made me feel that I had a responsibility beyond my own ballet career: a responsibility to be a voice, a representation of hope for future and past brown ballerinas."
2Janet Collins
When Collins auditioned for the Ballet Russe de Monte Carlo, she was told she would have to perform with make-up to make her skin lighter. She refused, but went on to build a long, successful dancing career on her own terms. Collins was the first African American artist of any discipline to perform at the Metropolitan Opera House and was the first African American prima ballerina for the Metropolitan company.
3Carmen de Lavallade
The cousin of ballerina Janet Collins, de Lavallade was also among the first African American artists to perform at the Metropolitan. With her husband, the performer/director Geoffrey Holder, she has continued one of the longest, most successful dance careers in America. Following his death in 2014, she continues to perform — and in 2016, she presented her well-received multimedia solo dance project, As I Remember It.
4Judith Jamison
Jamison is best known as an innovative modern dancer with the Alvin Ailey American Dance Theater — an African American dance company begun by a former classmate of Carmen de Lavallade — but she actually began her career as a ballerina. Today, she is artistic director emerita at Alvin Ailey. She is internationally famous and was also inducted into the Hall of Fame at the National Museum of Dance.
5Debra Austin
Austin was hand-picked by the famous director George Balanchine to be the first African American ballerina in the New York City Ballet. After her time there, she danced in Zurich, Switzerland for several years. When she returned to the U.S., she became the first African American chosen as principal dancer for an American company, the Pennsylvania Ballet. She is currently the ballet master at Carolina Ballet in Raleigh, N.C.
6Lauren Anderson
In 2007, The New York Times mistakenly identified Anderson as the first African American principal dancer for an American company, though she was named principal dancer for the Houston Ballet eight years after Debra Austin's appointment to the Pennsylvania Ballet. But that mistake doesn't take away from Anderson's successful dance (and now teaching) career. In a 2016 article, she commented on how African American accomplishments are often covered by the media: "I've noticed – and it's not just with dance, it's not just with me, it's not just with Misty – but it seems like there can only be one doing this at a time … And actually, there have been quite a few dancers of color that have done principal roles."
7Aesha Ash
Ash joined the New York City Ballet at 18 and has since performed internationally in solo and principal roles. She grew up in Rochester, N.Y., in a high-crime neighborhood. Today, she commissions portraits, like the one shown in her own neighborhood and others like it. The sale of the portraits benefit The Swan Dreams Project, an organization which works to dismantle stereotypes placed on black women. "Ballet embraces the soft, ethereal and majestic side to women, and yet we often don't see the media portray black women in this light," she said.
8Anne Benna Sims
It is HARD to find more than basic information about Anne Benna Sims on the internet — which is odd because she played an important role: In the 1970s, she was the first African American ballerina to dance for the ABT and then became their first African American soloist. Moreover, she was outspoken about the role race (and racism) played in her career, even while she was in the middle of it. She's certainly a woman we should all know about.
9Nora Kimball
Misty Copeland credits Kimball as the first ABT soloist, saying that Anne Benna Sims was only in the corps de ballet (the large group of dancers that do not perform solos). What is certain is that after her time at ABT, Kimball became a successful soloist in the '90s with German and Dutch companies. Today, she teaches in Frankfurt, Germany. Kimball, whose full name is Nora Koito-Kimball Mentzos, is also Asian-American.
10Virginia Johnson
Johnson was a founding member and principal dancer with Dance Theatre of Harlem, where she is the artistic director today. She also founded POINTE magazine and was editor-in-chief from 2000-2009.
11Delores Brown
Brown joined the American School of Ballet at 14 with a goal of eventually joining the New York City Ballet. But, like so many students, she had to work to support herself, and the strain became too much. She dropped out, but a few years later, in 1957, she became a member of the New York Negro Ballet. She danced several important roles as the company toured the world, but when its patron died unexpectedly, the company was forced to close. She went on to teach for Joan Myers Brown's PHILDANCO! (Philadelphia Dance Company) and Alvin Ailey American Dance Theatre.
12Joan Myers Brown
When Brown was growing up, only one dance school — Essie Marie Dorsey's — was available for African American students, and that is where she began training. Inspired by Janet Collins (to whom she wrote fan letters), Brown did all she could to become a ballerina in a time of segregation, but she eventually had to settle for nightclub dancing.
In 1960, she founded PHILDANCO!, The Philadelphia Dance Company, to keep the same fate from happening to other young dancers. It is still going strong today and is only one way she continues to support dance. In 2012, she received the National Medal of Arts from President Barack Obama.
13Essie Marie Dorsey
Dorsey founded one of the first ballet schools for African American students in Philadelphia, and many of her students — some of whom are on this list, like Joan Myers Brown and Marion Cuyjet — went on to become successful ballerinas, directors, and instructors.
14Thelma Hill
In 1954, Hill co-founded the New York Negro Ballet Company with Ward Fleming. She served as a dancer and later co-director of the company until it closed. She then helped form a dance troupe that would eventually become the famed Alvin Ailey Dance Theater. After an injury forced an end to her dancing, she taught for many years. After her death, the Thelma Hill Performing Arts Center in New York City was named in her honor.
15Marion Cuyjet
Cuyjet trained with Essie Marie Dorsey, and she eventually founded her own dance school in Philadelphia for African American students during segregation. One of her most successful students, Judith Jamison, writes in her biography, "She looked Caucasian and rented studio space that landlords would not rent to a person they thought was black. She broke the color barrier and was constantly evicted once black children were discovered on the premises; she had to move her school seven times."
16Ella Gordon
It is not easy to find information about (or a picture of) Ella Gordon, but what is known is that, in 1919, she founded her school of dance for African American students — possibly the first one in the country. Many of her students went on to dance and teach, such as Ruth Williams, whose dance studio marked its 50th anniversary with a performance at Lincoln Center.
17Betty Nichols
false
(Note: We could not find a usable image of Nichols, so instead we give you this empowering quote from Misty Copeland.)
Nichols was famed choreographer George Balanchine's muse and toured with him in Europe before he founded the New York City Ballet. In a 2013 interview, she said, "I started at the School of American Ballet, probably in 1943. I was the first black in the school. I knocked on the door and presented myself. I thought there was considerable surprise, but the door was opened, and that was it."
18Victoria Rowell
Rowell grew up on a farm as a foster child, teaching herself ballet from a book with the support of her foster mother. Eventually, she earned a spot with the ABT II, a training company for young dancers which tours nationally. She eventually danced with Ballet Hispanico of New York and the Twyla Tharp Dance Company.
After her dance career, she focused on modeling and acting. She has appeared in many television series and movies, including Home of the Brave with Samuel L. Jackson.
19Robyn Gardenshire
Gardenshire began dancing in her native Los Angeles, but she moved to New York to join the ABT at the request of famed dancer Mikhail Baryshnikov. She helped begin the ABT's diversity committee to introduce minority children to classical dance. She founded the City Ballet of Los Angeles in 2000.
20Andrea Long-Naidu
Long-Naidu spent eight years with the New York City Ballet, and then joined the Dance Theatre of Harlem in 1998. She toured internationally as principal dancer, and she is currently on the faculty of City Dance in Bethesda, Md.
21Tai Jimenez
Jimenez began her career as principal dancer with the Dance Theatre of Harlem (DTH). At the time, she was the only DTH dancer to transition to a principal spot with a major company, the Boston Ballet. She has since appeared on Broadway and in movies. Jimenez is also a writer, choreographer, and teacher.
22Frances Taylor Davis
Davis is best known as the wife and muse of famous musician Miles Davis. Prior to that marriage, which ended with abuse that took a toll on her career, Davis was the first black dancer to perform with the Paris Opera Ballet in 1948. In Don Cheadle's 2015 biopic Miles Ahead, she is played by Emayatzi Corinealdi.
23Stephanie Dabney
Dabney performed with the Dance Theatre of Harlem, with whom she premiered in a new production of The Firebird in 1982. She is best known for performing the Firebird role as part of the opening ceremonies for the 1984 Olympics in Los Angeles.
24Debbie Allen
Allen is best known as an actress portraying a dance teacher in the iconic '80s television show Fame and Catherine Avery in Grey's Anatomy, but she began her career as a ballerina. After initially being denied admission because of her race, Allen became the first African American dancer at the Houston Dance Foundation. After graduating from Howard University, she went on to perform on Broadway and in film.  In 2001, she opened the nonprofit Debbie Allen Dance Academy in Los Angeles to help train the next generation of dancers.
25Katherine Dunham
Technically, Dunham was not a ballerina — but most of the dancers on this list were influenced by the teaching technique that bears her name. Her list of accomplishments is long and includes being one of the first African American women to earn a doctorate at the University of Chicago. She used her degree in anthropology to travel the Caribbean, studying dance and writing scholarly papers. She founded the Negro Dance Troupe upon her return to the U.S., and went on to revolutionize American dance in the 1930s by incorporating African and Caribbean movement into choreography.
All of these ballerinas (along with male dancers) went through so much just to practice, further, and share their art. Dancer Teresa Lynn Howard launched the digital platform Memoirs of Black Ballet in 2015 to document this part of American history, and we hope it continues to fill with the stories of these dedicated artists.