Under 10k weddings: A Ghanaian-Jamaican wedding complete with a caricature artist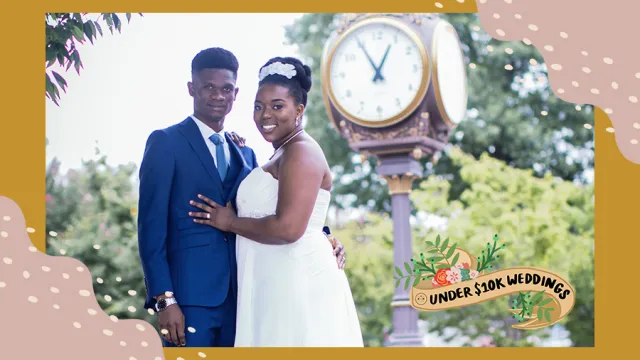 The average cost of an American wedding is more than $30,000. For many of us, that's an impossible sum—and it overshadows what should be one of the happiest times in our lives. But it doesn't have to be that way. Getting married can cost as little as the price of a marriage license from city hall! So we're celebrating those affordable weddings, those Under $10k Weddings—because a beautiful wedding should be accessible to everyone who wants one.
I met my now-husband in 2017 at a bar in Washington, DC when he offered to buy me and my friend a drink. After the first date, I knew he was someone I could spend the rest of my life with. A few months later, I knew he was the one I would spend the rest of my life with. In 2018, we started planning a wedding. We both come from cultures where the community is expected to be part of the ceremonies, whether you're close with them or not. My Ghanaian mother who has enviously sat through dozens of extravagant weddings wanted traditional Ghanaian wedding attire of authentic Kente, and lace outfits flown in from Ghana, a wedding party of dozens of cousins, and a massive venue where she could fit all her friends to watch her only daughter get married.
With all that taken into consideration, a few days browsing on Pinterest and Bella Naija Weddings had me tallying upwards of $30,000 on a wedding. But why pay all that money for what is ultimately just one weekend in a new lifetime of weekends? Oneil and I talked it over and decided we didn't want to lose out on giving our friends and family a good time, but we were going to keep our budget tight. Here are all the ways we slashed our wedding costs to around $8,000 and still provided an amazing experience for over 150 attendees.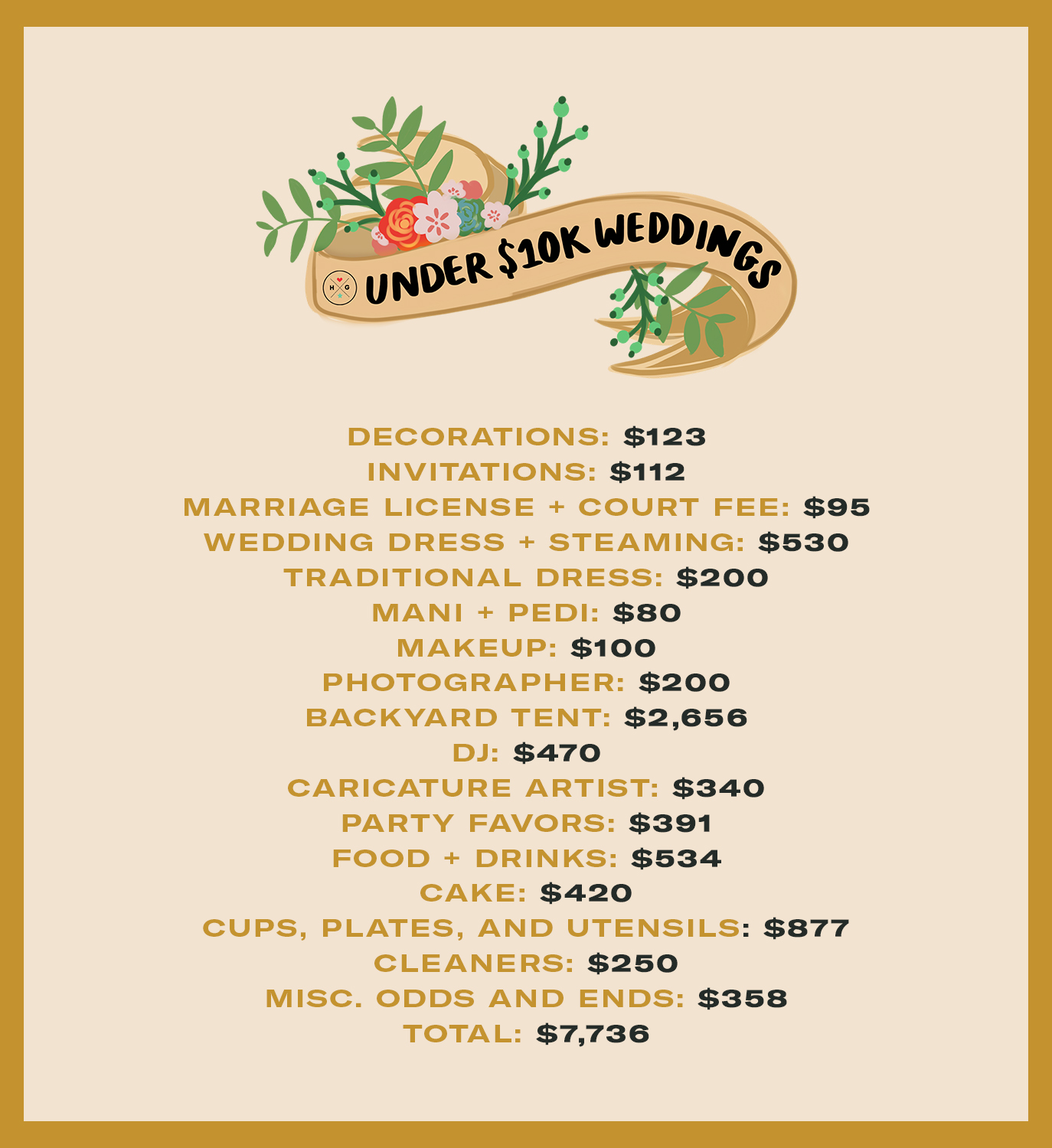 How we afforded a wedding under $10k:
We split our wedding up across two days; we did our nuptials at a courthouse with our immediate family and closest friends and then threw a party in my father's backyard the next day. We focused our budget on the party since the courthouse wedding cost only $1,100, including the costs of our wedding outfits. 
What our biggest expense was:
With the reception being held at my father's house, our biggest expense was the backyard setup. We worked with a tent company who was able to help us pick out a covered tent that fit perfectly in my dad's medium-sized backyard. We were able to rent a dance floor, string lights, chairs, tables, and tablecloths from the company too. They pitched the tent, set everything out, and came to pack it all up for a little less than $3,000.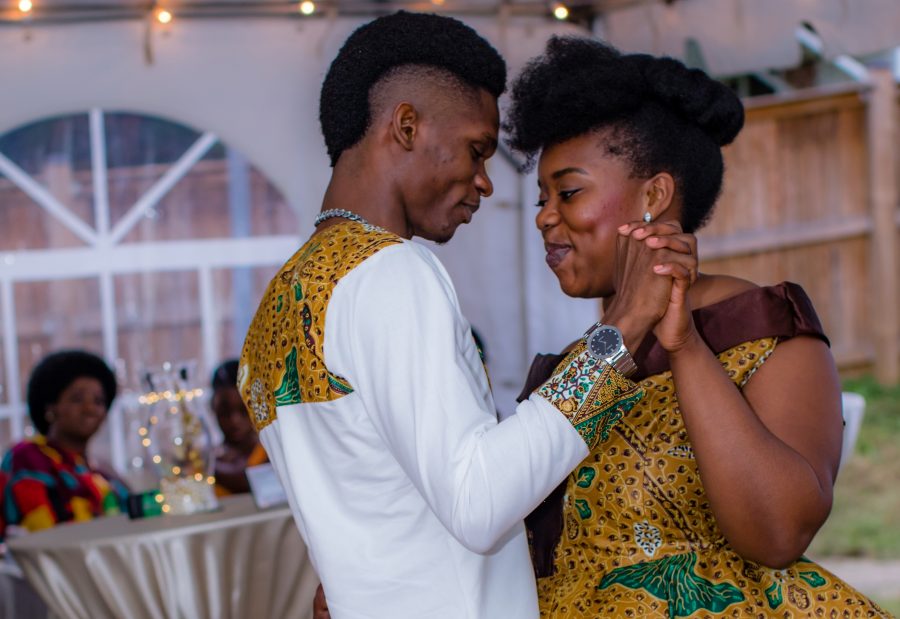 Where we cut wedding costs:
Wedding cakes gave me sticker shock! I knew they were expensive, but I still couldn't have imagined what I was being quoted. We skipped a cake altogether and opted for cupcakes from a local up-and-coming baker. We got all of our invitations from Staples, and we bought a ton of alcohol and had our cousins take turns serving as bartenders. A college student did my makeup on the wedding day. I did my own hair for the party and I practiced different hairstyles for months until I found one I liked and could do comfortably on my own. 
What we splurged on:
My one splurge item was a caricature artist. I have a weird obsession with caricatures and have multiple from different stages of my life. Since I love them so much, I really wanted to gift them to the people I love. My mom and husband thought it was a frivolous expense considering what a penny-pincher I am, but the artist was at our party for four hours and did dozens of drawings for our guests. I was surprised at how many people had never had one done. It was a big hit! People liked that as a party-favor better than the actual party favors!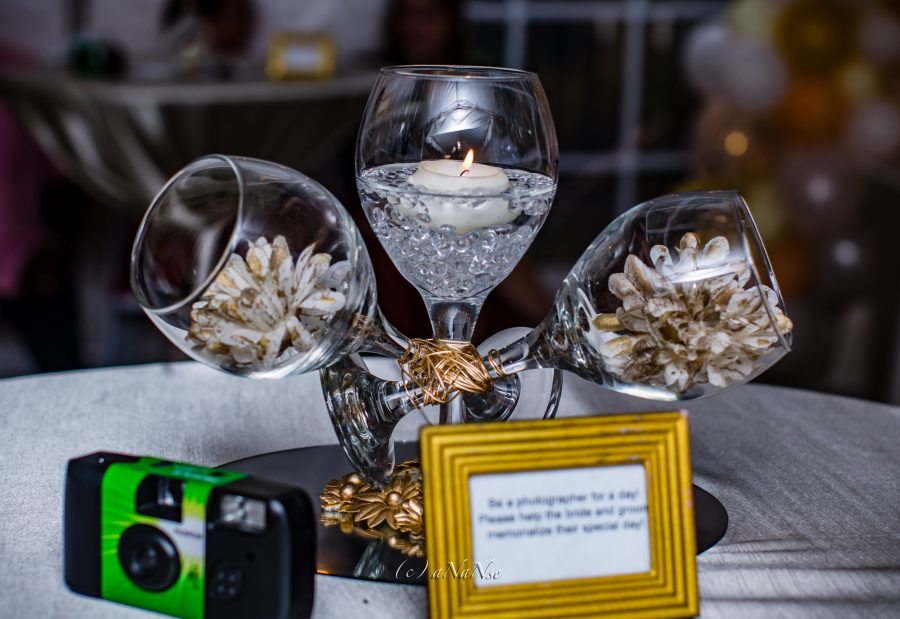 How our family and friends helped:
It was all hands on deck to pull this off. My aunt and my husband's friend covered food. Both of them are professional caterers who wanted their services to be our gift. We basically paid them for the ingredients. Our cousins and friends helped us clean, decorate, run errands, transport food, and more. One of my best friends gifted us her event planning services and most of the decorations. We also had a family friend who gave us a steep discount on two days of photography.  
What we regret spending on, and not spending on:
My husband still says he wishes he hadn't spent so much money on his suit. It was about $500. We know now that if we shopped more, he could have purchased a suit of comparable quality for less. Additionally, to our regret, our primary wedding favor was a wine bottle stopper. Meanwhile, the caricature art wound up being a surprise favorite wedding favor! I wish I'd hired the caricature artist for longer and got rid of the wine stoppers altogether—if I'd done that, we would have been able to afford him all day and so many more people could've had their pictures drawn. I also wish we'd spent a little more money on food. I asked my aunt not to overcook as is her tendency. Turns out that even with her overestimate, a few of the favorite food items ran out. I can't blame my guests though, everything was delicious!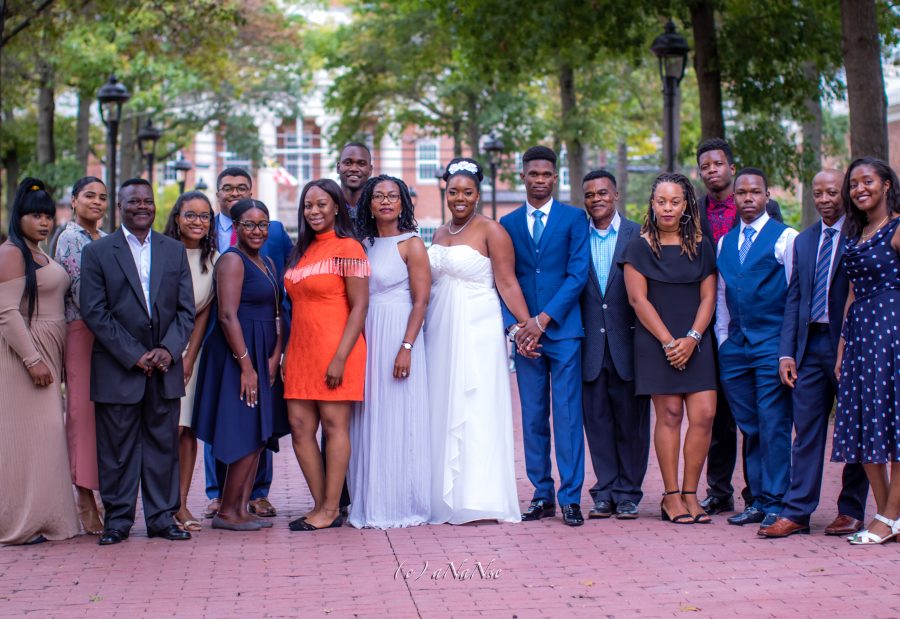 How we brought our culture to our wedding:
In both of our cultures, the wedding is for the community. We made sure that we planned to accommodate the many unexpected, but welcomed guests. We didn't wear authentic Kente as is typical in a Ghanaian wedding, but we wore matching Ankara print outfits for our introduction as man and wife. The food served was a combination of favorites from Ghanaian and Jamaican culture: we had curry, jerk chicken, and oxtail, alongside jollof rice, waakye, and puff puff desserts. And of course, there was music. Our DJ was amazing! He had so much knowledge of the latest Afrobeats, dancehall, soca, and hip-hop. He even threw it all the way back to highlife music. My aunties were up dancing throughout the night. 
It was an amazing two days and my mom, despite all her visions of grandeur, admitted to me that she's so glad I took my own route. Apparently her friends were still telling her how lovely it was.
My advice to anyone looking to save on a wedding is to not think about anyone else's opinion. None of it will matter the next morning and certainly not throughout your marriage.