Under $10k Weddings: Kris and Iris's sweet San Francisco wedding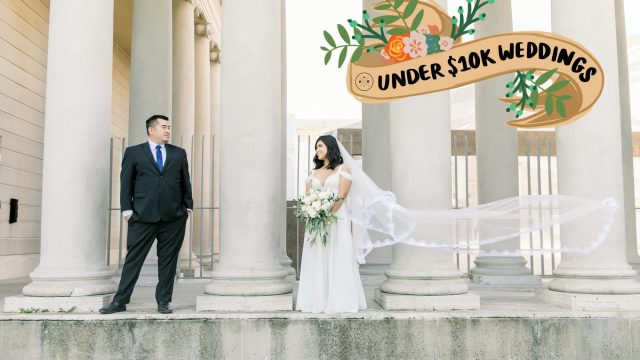 The average cost of an American wedding is more than $30,000. For many of us, that's an impossible sum—and it overshadows what should be one of the happiest times in our lives. But it doesn't have to be that way. Getting married can cost as little as the price of a marriage license from city hall! So we're celebrating those affordable affairs, those Under $10k Weddings—because a beautiful wedding should be accessible to everyone who wants one.
An affordable San Francisco wedding? Yes, it's possible! Los Angeles-based Iris and Kris Pyland are proof.The longtime couple, who run several businesses together, tied the knot on October 18th, 2018, their ninth anniversary, with their little son and close family and friends by their side at the Palace of Fine Arts in San Francisco. The price for the gorgeous affair was well under $7,000.
"We had both been married before and we wanted to take it slow to make sure we were really right for one another," says Iris. "We originally wanted a bigger wedding, but considering we had already been together for so long—started a family, bought a house, cars, and started businesses together—we realized that this was really just a formality. We decided it would be best to have an intimate wedding with our closest friends and family as we didn't feel the need for all the pageantry. Plus, really, it's expensive."
She adds, "One of the best things about having an intimate wedding is that less time is needed to entertain your guests  and more time can be spent relaxing and enjoying everyone's company."
Sounds like a perfect day.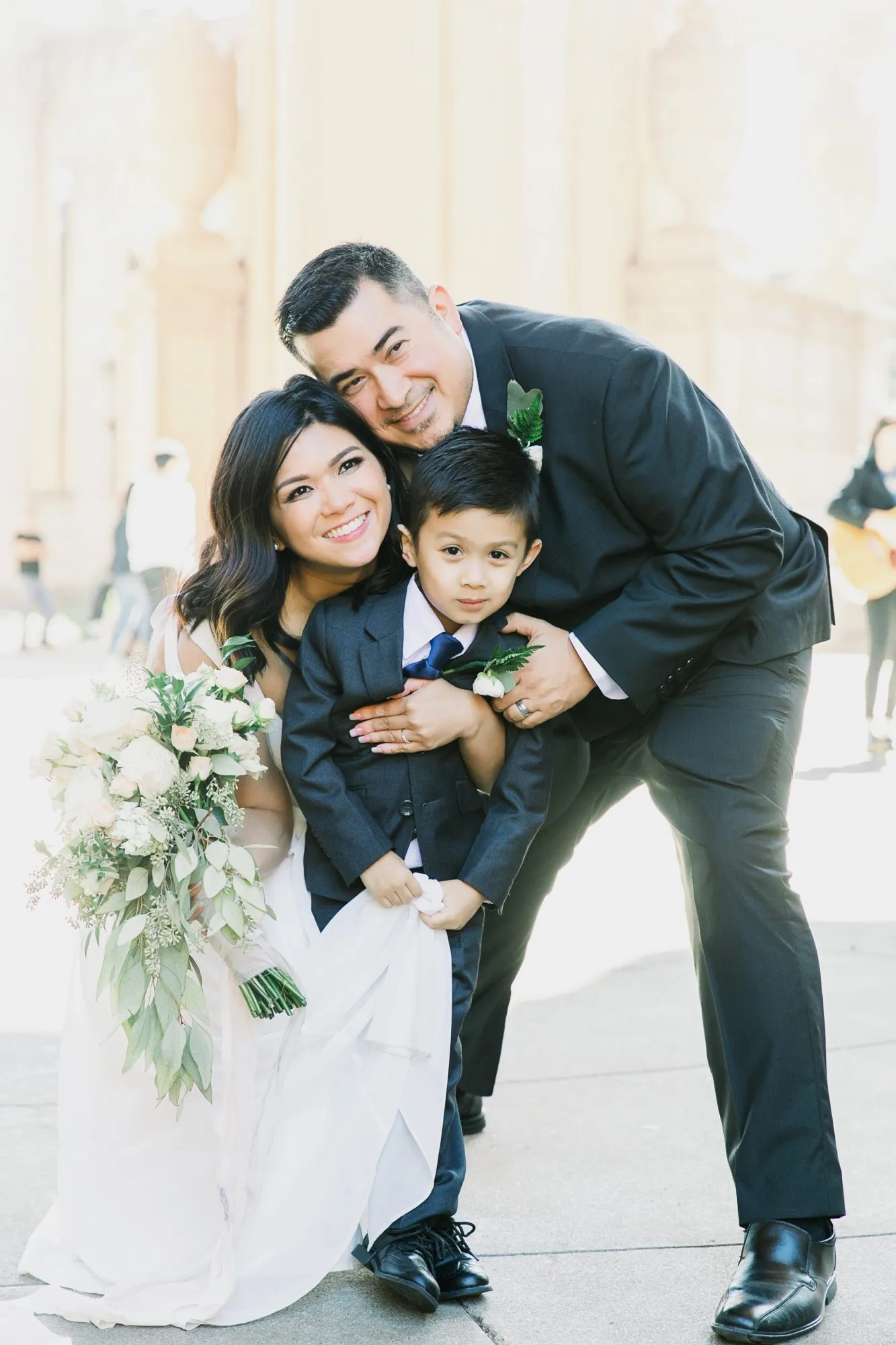 To plan their dream wedding, the Pylands first decided where they wanted to focus their budget; location, photographer, videographer, and food were their top priorities.
"We decided to get married at Palace of Fine Arts in San Francisco. I have been fascinated with that place after seeing it in a Filipino movie as a child. It was one of my first images of America that is seared into my head," says Iris. Having high-quality keepsakes from their wedding was important, too, so they didn't want to scrimp on a photographer or videographer. And as for the food, they landed on taco catering. Says Iris, "We are a very laid-back couple. We wanted the reception to reflect that. And hey, tacos."
Kris and Iris (who also goes by Michelle) cared less about blowing their budget on formal attire (though Iris wishes she'd had the budget for her dream dress, she ended up getting her gorgeous gown on sale from Lulus). They also had a genius way to keep the cost of their wedding cake down: "I plan a lot of parties, so I figured out that instead of buying a 'wedding' cake for $250+, I can just buy an 8" and a 6" cake, cut some boba straws to the right height, and assemble my own wedding cake," Iris explains.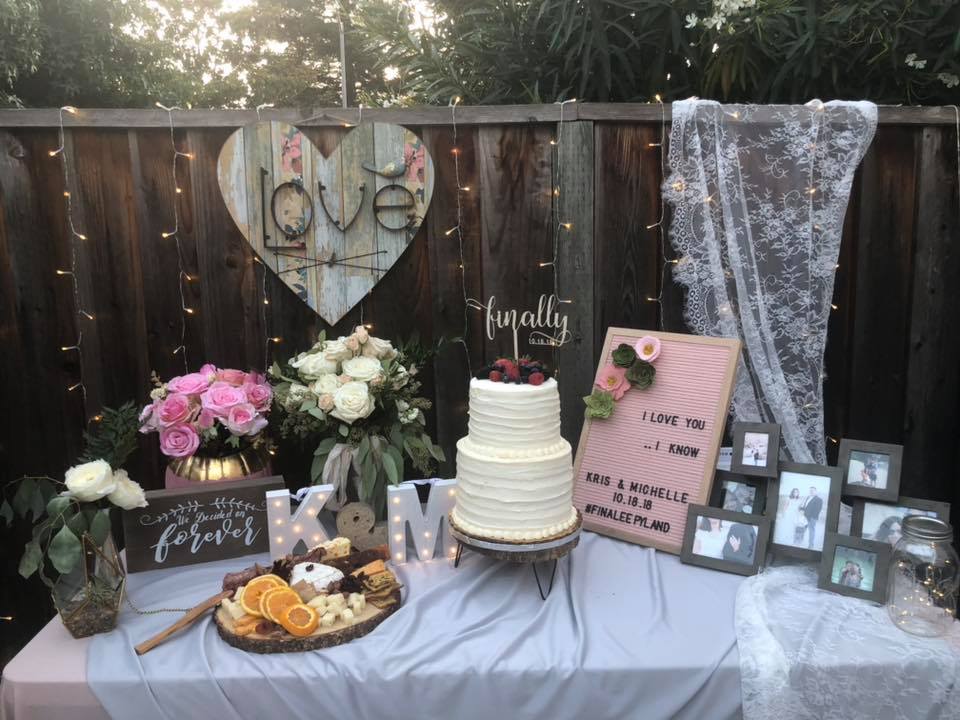 The couple got a few things for extra cheap or free, including the reception venue (Kris's brother's backyard), decorations (borrowed from Iris's office), invites (they went digital and did a few print invites at Kinko's using a design from a friend), and hair and makeup (Iris is a professional makeup artist). They also took advantage of the photographer and videographer's cheaper elopement packages, hiring both of them for just four hours rather than the 12 hours usually required for weddings.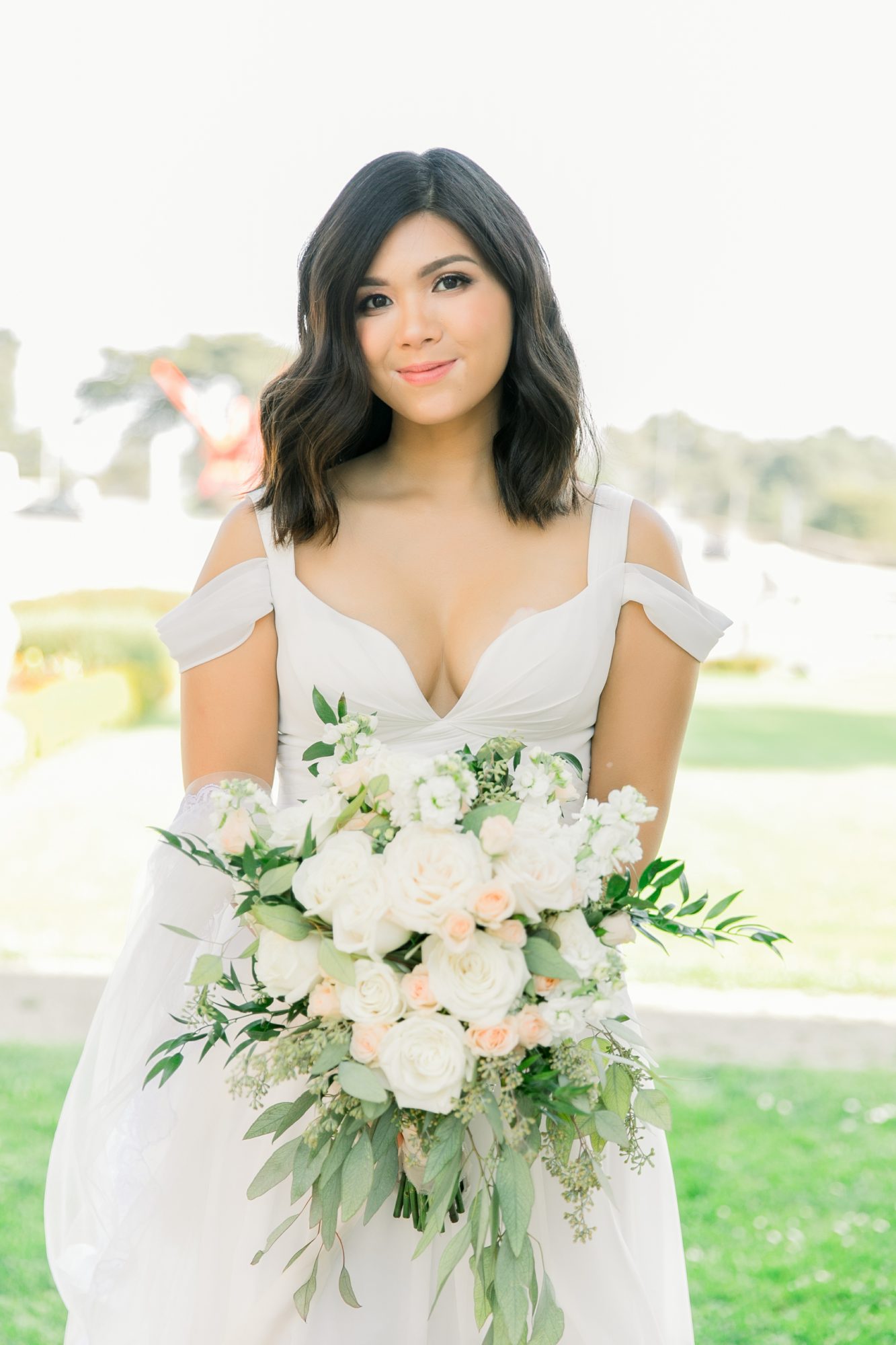 For the Pylands, the best part of their day happened before they said "I do." Says Iris, "[We loved] grabbing breakfast croissants and iced lattes together in a small café while in our wedding attire just to have that moment of piece and intimacy before the day began. It was an affirmation of our normal life and a reassurance that our relationship was just as strong as ever."
Iris's advice to other couples throwing a wedding on a budget is simple, but important. "Remember that this is about the two of you, not everyone else," she says. "This is YOUR day. Invite people to celebrate with you. In the end, no one will remember the food, nor the decorations, they will remember that they were there for YOU."