How to shop for high-quality yet affordable jewelry, according to experts
Unlike most clothing hanging in your closet, jewelry is worn year-round and for that reason alone, it's worth investing a little more cash into staple pieces. That said, many of us don't have the budget to pack our jewelry box with sparkling diamonds and real gold baubles yet. But although a lot of nice jewelry is pricey, you don't have to spend a fortune for high-quality and expensive-looking pieces.
Shopping for affordable jewelry that looks and feels high-quality can be a tricky dance—labels like gold-plated, gold-filled, and imitation gemstones can be confusing to the amateur shopper. But it's important to know what these terms mean before you spend your money. To help you shop for cheap jewelry smartly, we tapped experts to explain the meaning behind jewelry labels, how to best care for your jewelry, and how to keep your cheap jewelry looking new longer.
What is the difference between gold-plated and gold-filled jewelry?
Although they sound similar, gold-plated and gold-filled jewelry are very different, and they both have pros and cons. According to Kim Kanary, a certified Diamontologist and Vice President of Community Development & Engagement of JTV, gold-plated jewelry has a thin layer of gold on its exterior and is made of a less expensive metal (such as copper, bronze, or silver) at its core. Gold-filled jewelry, on the other hand, has a much higher gold content, making it much pricier—and also higher-quality—than gold-plated jewelry.
"Gold is more scratch-resistant and stronger than silver and other alloys often used in jewelry, so a thicker layer of gold will generally result in a more durable piece," Kanary says.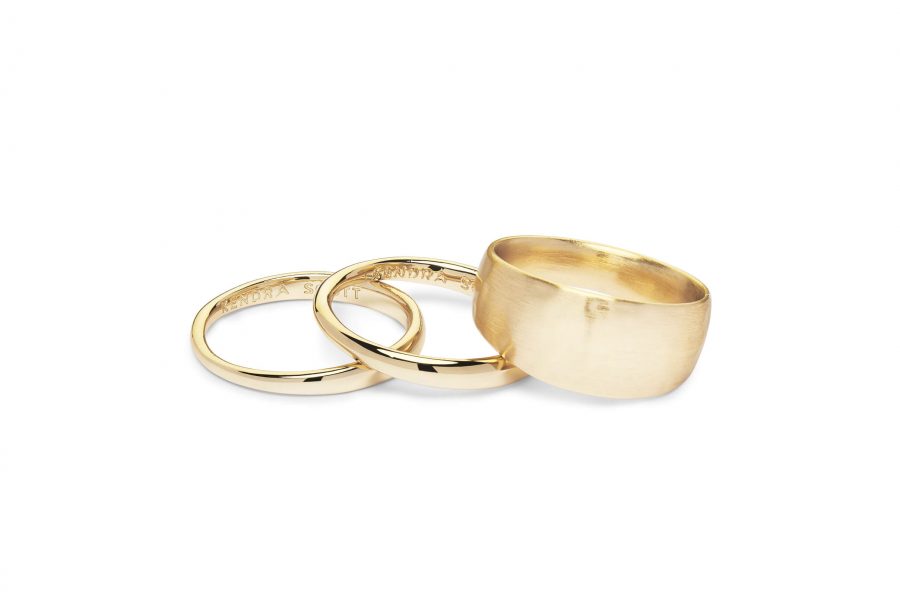 This Kendra Scott Terra Ring Set is a trio of minimalist, geometric rings perfect for everyday wear. They're made of 14k gold-plated brass and can be worn on separate fingers or stacked for extra impact.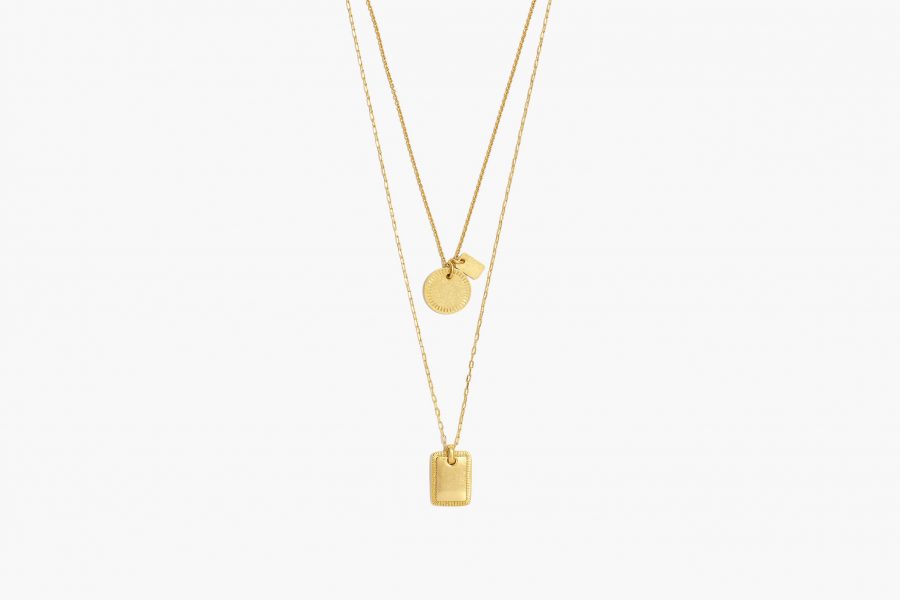 Layered necklaces are all the rage right now, and this Etched Coin Necklace Set from Madewell is the perfect gateway into the trend. Get two necklaces for the price of one with this set made of gold-plated brass, freshwater pearl, and cubic zirconia. The rectangular pendant is a unique twist on popular round coin pendants, which are popping up everywhere at the moment.
What is gold-plated sterling silver jewelry?
When you read that a piece of jewelry is made of gold-plated sterling silver, you might wonder what that mouthful means. This type of jewelry is sterling silver at its core, with a layer of karat gold on its exterior. "Gold-plated silver jewelry generally will be less expensive than its all gold counterpart, but the gold plating will still provide a luxe golden look that people love," Kanary says. Another bonus: Silver is less dense than gold, so if you prefer lighter pieces of jewelry (heavy earrings can be a pain) gold-plated sterling silver is a great option.
Another choice is to purchase sterling silver with a podium plating, which will give the piece more of a white gold appearance, according to Madeline Fraser, founder and CEO of Gemist. "Gold-plated items are affordable, strong, and durable," Fraser says. "The cons are that it will tarnish if it comes in contact with water too often, or if the oils in your skin break it down. Some skin types will add to the tarnish of gold-plating more than others." Also, be careful not to spray perfume directly onto gold-plated necklaces, since the chemicals might cause premature tarnishing.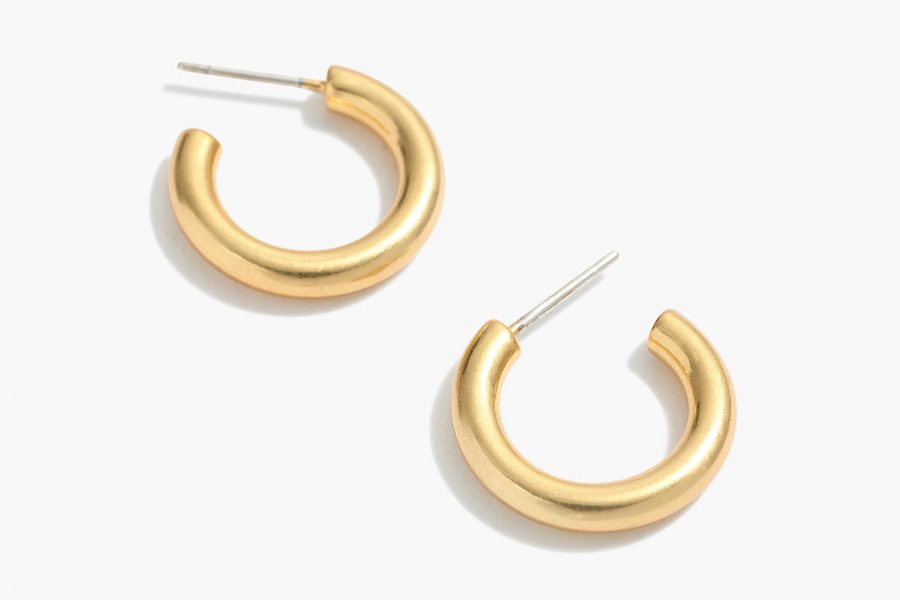 These Chunky Small Hoop Earrings are the perfect size for a subtle touch of gold and are small enough to be paired with a statement necklace.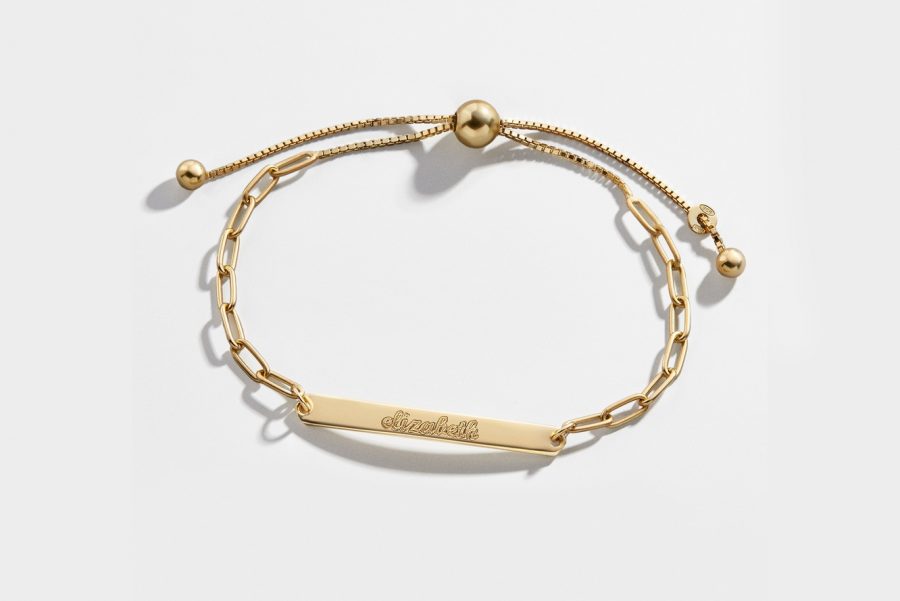 Engraved pieces of jewelry always make for meaningful gifts or are simply a nice way to treat yourself. This Engravable 14K Gold Vermeil Hera Pull-Tie Bracelet from BaubleBar combines several trends: a paperclip chain, a slim bar, and a pull tie. Made of gold-plated sterling silver, this bracelet will resist tarnishing and won't weigh down your wrist.
What are low-cost alternatives to diamonds?
You know the saying "diamonds are a girl's best friend," but let's be honest, many of us can't afford them. Some low-cost alternatives to diamonds that will offer you sparkle without the splurge are white sapphires and moissanite, according to Fraser. "They are a fraction of the cost and give off a very similar effect and shimmer as diamonds," she says. In terms of durability, Kanary notes that moissanite resists scratching more than any other gemstone, aside from diamonds. 
Kanary also recommends other affordable alternatives like white zircon, cubic zirconia, and strontium titanate. "If extreme sparkle is your preference, strontium titanate is a lesser-known alternative that comes at a more affordable price point than diamonds," Kanary says.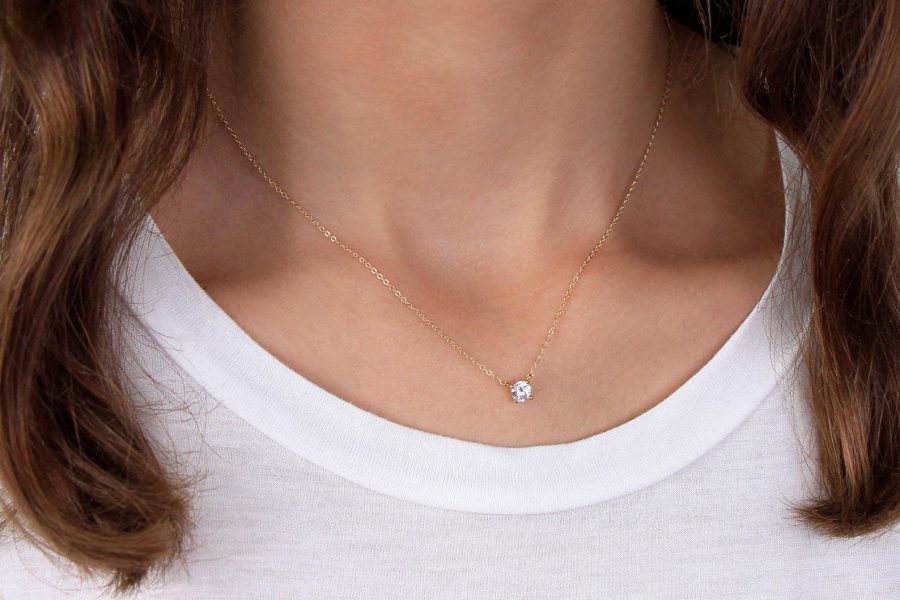 You can't go wrong with a simple, delicate necklace like this Solitaire Cubic Zirconia one from Etsy. Choose between a gold-plated, rose gold-plated, or silver-plated chain for $18, or spend $28 for a gold-filled or sterling silver chain. This piece is perfect for layering with chunkier necklaces.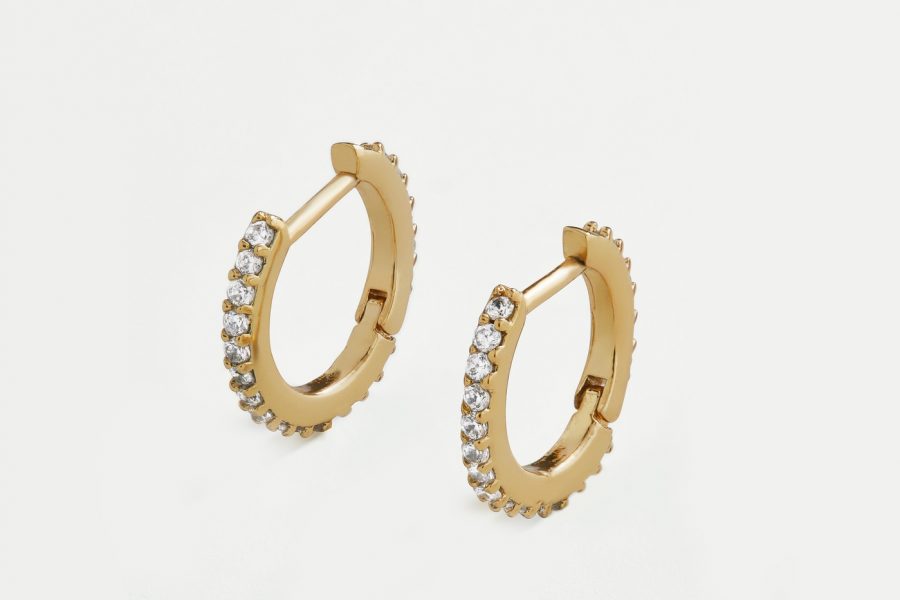 BaubleBar is one of our favorite brands for affordable and high-quality jewelry, and these Niata 18K Gold Vermeil Huggie Hoops are a prime example of why. Made with 18K gold-plated sterling silver and cubic zirconia, these huggies are ideal for layering, but they can also be worn solo for a casual everyday look.
What are imitation or lab-grown diamonds and gemstones? 
When compared to natural diamonds and gemstones, imitation or lab-grown diamonds and gemstones have several pros and cons. On the upside, because they're grown in a lab, these stones will have fewer flaws than natural gemstones mined from the earth and are a lot more affordable. However, since they're not as rare or valuable as natural stones, they won't be worth as much if you end up selling them.
"A lab-grown stone is chemically the same as its natural counterpart, but it is created in a lab," Kanary says. "The primary benefit of a lab-grown stone is that you can achieve a high-quality look at a lower price than the natural gem."
One of the best gems to opt for a lab-grown version is an emerald since it often have inclusions in its natural form, but the lab-grown versions are clean to the eye, according to Kanary.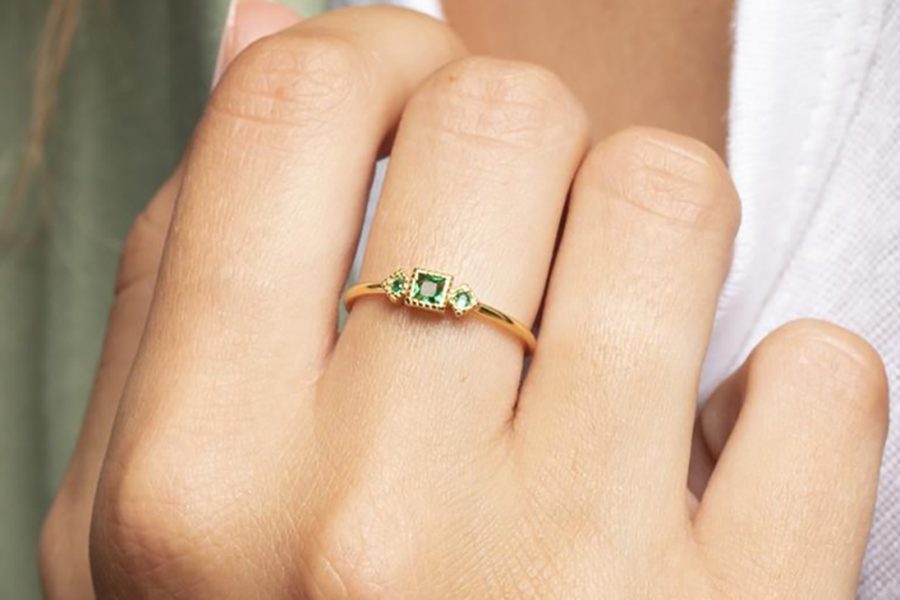 The band of this dainty ring from Etsy is made of gold-plated sterling silver and includes three green emerald cubic zirconia gemstones. The unique geometric look pairs well with other minimalist rings and the bright color is eye-catching.
How to make cheap jewelry last longer:
When it comes to extending the life of your cheap jewelry, intentional care and storage are key. First, make sure your jewelry isn't exposed to water—yes, this means you shouldn't wear it in the shower or while swimming. Water will likely cause the inexpensive material to tarnish, and the same goes for chemicals in things like hairspray and makeup, so be careful what comes in contact with your jewelry.
Then, Kanary recommends storing your cheap jewelry in anti-tarnish trays or containers, which will slow down the tarnishing process. She also recommends sprays that seal the metal for both anti-tarnishing purposes and skin sensitivity purposes. "Regular application of these sprays will protect your jewelry and provide more longevity to your pieces," Kanary explains.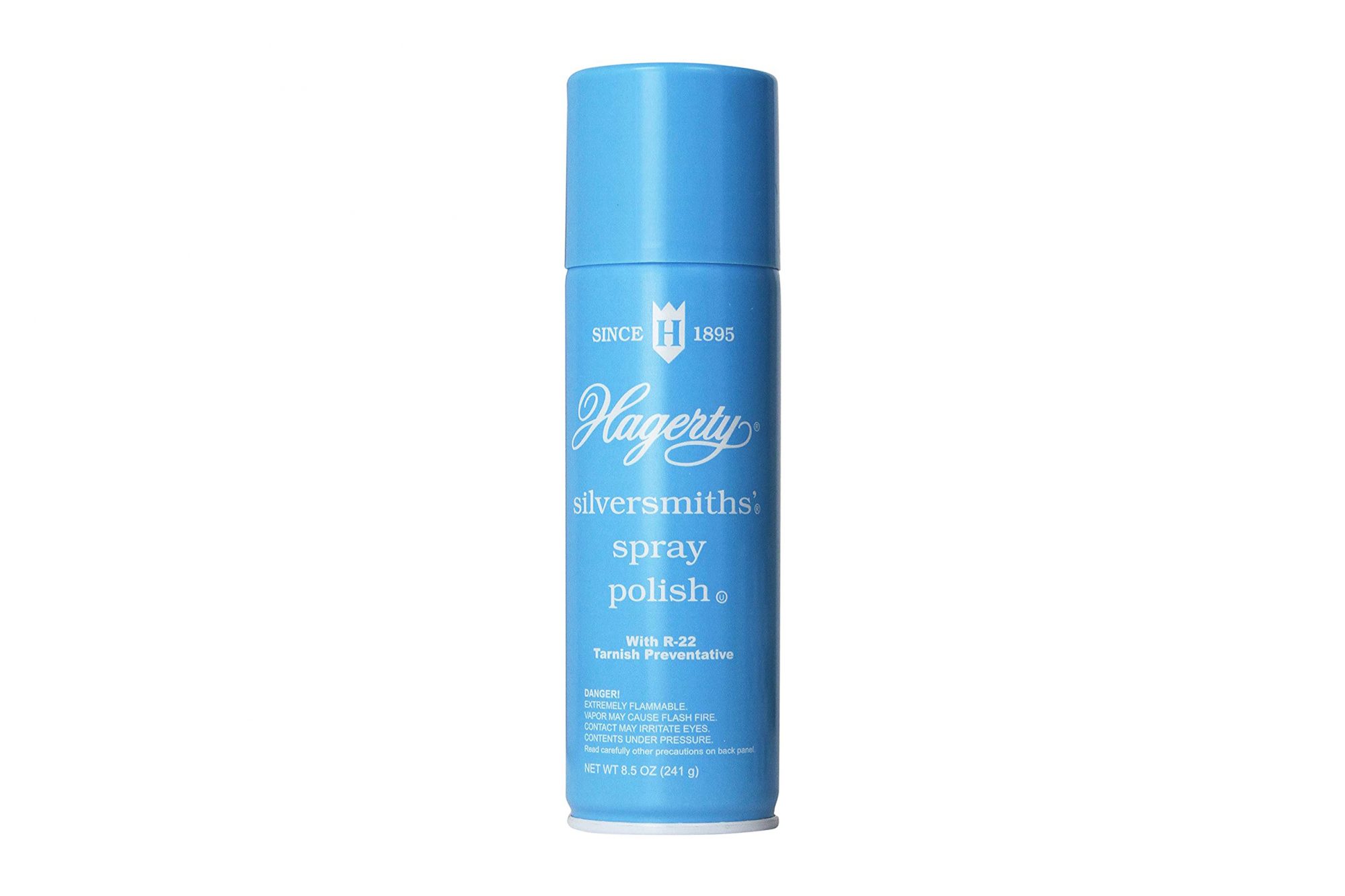 Shop it! $19.39, Amazon.com
This Hagerty Silversmiths Aerosol Spray Polish coats jewelry in a polish that will maintain its showroom shine. It's formulated for silver, silver-plated, and gold-plated jewelry and has a 4.5-star rating on Amazon.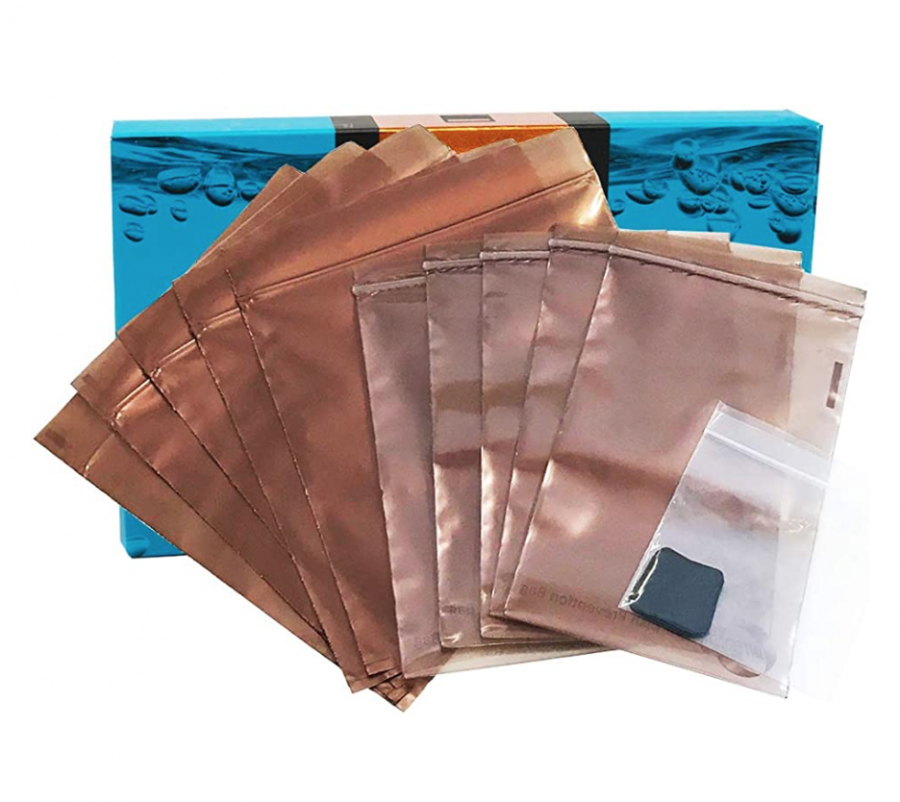 Shop it! $13.99, Amazon.com
This Premium Silver Jewelry Tarnish Prevention Bags Anti-Tarnish kit includes 30 anti-tarnish bags in various sizes for all types of jewelry. These bags claim to protect your pieces from tarnishing for up to 3 years. One reviewer says, "I have purchased these bags before and find them indispensable for storing my silver jewelry. I especially like being able to view my jewelry through the clear bags. I have used them for several years and all the silver items stored have stayed tarnish-free."