Aerie's new swim collection is made from 1.2 million recycled plastic bottles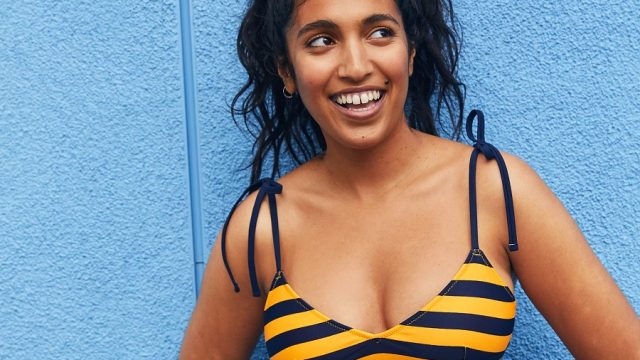 Aerie has committed to showing unretouched model photos and offering Abilitee accessible accessories, and now it's showing its commitment to sustainability. Real Good Swim, the new Aerie swim collection, is made from 1.2 million recycled plastic bottles, and it's just one part of the brand's plan to introduce more green practices over the longterm.
Real Good Swim is a new, 10-piece, mix-and-match collection. It includes bikini styles in solid colorways and stripe colorways for each, as well as one-piece swimsuits. Pieces range from $19.95 to $54, and everything is marked down right now for less. So now's the time to prep for your warm-weather getaway this winter.
The new Aerie swim collection is created with Repreve fabric, which is created using 82% rPET, or in more common terms, recycled plastic bottles. Lane Bryant, Fossil, Patagonia, and Roxy, among other brands, already use Repreve for some of their items. Aerie, and all of AEO, Inc., has been public about its desire set firm goals for sustainable practices.
"Our customers are asking for environmentally responsible products, and Aerie's goal is to deliver products that feel good to wear and to buy," said Jen Foyle, Aerie's global brand president, according to Fast Company.
AEO, Inc. also aims to make all of its facilities (including offices, stores, and distribution centers) carbon neutral by 2030. In its manufacturing, it set a goal to reduce carbon emissions by 40% by 2030 and 60% by 2040, according to a press release.
Shop the new Aerie swim collection, Real Good Swim, below:
Aerie Longline V Scoop Bikini Top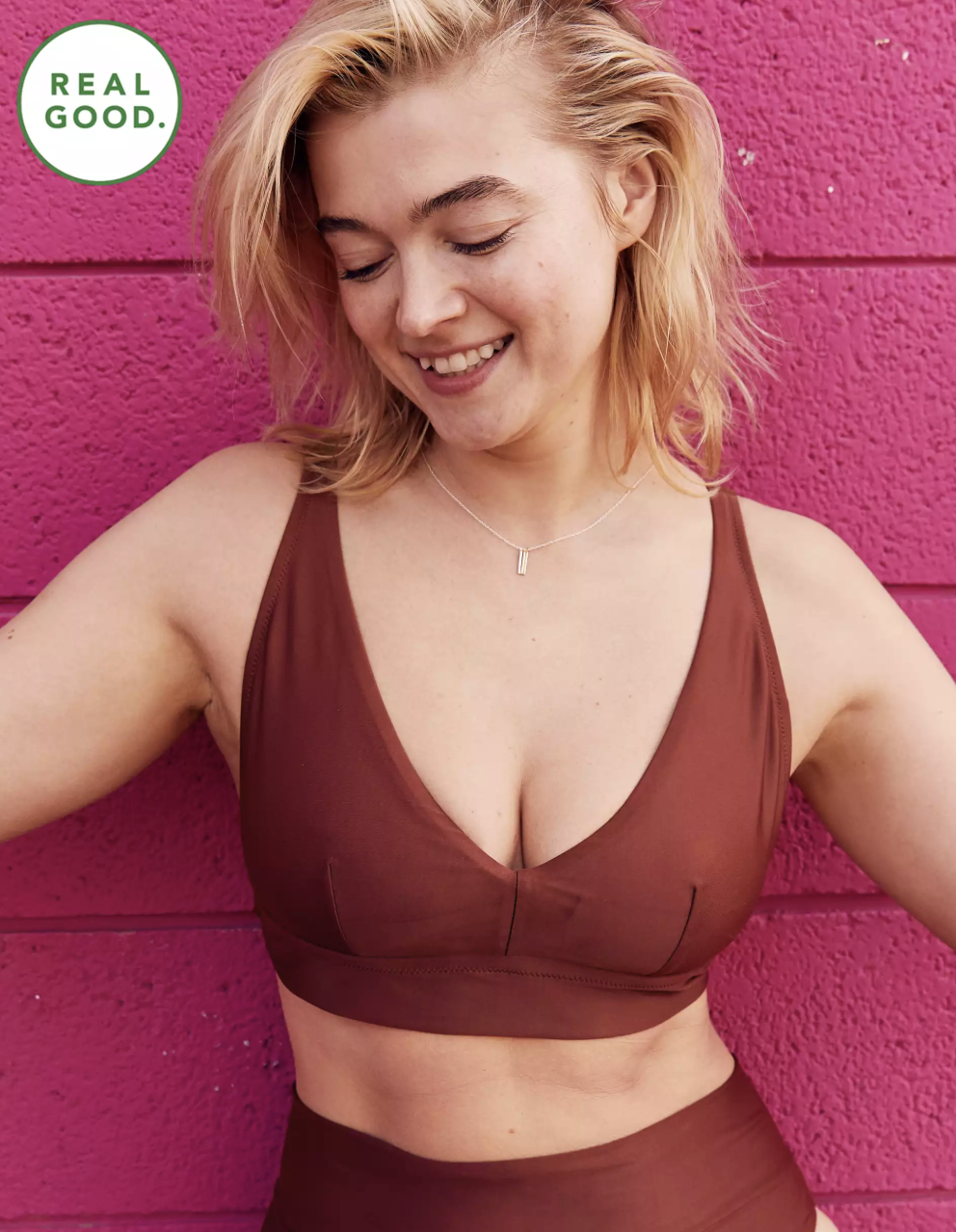 $20.96 (orig. $29.95)
Shop it
Aerie
With removable pads and adjustable straps, you can wear this Aerie bikini top how you want to. It's also available in stripe options and other solid colors.
Aerie High Cut Cheeky Bikini Bottom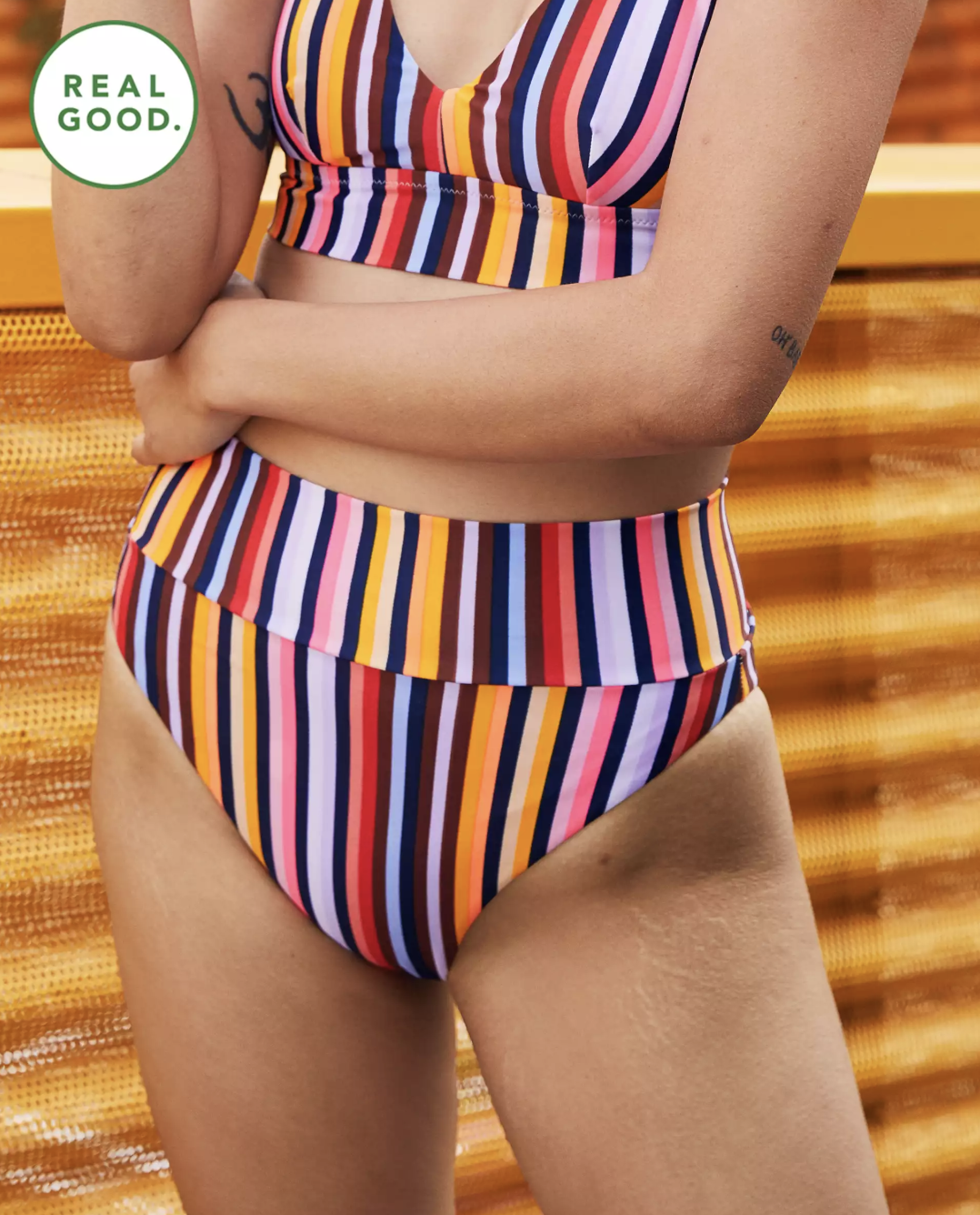 These high-waist bikini bottoms have a "cheeky" booty fit, and they can match so many different Aerie tops.
Aerie V Bandeau Bikini Top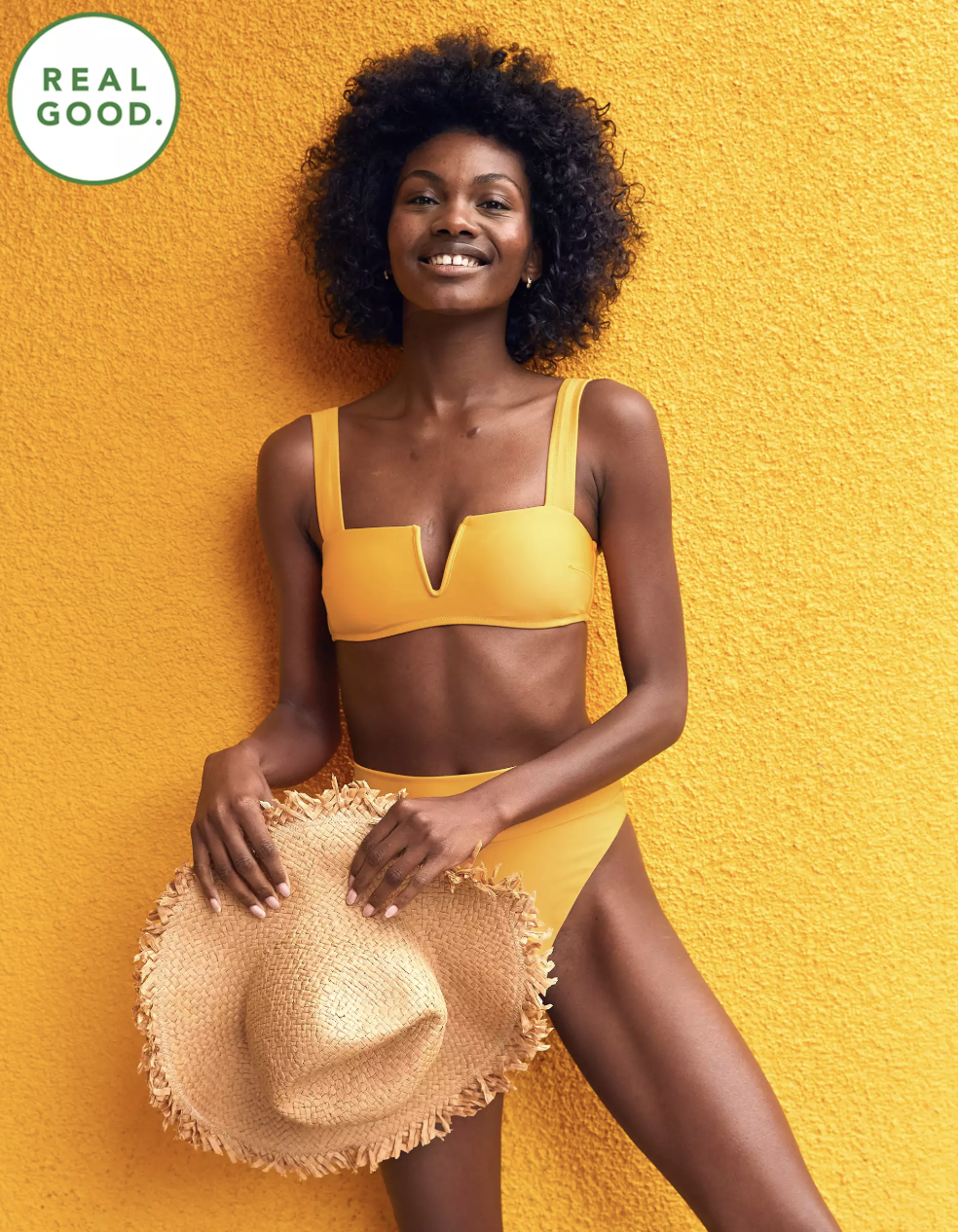 Though we adore the yellow on this bandeau bikini top, Aerie stocks loads of different color options. This style also comes with removable pads and sizes XXS to XXL.
Aerie V Scoop Bikini Top
$24.46 (orig. $34.95)
Shop it
Aerie
This scoop-neck top comes in tons of different stripe patterns and colors, so you can match with striped bottoms or solids, and make it work for you.
Aerie Super High Cut Cheekiest Bikini Bottom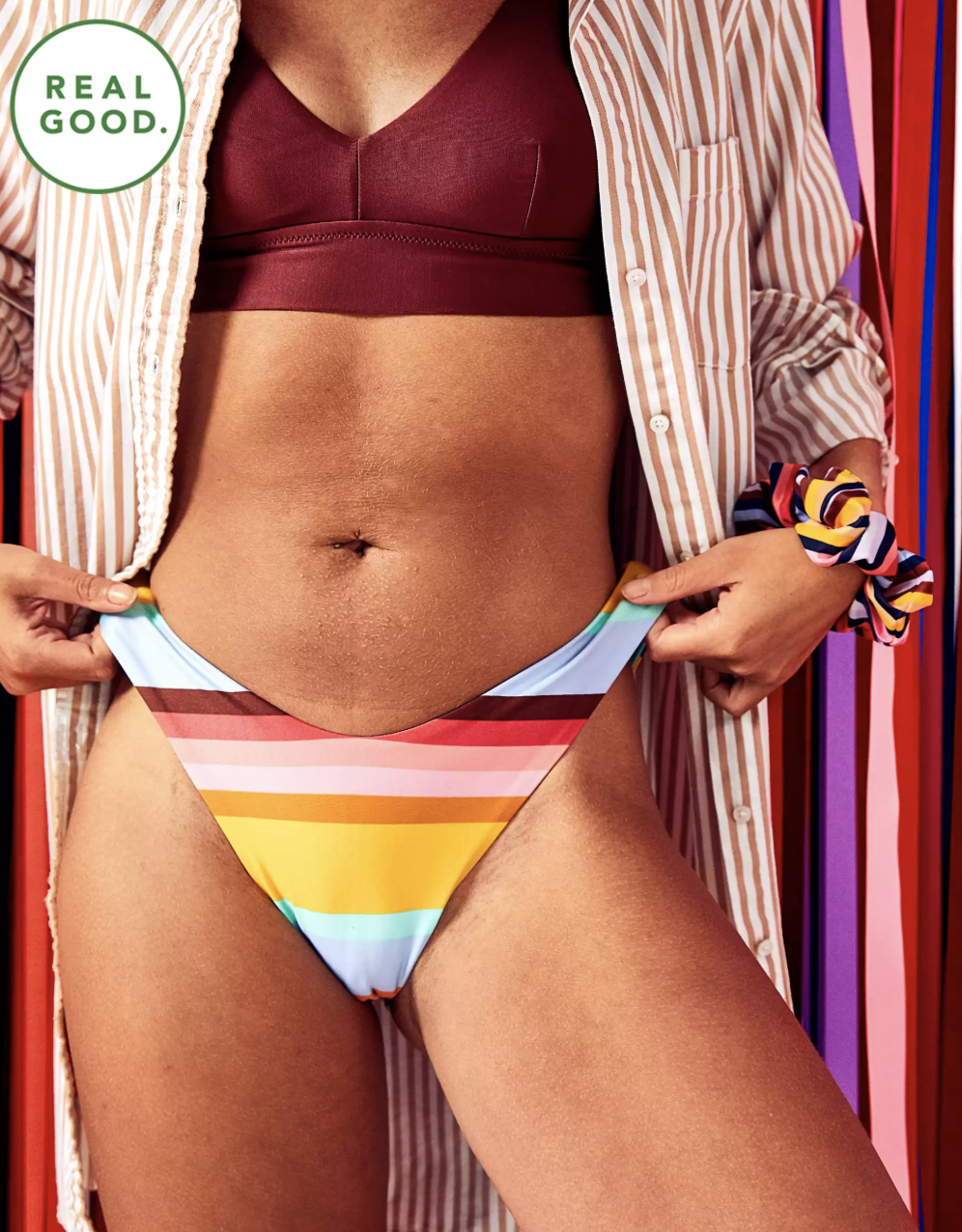 $17.46 (orig. $24.95)
Shop it
Aerie
Aerie's "cheekiest" bikini bottoms show a little more leg and booty than the other option. It's basically the brand's version of the Brazilian bottom.
Aerie V One-Piece Swimsuit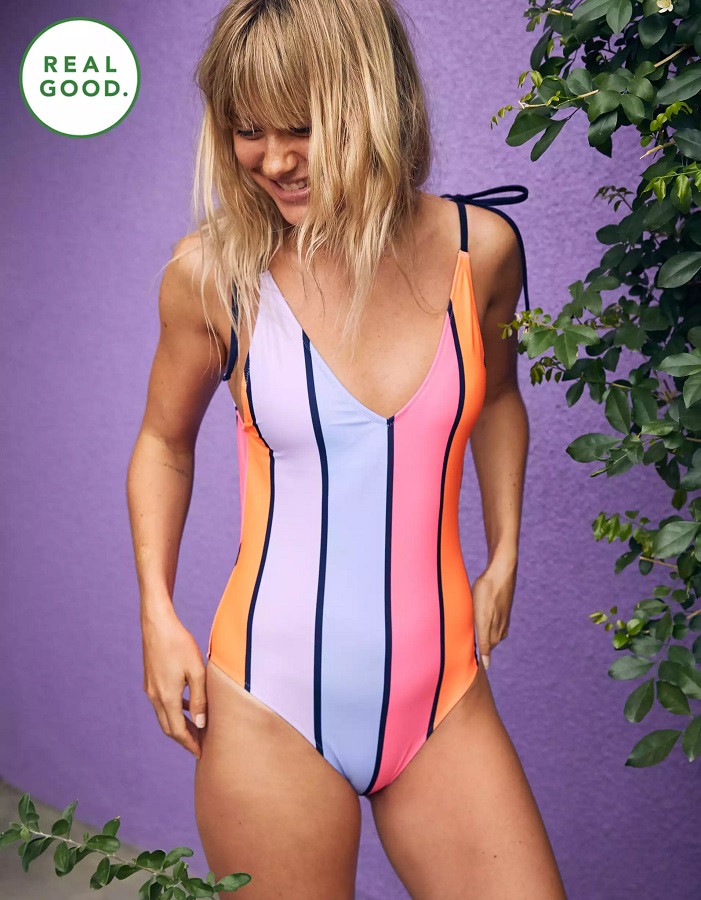 This one-piece swimsuit has a low back and tie straps. It's available in sizes XXS to XXL, and if you shop online, you can select different lengths for a better fit.
Aerie Ruffle One-Piece Swimsuit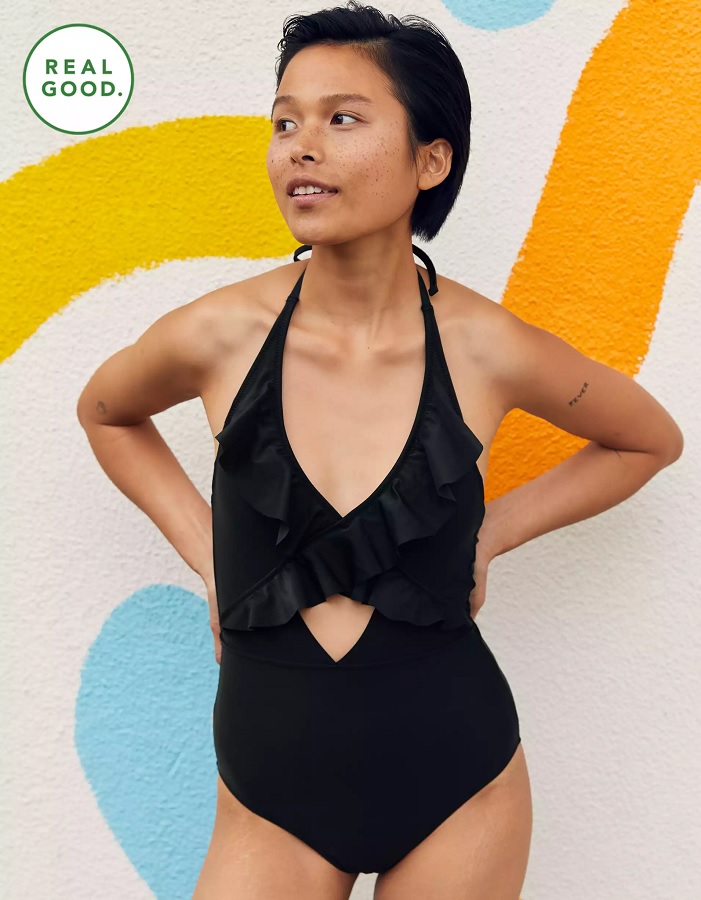 Aerie's black, one-piece swimsuit has a halter strap, a full-coverage booty, and cute ruffles that form a little peekabo0 in the center.
Shop all of the new Aerie Real Good Swim collection here.