Aerie just released an awesome body positive underwear campaign for men
Our Aerie crush just multiplied by about a million. We love everything about Aerie and the #AerieREAL body positive ad campaigns. From their no-photoshopping commitment to their use of actual, real people as models to the slogan "The Real You is Sexy," Aerie is THE major player when it comes to body positivity in marketing. And we adore them for it. So it's no surprise that Aerie's latest campaign is giving us heart eyes in a major way. Today, the company launched a new body positive underwear campaign for men, and it's amazing on every possible level.
Like #AerieREAL, the new campaign (dubbed #AerieMAN, because, of course) is all about body positivity, embracing authenticity and living with confidence. They've introduced the new line in a series of videos which show real men hanging out in their underwear while dropping wisdom such as, "If you're confident within yourself and you're happy, then that's what's going to come off to other people as beautiful. Not what you look like," and "I don't mind that I won't be retouched. I feel that everyone should be comfortable in their own skin."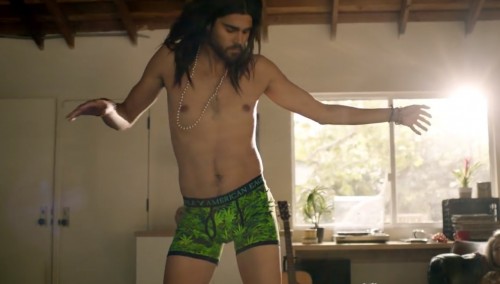 Yessss.
Aerie's video introducing #AerieMAN is so awesome that we almost don't believe it's real. It shows Aerie's four new male underwear models (Doug, Matt, Kelvin and Devon) doing things like yoga, reading, taking out the trash, hanging pictures, drinking coffee, snapping selfies, dancing, playing with the dog, chilling in a tree…all in their super-rad hip-looking Aerie underwear. One of them even takes a bubble bath while wearing a hat. DUDES. Where can we meet these guys? We want to hang out. Like, seriously. It doesn't even have to be in a tree. (Although that would be epic.)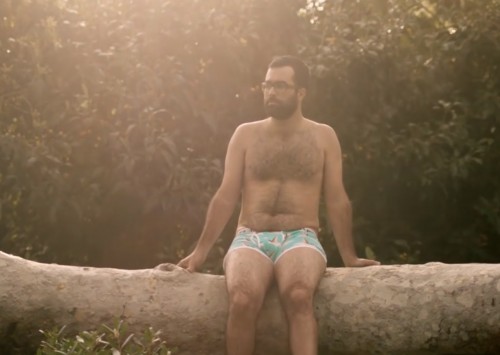 Check out the new #AerieMAN campaign in the video below:
https://www.youtube.com/watch?v=2lXUgD_X-D8?rel=0
BRB. Boxer shopping emergency!