When you're a theatre kid trapped in an adult's body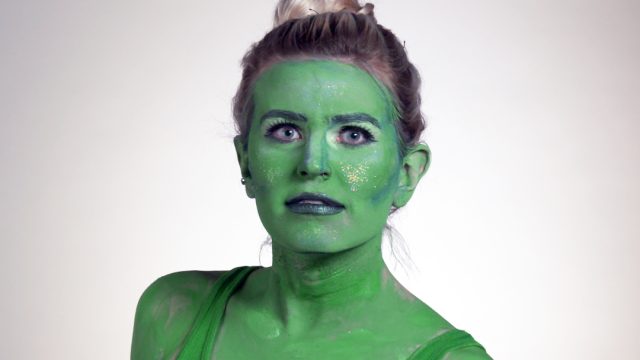 Hi, I'm Christina, and I'm a 27-year-old theatre kid. Yes, theatre is spelled with an –re, because that is the fanciest way of spelling it, and I have a not-so-secret desire for life to be as close to a super fancy Broadway production as possible.
And dramatic makeup and costume jewelry. I quietly squirm in meetings waiting for my turn to talk because I love speaking to an audience. I never know what Taylor Swift song is topping the charts because I'm too busy listening to Next to Normal for the eleven-hundredth time. My suggested YouTube playlist contains almost exclusively Tony performances and boot-legged footage of Norbert Leo Butz playing Fiyero in Wicked. I critique my singing in the shower (no need to be flat just because no one is listening), and I hated Glee, mostly because no one asked me to guest-star on it.
There's a downside to being an adult theatre kid: As I get older, there are fewer and fewer outlets for my ~theatrics~. For some reason, once I graduated high school, it became less acceptable to do theatre just for fun. The singing my inner 17-year-old would be doing onstage after school comes out during conversations with my boss; the terrible Cockney accent I've been saving for the day someone finally casts me as Eliza Doolittle in My Fair Lady pops out at inconvenient times, like on first dates and while ordering a burrito bowl at Chipotle.
I still haven't wrapped my head around the fact that I'm officially too old to play one of the Von Trapp children in The Sound of Music.
If you too are a theatre kid trapped in an adult's body, fear not. Keep quoting Rent in your Facebook status about current events, and never stop screlting in your living room. Think about how life is just a series of 16-bar auditions, whether or not you actually get to sing. Don't give up on your dream roles! Instead, let them into your life whenever you can: Put makeup on like Hedwig, command a room like Evita, cut vegetables like you're Sweeney Todd after revenge.
After all, didn't someone really smart once say, "Life is but a stage"?