Adults are having "smash cake" photo shoots like babies, and we're not sure how to feel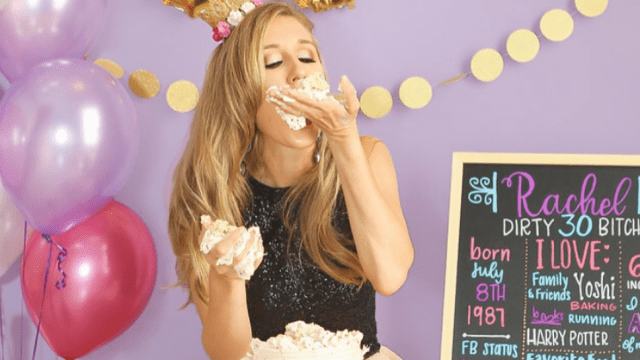 Who says smash cake photo shoots are just for babies? As it turns out, plenty of adults have decided to adopt the tradition, too. Adult smash cakes have become a major trend around milestone birthdays, and we can't figure out if this is the best idea ever or hilariously awkward.
If you search the hashtag #adultsmashcakesession on Instagram, you'll find tons of grownups celebrating their birthdays — usually their 30th (excuse us, 360 months) — by taking professional photos with an individual-size cake for smashing, along with a pretty background. They're usually wearing a tutu and crown, just like a lot of babies celebrating in similar shoots do, and accompanied by a chalkboard with their stats, like their age and what their favorite color and foods are.
Adult smash cakes are a new trend that's quickly gaining speed, and we'll be the first to admit it: it seems like these women are having the best time.
Case in point: This lady.
Super cute, right? And her chalkboard is hilarious. Who doesn't want to grow up to be RuPaul?
But where did this tradition start in the first place?
According to photography site Shooting Stars, it could be rooted in a Mexican tradition called "Mordida," where parents smash their kid's face into a small cake to celebrate their first birthday. But mostly, it seems like smash cakes originated so that babies could have their own cakes to mess up and enjoy while the rest of the party got to eat cake without, you know, baby spit all over it.
Over the last few years, that's morphed into full-on photo shoots where babies are captured in all their glory wearing pretty outfits as they dive into their cakes.
And now, adult women are taking part, too, because why should babies have all the fun?
Babies are having a blast doing this, and usually, babies are right about everything. They love naps, right? Cake bakeries don't seem overwhelmed with requests for adult smash cakes yet, so this trend is still pretty new. However, one baker from Arizona says she loves it.
"I have not received any adult smash cake requests yet, however, I think it's great," Janie Garcia, who runs 2 Cute 2 Cut Cakes, told HelloGiggles. "In fact, my daughter turns 18 in March and I was thinking about having her do a smash cake photo sesh for her birthday."
Newly minted 360-month old Whitney Regnier decided to take part as a way to "embrace turning 30," sharing this photo on Instagram back in October:
"I wanted to have some fun and still feel youthful, and thought this was the perfect way to do it!" Regnier told HelloGiggles. "It felt awkward at first taking the pictures and smashing the cake, but by the end of it I was laughing so hard and having the time of my life!"
And Rachel Leung, who also had a smash cake shoot to celebrate her 30th, said it was her way of ignoring the bad connotations turning 30 tends to have.
"A lot of people look at turning 30 as this big, scary age where you need to have it all together or you're 'old now,'" Leung told us. "Another year, another decade should be exciting and looked at with the same mindset as when you were a kid. Thirty is fun! I wanted that to shine through here."
"I loved it!" she added. "It was fun eating a cake with no boundaries or thoughts [of], 'This is going straight to my butt.' Everyone should do this!"
That sounds like a good way of looking at it, right? And according to these photos… there seems to be a reason why this is catching on.
On one hand, this looks ridiculously fun. Who doesn't want to get all messy with cake, play with glitter, drink wine, and have it all captured in beautiful photos that will last forever? On the other hand, we get it if you feel a little awkward seeing these grown adults take part in a tradition typically reserved for babies.
Then again, life is short, and why not smash cake when you get the chance? Seems worth it to us.