This hilariously honest adoption description of this rude cat is perfect for people who appreciate boundaries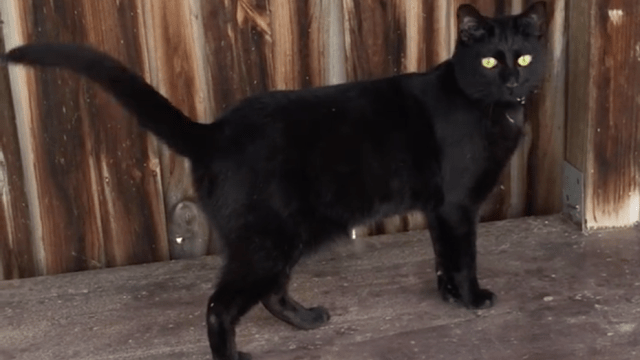 Aw, kitties! Everybody loves kitties. Except this one, apparently. Mr. Biggles of Melbourne, Australia, is one cat who's not trying to be loved by anyone.  In an adoption listing for Mr. Biggles (aka Lord Bigglesworth), the Cat People of Melbourne were brutally honest.
Mr. Biggles, with his shiny black coat and piercing green eyes is, according to Brett, "a despot and a dictator."
She continues, "If he doesn't like what you're doing he will give you a nip! Sometimes he likes to swipe at your feet too. It just depends on what he can reach at the time."
"Mr Biggles does not like to be thwarted," the posting says, sounding like a proposal for a new character-based YA lit series, dontcha think?
He even seems to have human-like tendencies of throwing tantrums when he wants his way. Brett writes, "He throws a catty tantrum if he can't go outside when he wants to be let out (and he wasn't allowed outside for the first couple of weeks at his carers house so there was a few tantrums!). Not being fed on time … is also a tantrum inducing exercise."
Mr. Biggles sounds like the perfect imperfect protagonist.
"He will let you know [when] he is not happy, which is often because things are often just not up to his high standards," the description reads. "Mr Biggles likes his cuddles on his terms, and will sit in your lap when he decides it's time. If the stroking is not up to his standards, he will nip you."
Mr. Biggles "does have a secret soft side," writes Brett. He "permits kisses on his shiny black head if he's feeling mellow."
In case you hadn't already picked up on it, the listing makes it clear this cat is not for the faint-hearted. He's for experienced cat owners who are well aware of what they are getting into.
But it appears that his reputation made him a winner.
As of Friday night, Lord Bigglesworth had an adoption meet-and-greet set for the next day.
And the website is no longer accepting applications for him.
We can't wait to find out who the lucky new masters servants are.