Adele unknowingly invited a Grammy-nominated singer onstage and it was the ultimate fangirl moment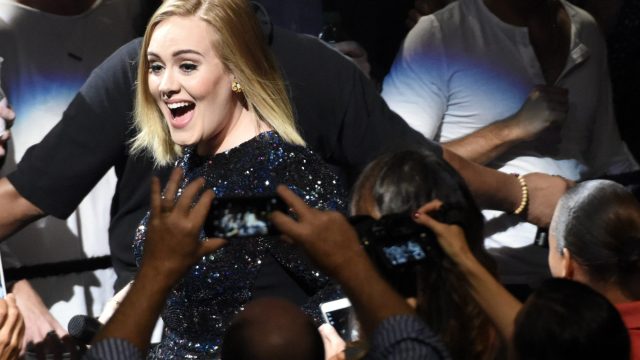 Expecting Adele to keep track of her roster of celebrity fans is like expecting me to sing "Hello" without frightening animals and small children: the odds of that happening are overwhelmingly unfavorable. Big names like Zendaya, Kate Hudson, Sam Smith have openly fangirled over the singer, so we totally understand how Adele had no idea the fan she invited to join her onstage at a recent concert was Grammy-nominated singer Jamie Grace, Billboard reports.
In 2012, Grace received a Grammy nod for "Hold Me" in the Best Contemporary Christian Song category, a fact that Adele was completely unaware of when she brought the 24-year-old singer onstage to sing "Remedy" and "I Can't Help But Fall in Love With You."
Grace shared the moment on her Facebook page:
Aside from Grace's silky smooth vocals, the impressive thing about the video is that, in the midst of being totally starstruck, she managed to get Adele on board with filming a video for Grace's YouTube channel. Since Adele has no problem publicly supporting other artists, her generosity doesn't surprise us at all.
Talk about the ultimate fangirl moment. We can't wait to see Grace and Adele sing their faces off on a future YouTube video!
Check out the full magical encounter below:
https://www.youtube.com/watch?v=qfdjIrrO9qo?feature=oembed