Adele surprises couple who got engaged at her concert by bringing them onstage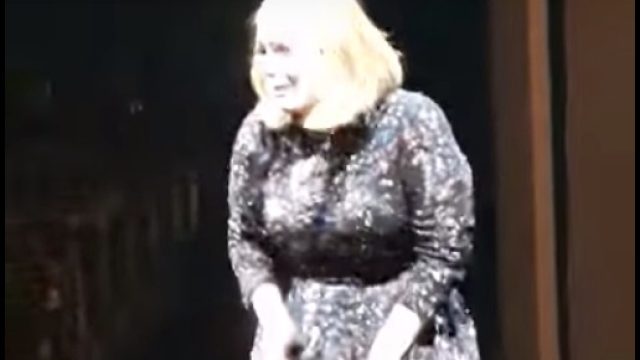 Something to keep in mind if you get engaged at an Adele concert: she might just pull you up onstage and embarrass you.
Adele's music can be as romantic as it can be heartbreaking and this couple at the O2 in London knows that more than anyone: during her cover of Bob Dylan's song "Make You Feel My Love," the boyfriend got down on one knee and proposed.
This would be romantic on its own, but it was made even better when Adele noticed what was happening and brought the newly-engaged couple up onstage.
"Did you just get engaged?" she called out. "I thought there was a fight at first!"
As Adele helped the pair on stage she continued to gush. "Thanks for doing that at my show!" she said, giving them both hugs. She also managed to get the cameras on them so they'd show up on the big screen as she asked them about their relationship: it turns out that "Make You Feel My Love" is their song and they have a son together named Alfie.
"That was the most beautiful thing I've ever witnessed at one of my shows," Adele told the crowd and we can't help but agree. Congrats to the happy couple! We're sure they'll never forget this night.