Adele dancing to Beyoncé's Coachella performance in her sweatpants is instantly iconic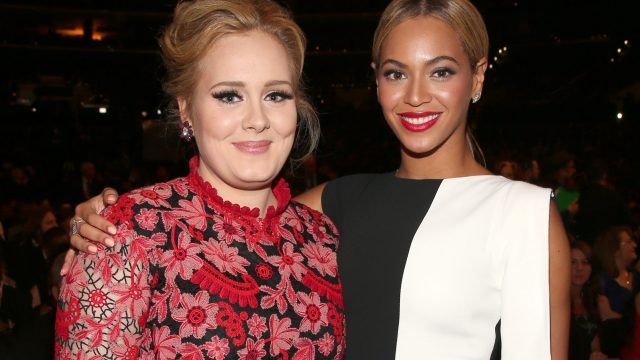 In case you haven't heard, Beyoncé performed at Coachella on Saturday, April 14th, and she absolutely KILLED IT. Of course, as always, her singing and dancing were incredible. But she didn't stop there. The performance was so visually stunning and she took advantage of her platform to talk about feminism and race. Oh, yeah, and Beyoncé also REUNITED DESTINY'S CHILD. And, oh wait, she also brought up her husband Jay-Z! It was truly a night to remember. We're just a few days in, but fans have alraedy renamed this year's Coachella #BEYCHELLA. Truth.
Like us, one of Beyoncé's friends and colleagues, Adele, couldn't attend last night. But instead of feeling sad about it, what did Adele do? She threw on some sweatpants and went HAM dancing to Bey's performance via the Coachella live stream. The "Someone Like You" singer's pure glee while jamming out to Queen Bey makes us wonder: Why should we ever go to a music festival again if we can rock out to one in sweats from the comfort of our own homes?
Adele uploaded not one, not two, but THREE different Boomerangs to Instagram indicating her three different moods throughout Beyoncé's Coachella performance. In the first, she is bopping around alongside her TV with a trumpet. A TRUMPET. Just super excited the performance has started we suppose. YASSSSSSS. Can she play the trumpet though?! We have questions.
In the second, things got a bit more fierce, a little more bootylicious.
And in the third, Adele went full-on madwoman in the best way.
She flipped her mane all around like she was in an '80s hair band.
We identify with each and every one of these moods. Beyoncé's Coachella performance was truly legendary.
Adele has never been shy about her adoration for the pop icon. About a week and a half after Bey released Lemonade, Adele shared:
"I'm not late on this I've just been speechless. Beyonce is the most inspiring person I've ever had the pleasure of worshipping. Her talent, beauty, grace and work ethic are all in a league of their own. I appreciate you so much! Thank god for Beyoncé X"
So sweet. And after Adele ended up winning the Grammy for Album of the Year over Bey in 2017, Adele took some time to tell the audience that she thought Beyoncé deserved the award:
"My album of the year is Lemonade. She is my icon of my whole life."
She even made Bey cry!
We are obsessed with the love between these two! Congratulations on your flawless Coachella performance, Beyoncé. We're going to go put on some sweatpants now and rock out to the show again in the living room. This might be our new favorite thing to do!