Sarah Paulson heard your comparisons to Adele, and she has some thoughts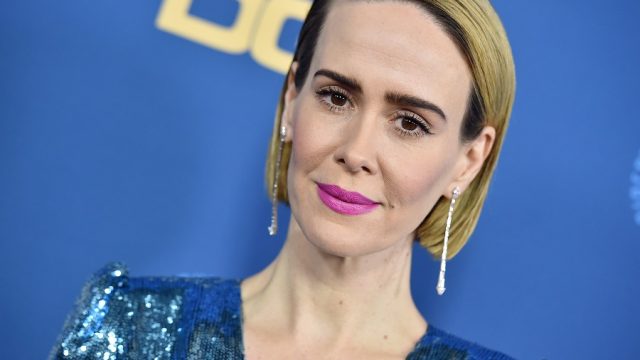 Update, May 15th, 2020, 10:41 a.m. ET: Recently, Sarah Paulson was trending on social media, and it was because fans thought they found her celebrity doppelganger in the singer Adele. Now, the comparisons have gotten back to Paulson, and she has some thoughts.
At first, the American Horror Story actress said she was confused about why her name was trending, according to an interview with EW Live. "Did I die? What happened?" she joked. (We admit, we also panicked in the moment.)
However, when she realized it was because fans thought she and Adele were secret celebrity twins, she said, "I'll take it!" But she would prefer if everyone kept the focus on their talents and not their appearances.
"What I wish they were comparing was my talent to her talent, and saying that mine was as great as her," Paulson said "light-heartedly," according to EW. "Which quite honestly…they can't say, because no one's talent is as great as hers. Which is really irritating."
So relatable, Sarah. As many times as we've belted "Someone Like You" from our showers, we just can't seem to get there. Here's to two talented queens in our eyes.
Original post, May 6th, 2020: Are our eyes warped after being inside for so long because of the quarantine or are Adele and Sarah Paulson secret celebrity twins? The comparisons started back on Christmas Eve 2019, but now with Adele's latest Instagram post, fans are fully convinced. Somehow the singer and American Horror Story actress were separated at birth, and you can't tell us otherwise.
In December 2019, Adele posted her first Instagram picture in several months, and it had fans ruminating on how she looked familiar. Adele has always been incredibly beautiful/amazing/perfect, of course, but it seems like no one noticed this twinning before. All of a sudden, no one could deny that her face looks just like Paulson's.
Now, she's back on social media after another hiatus, and the comparisons are back, too. In her first post since those Christmas Eve pictures, the "Hello" singer thanked everyone for birthday love and sent her support to first responders and essential workers.
Brace yourself. Once you see how much Adele looks like Paulson, you can't unsee it.
https://twitter.com/udfredirect/status/1257906588955754496
If you need more evidence, check out Twitter's response to Adele's Christmas 'gram.
Is this…one of Paulson's new projects? Are we being tricked…?
And then we had to wonder if Adele looked like Paulson all along. According to some, this has always been a thing.
Yes, we believe you now. We're not sure how we're supposed to tell Adele and Sarah Paulson apart from here on out, but we'll do the best we can going forward. We'll really try.
Originally posted December 24th, 2019.