Here are some addictive books to read now that it's too cold to leave bed for any reason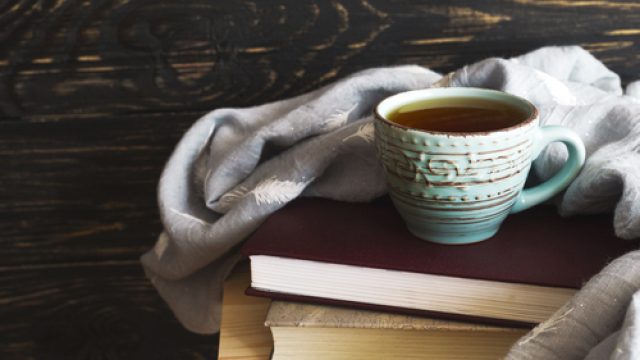 We just wrapped up our Thanksgiving festitivities, and that means the start of the holiday season is upon us. But between family gatherings, holiday parties, and lots of traveling, it can be hard to find alone time to decompress from all the socializing.
But even on the days when you do get some downtime, it can be pretty hard to find motivation to leave the house on chilly days. When you'd rather be bundled up than leave the house in layers of winter gear, here are 7 books that will be the perfect companion on those snowy winter days.
Chronicles of Narnia Trilogy, C.S. Lewis
Let's start things off with something magical, shall we? C.S. Lewis's classic children's fairy tale trilogy focuses on four children as they venture into the world of Narnia. You may have seen the movie, but there's nothing like curling up with the original material — especially with fresh eyes.
Pride and Prejudice, Jane Austen
Winter is the best time to curl up with some romantic classics. Jane Austen's Pride and Prejudice is an iconic book that just seems right this time of year — reading on as we watch Elizabeth Bennett try to find (and balance) love and independence during 19th century England. This story is a classic for a reason, and it will be sure to push you to find the own romance in your life.
The Lovely Bones, Alice Sebold
Yes, another movie-turned-film adaptation — but it's unlike any other on this list. The Lovely Bones focuses on 13-year-old Susie Salmon, beginning on the day of her murder. As Susie watches from in between the world of the living and the dead, she hopes that her family can keep things together and bring her murderer to justice. Part thriller, part supernatural, and part emotional roller coaster, The Lovely Bones is the kind of book that will leave an impression on you, and make you remember the important things.
https://www.instagram.com/p/x-pQsIs-AB
Harry Potter series, J.K. Rowling
There's probably no book list that will be complete without a Harry Potter addition on it. But the holidays are the perfect time to re-familiarize yourself with the world of Hogwarts. I highly recommend starting off with The Sorcerer's Stone to really get into the Christmas spirit — there's no other magic quite like when Harry has his first Christmas with Ron within the school's walls.
https://www.instagram.com/p/BNQG4IxgvqD
Frankenstein, Mary Shelley
A horror classic, Frankenstein tells the story of the mad scientist and his greatest creation. You may remember this book from high school, but rereading it can make you think of how both humanity and monstrous traits exist within all of us — and the monster's struggle to understand that is the most important thing.
The Immortal Life of Henrietta Lacks, Rebecca Skloot
This is the first nonfiction book on the list, and an important read for anyone who wants to understand how reproductive justice and feminism works. Henrietta Lacks, a Black woman in the 1950s South, looks to scientists at nearby Tuskegee Institute for help after she discovers she has cervical cancer. Instead, her cells are taken (without her permission), and she dies in poverty. Today, Henrietta's legacy is carried on in the form of HeLa cells, but the fight for her family to get the recognition that they deserve is something that every feminist needs to know about.
https://www.instagram.com/p/BMGIObJBa5o
Divergent series, Veronica Roth
This wouldn't be my kind of list without a dystopian fiction novel featured. Veronica Roth's Divergent series, inspired by events of violence in our own society, is a modern take on Hunger Games-type action and the budding romance that we've come to hope for in YA novels. Reading from the beginning as Tris finds herself and shapes her destiny is empowering and inspiring to watch.
https://www.instagram.com/p/BEOB63mr7VM
What books are you curling up with this holiday season?