Adam Rippon's response to this interview question was relatable AF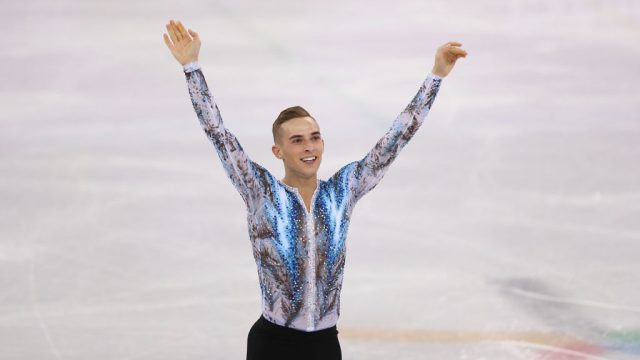 We love getting to know different athletes during the Olympics. And during the 2018 Winter Games, figure skater Adam Rippon is hands down one of our favorite competitors. He's full of warmth, heart, and humor. Adam Rippon made history before the games even began as the first openly gay man to compete for the U.S. at the Winter Olympics. Then on Monday, February 12th, he brought home a bronze medal when the U.S. placed third in the Figure Skating Team Event. We're loving all of Rippon's figure skating routines, Instagram selfies, and fire tweets. But what we're REALLY loving are his post-skate interviews. We didn't know we needed this hilariously relatable Adam Rippon Xanax quote, and now we can't live without it.
In Rippon's latest interview, he spoke with NBC's Mike Tirico about his road to the 2018 Olympics and how he handles the pressure. When asked what goes through his mind on the ice, he delivered an Adam Rippon Xanax quote that is absolutely everything.
"Um, I want to throw up," Rippon told Tirico bluntly. "Um, I want to go over to the judges and say, 'Can I just have a Xanax? And a quick drink? I'll be fine.' But um, I kept it together."
Adam Rippon also shared what he was doing during the 2014 Olympics in Sochi. (It definitely wasn't figure skating.)
"My friend Mirai [Nagasu] and I...four years ago, we got In-N-Out, we went back to her house, we climbed up to the roof of her house, and we were eating In-N-Out because we were so upset that we weren't at the Olympic Games," Rippon said. "And tonight, you know, the Olympics are truly magical, because we came out here tonight, and — we're roommates here, staying at the Olympic Village — we gave each other a hug, and I said, 'You know, Mirai, we're here! We did it!' And we both went out there and we both had these great skates today. To do that for our team is just, like — it's so amazing."
Congratulations, Adam! Keep the amazing skates — and the relatable post-skate interviews — coming all Winter Games long.