Adam Rippon responded to Sally Field's attempt to set him up with her son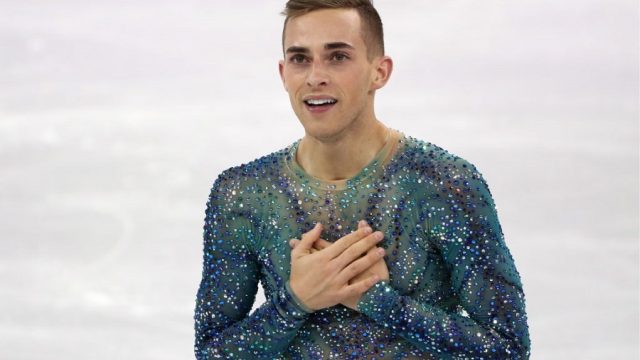 It's always a little mortifying to have your family meddle in your love life. Especially if your mother is Sally Field, who has over 64,000 followers on Twitter. We all know Field for being an iconic actress, but it seems like she's also rooting for her son to land himself an Olympian. Sam Greisman (Field's son) texted his mom about his new crush, Adam Rippon, and she took it from there.
Field tweeted Sam's text and tagged Rippon (OMG). And…good news…Rippon responded.
The 28-year-old figure skater has managed to win over the world with his impressive talent on the ice and his sassy, hilarious comments off it. He's so cherished that NBC offered him a job as a correspondent, which he ultimately turned down due to his loyalty to Team USA. He's not afraid to be himself, and we love his fresh perspective on life. Even better, he seems so grateful for the opportunity to be representing the U.S. and fulfilling his dreams.
Here's Sam's original text to his mom, Sally Field.
And, here's Field's savage (yet loving) spin on the tweet.
Sam saw it and responded immediately.
Luckily, fans had his back.
https://twitter.com/udfredirect/status/964966638218039296
According to BuzzFeed, Field noted that she'd love to see Rippon in the family (who wouldn't?). When asked by BuzzFeed about the whole back-and-forth, Rippon said,
"She bold" (referring to Sally Field). He continued with, "Sam, your mom — I admire her. And I'm sure one day we're going to meet! So thanks, mom."
We're hoping this meet-up happens sooner rather than later. And we want details.