Most relatable Winter Olympics moment ever: Skater Adam Rippon just wants to make Reese Witherspoon proud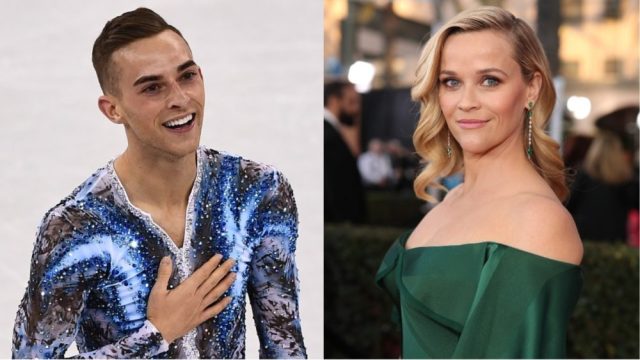 Athletes who make it to the Olympics typically have these goals: to bring honor to the country they're representing, to perform their heart out, and to clinch a podium finish. Figure skater Adam Rippon, however, has that and then some — he also really wants to make Reese Witherspoon proud.
After a dazzling performance in the team figure skating team event, Rippon shared what was going through his head.
"There are so many emotions when I step on the ice," Adam Rippon said in yet another relatable Olympics interview. "I want to represent my country to the best of my abilities. I want to make Reese Witherspoon proud."
SAME, ADAM, SAME.
And guess what?  Not only did he help Team USA claim a bronze medal, he also made the Big Little Lies star incredibly proud!
She wrote, "Oh @Adaripp ,you make me so proud ! Keep making us all so happy!"
Best Twitter exchange, or BEST TWITTER EXCHANGE?!
Reese Witherspoon and Adam Rippon's e-friendship started only a week ago when the actress took to Twitter to fangirl over the Olympic figure skater.
She said that Rippon is the number-one reason why she's keeping tabs on the games. Naturally, Rippon was delighted and jokingly pitched her an idea for a movie — one which involves him dying after getting a tweet from the star.
Hey, Netflix, can you please refine this big idea and turn it into a film ASAP? Thanks, we'll be waiting.
Now, as we all know, Adam Rippon's mesmerizing performance in the men's free skating event earned him one of the highest honors known to man: getting the support of the one and only Reese Witherspoon. Oops, scratch that — we totally mean taking home an Olympic medal.
But wait, he's not the only Olympian who got a shoutout from Witherspoon.
After becoming the first American woman to land a triple axel in the Winter Olympics, Mirai Nagasu received compliments from the Oscar-winning actress.
Nagasu replied with a confession that she watched Home Again en route to the Olympics and that she wishes Reese were her mom. (TBH, we ALL wish Reese Witherspoon were our mom.) "You're my hero," Nagasu added, to which the actress responded, "You're MY hero!!"
Oh, Adam and Mirai, not only did you guys win the heart of your (and our!) favorite actress, but you also made the whole country so, so proud. Congratulations! We're here cheering you on!