Adam Rippon confirmed he's retiring from skating, and his goodbye video will make you cry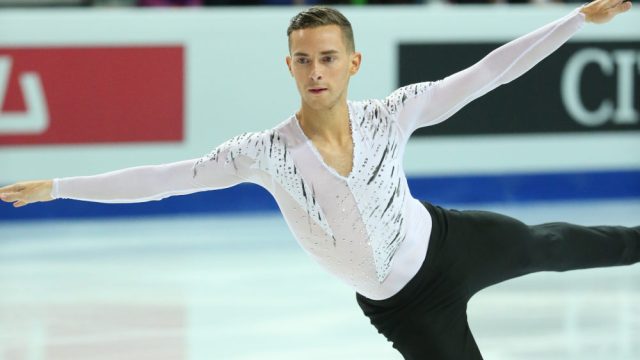 Since making his Olympic debut at the 2018 Winter Games in PyeongChang, South Korea, Adam Rippon has taken America by storm. The skater made history as the first openly gay man to compete for Team USA, and at the games, he won a bronze medal (and the love of his hero, Reese Witherspoon). And now, Rippon has officially announced that he's retiring from competitive ice skating.
In September, the skater told NPR that he felt his performance in South Korea was "the best way to end my Olympic journey," suggesting that he wouldn't be vying for a spot on Team USA in 2022. Then, in a segment for CBS This Morning's "Note to Self" series on November 20th, Rippon confirmed his retirement. The inspiring video chronicles Rippon's "wild" journey as an ice skater. In the five-minute clip, he reveals that he failed to make the Olympic team two times before 2018 and that he once lived with his coach for a few months because he couldn't afford rent. He also discussed his coming-out story.
"When you publicly come out in the next year," he narrated, "you will let go of what other people think of you. You will hope to give someone else what you didn't feel growing up: permission to be themselves. You will be saying: 'You are worthy.'"
Rippon went on to talk about qualifying for the Olympics and how skating at the event was "crazy, wild, emotional, and very exciting." He concluded the video with a note of victory.
"You've become the role model that you wished you'd had as a kid. You will look in the mirror and finally see a winner looking back at you. Now go out and conquer the world."
Rippon's message definitely has us choked up.
https://www.youtube.com/watch?v=m26r_qDASts?feature=oembed
Although we can't expect to see Rippon on the Olympic ice in the near future, it's likely that he'll continue his work with LGBTQ advocacy. HuffPost notes that in January, he announced a GLAAD fundraising campaign to support the organization's youth programs, and in September, he performed in a reading of The Laramie Project to commemorate Mathew Shepard's death.
While we're sad to see Rippon hang up his skates, we can't wait to see what he does next.