Adam Rippon said his boyfriend caught his attention with this bold pickup line on Tinder, and we might have to try it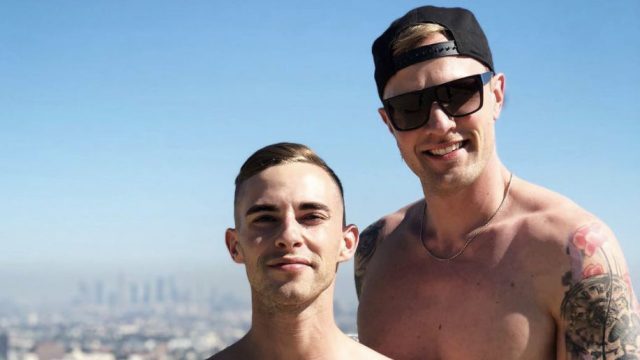 Adam Rippon might be an accomplished Olympic skater, but in some ways, he's just like us: He met his boyfriend through a dating app, and we absolutely love how they got together. Rippon dished to People about how his boyfriend caught his attention on Twitter with a bold pickup line, and honestly? It's pretty amazing. If you were looking for dating advice on how to approach someone you're interested in, this just might be it.
Rippon has been dating his boyfriend, Jussi-Pekka Kajaala for a few months now. Kajaala is from Finland and works at a real estate business — that's really all we know about him. Unlike his boyfriend, Kajaala doesn't seem to be super into social media. He is, however, very good at Tinder! Rippon told People that Kajaala approached him on the dating app with a super direct pickup line that immediately caught his attention. Rippon said,
"We met like a few months ago, and we've been chatting for awhile. We matched on Tinder in Finland when I was there for a competition, and his opening line was, 'Are you here for business or are you here just to meet me?' Pushy, I took the bait."
It's sassy and bold, just like Rippon himself. And it worked! This is proof that sometimes you just need to totally go for it, because sometimes pickup lines really do work wonders.
It did take the two a while to finally get together, though. Rippon previously told People that they had been talking for several months before beginning to officially date. He joked, "Now that I'm even busier, I thought it was a better time [for us] to hang out."
And Rippon is definitely busy! He's one of the stars of the upcoming Dancing With The Stars: Athletes series, which is definitely going to keep him on his toes. Here's hoping these two can stick out his tough schedule, because they're pretty adorable together.