Adam Levine Alleged Cheating Scandal Leads to Baby Name Drama
Model Sumner Stroh makes shocking (and strange) allegations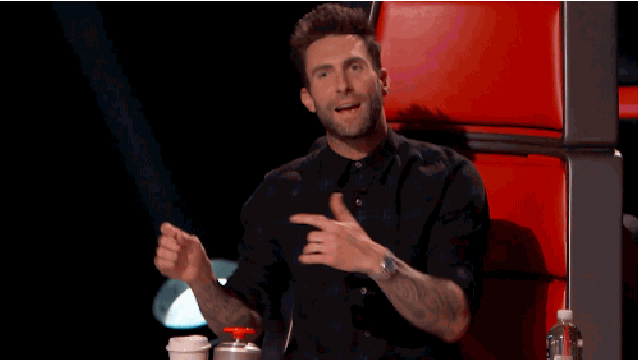 Most people can recognize Maroon 5 frontman Adam Levine's voice from any number of the band's biggest hits, but right now, the voice of Sumner Stroh is ringing in our ears. The 23-year old social media influencer with over 386,500 followers on TikTok has recently made several allegations in a new video, exposing to the world what looks to be a torrid affair with the celebrity coach from The Voice.
RELATED: 40 Questions to Ask Your BFF to Find Out How Well You Know Each Other
In the confessional, Stroh shared what looks like a conversation between her and Levine. "It is unreal how f***ing hot you are," he states in one of the alleged DM messages. "Like it blows my mind."
A simple-yet-suggestive compliment? Stroh shares more from the same DM to indicate that the two met up in real life.
"You are 50 times hotter in person," the DM conversation supposedly continues. 
She doesn't reveal much more about the details of their affair, only that eventually, she and Levine lost contact "over a period of months" according to an article in the Daily Mail.
If true, these conversations are uncomfortable to read, but his texts apparently got worse when he assumedly dropped this bomb on Stroh:
"Ok serious question. I'm having another baby and if it's [a] boy I really wanna name it Sumner. You ok with that? DEAD serious." 
Stroh has no shame in sharing these alleged screenshots, stating in the caption of the video that she is "Embarrassed I was involved w a man with this utter lack of remorse and respect."
If the rumors are true, that's some seriously messed up information. Levine is the 43-year-old is expecting his third child with Behati Prinsloo, a Victoria's Secret model and his wife of eight years.
"My morals were unknowingly compromised," Stroh states in the video. "I was completely manipulated."
There could definitely be some grooming involved from the singer, which Stroh hints at in a followup video on TikTok. According to a tweet by @ask_aubry, Stroh was only 19 when she started getting involved with Levine, who would have been 40 at the time (and definitely very married).
https://twitter.com/ask_aubry/status/1572005188357197825?ref_src=twsrc%5Etfw 
Details on these accusations are still surfacing, and so far, Levine has made no public comment.
One thing is for sure – if Levine and Prinsloo add a little Sumner to their brood, there will be questions. We just hope Levine is able to answer them, and not as cryptic lyrics in a new song.
Kat is a born and raised New Yorker exploring the world as she writes, eats, and everything in between.
Read more