Here's Adam Devine's epic "Beauty and the Beast"-inspired MTV Movie & TV Awards opener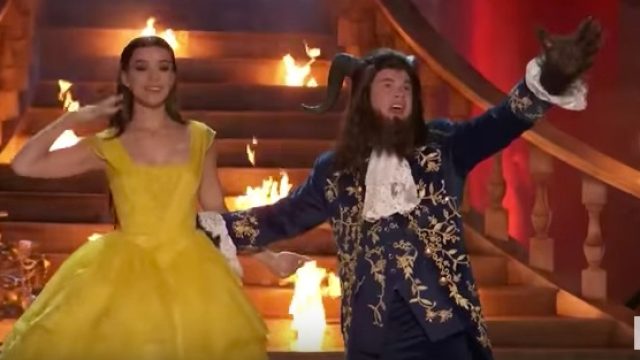 In Adam Devine's version of Beauty and the Beast, the Beast clumsily knocks over a candelabra, setting the entire ballroom on fire (while carrying on an epic musical number).
OK, so that's only what happened during Devine's MTV  Movie and TV Awards opening number, but we cannot stop laughing. The show's host did not disappoint, opening the show with a hilarious Beauty and the Beast-inspired parody, and you absolutely must see it.
Adam took on the role of the Beast (yep – fur, horns, and all!) to name-check everyone from Millie Bobby Brown (Eleven from Stranger Things) to Hugh Jackman, in a spectacle of Disney proportions.
https://www.youtube.com/watch?v=FOVb-gdrLQQ?feature=oembed
Adam's Pitch Perfect costar Rebel Wilson was on hand as Mrs. Potts, and Hailee Steinfeld was already wearing a yellow gown, so she stepped right in as Belle. For the record, Emma Watson, who played Belle in the live-action adaptation, seemed to absolutely love it.
The trio didn't let the stage (which continued to go up in flames) affect their epic song-and-dance, setting the tone for the newly-formatted awards show, honoring the best in movies and TV as only MTV can.
Josh Gad, who played LeFou in the hugely successful blockbuster, was understandably reluctant to join the sing-along, but even he was convinced to join the fun.
https://www.youtube.com/watch?v=MGgRDnHbZr0?feature=oembed
It was the perfect opening number for the show, and we're hoping the fire didn't cause too much damage to the stage. If you missed it last night, check out the song in its entirety – your Monday needs these LOLs.