The activewear trend is getting some help with this 1960s fashion icon
Athleisure, the biggest fashion trend of 2015, is still going strong and fashion legends are now taking notice. The name Peggy Moffitt conjures up images of the Swinging Sixties, when the model helped popularize the era's mod look through her doll-like makeup. And also Vidal Sassoon bob and collaborations with fashion designer Rudi Gernreich and her husband, photographer William Claxton. One of the most famous moments created by the powerhouse trio was when Moffitt modeled the first monokini, which was designed by Gernreich.
Now in her seventies, the renowned model remains a muse of the fashion world by creating a stylish activewear line called Peggy Moffitt with designer Evelina Galli. While a 1960s-era supermodel is probably the last person you'd think of when it comes to workout clothes, Moffitt's namesake line incorporates many of the design details from the same era which made her famous. You'll immediately want to replace your ratty t-shirts and boring grey sweatpants with color-blocked leggings, fishnet jumpsuits and form-fitting tops with transparent panels. 
"She does not feel the need to fit in or to please anyone, she does what she does to please and amuse herself, and that's what I find the most fascinating and tried to reflect in my clothes. Freedom to act as you wish, freedom to be who you wish," Galli explained to HelloGiggles in her decision to work with the icon.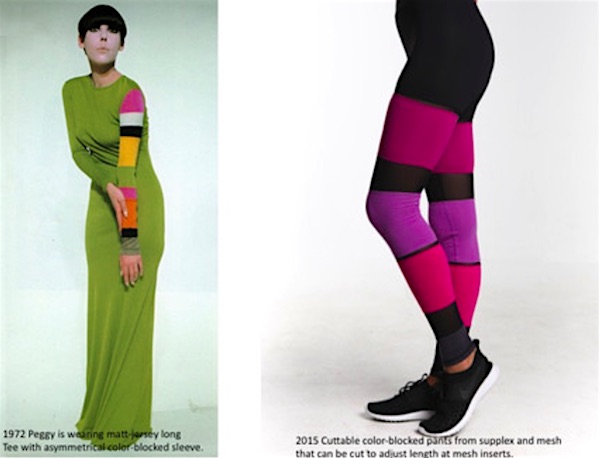 "These were the ideals that she pioneered in the '60s," Galli continued. "It's almost post-post-post feminism.  Being sexy while being smart, cultured, cosmopolitan, healthy and fit, achieving that 'holy grail' of work/ life balance. I feel we are at the breaking point of something really exciting happening culturally for women and I want to be the designer to 'outfit' that movement with Peggy's spirit."
The pieces are made with high-tech, compression fit fabric helps stop sweat while at the same time feels soft, so the pieces are wearable and comfortable enough for either a yoga class or a jog in the park. There's also customizable pieces—the cuttable basic pants can be shortened into capris with a quick snip, easily creating the right length for those of us that are vertically-challenged. With activewear like this, why would we ever want to go back to regular clothes?