According to "Vogue," this was the best-dressed couple at the Met Gala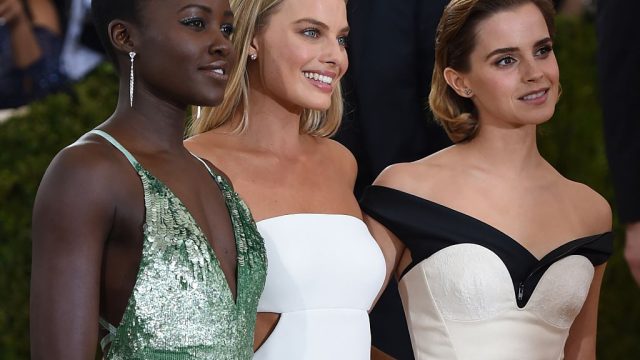 Though we've long been discussing our favorite couple looks from this year's Met Gala, none of that matters anymore. Vogue has spoken, crowning this year's King and Queen of the "Manus x Machina: Fashion in an Age of Technology" theme. And the award goes to…
Kim and Kanye!
Thanks to her mirrored Balmain dress, strappy silver heels, and lightened eyebrows, Kim looked like a robot princess. As for Kanye, he (of course) acted as her robot prince in a Balmain embellished jacket, Fear of God ripped jeans, Saint Laurent suede ankle boots, and light blue contact lenses. Vogue especially loved his ripped jeans and they even created a "How to Pull Off Red-Carpet Denim Like Kanye West at the Met Gala" gallery to prove it.
When asked about his contacts – which, in our opinion, made him look like Brad Pitt in Interview with the Vampire –Kanye simply responded, "Vibes." Well, it's clear that Vogue was certainly feeling these vibes. They stated that "little can compare to the stunning fashion moment [Kim and Kanye] orchestrated on the Met Gala red carpet tonight."
Even before the Best Dressed title was bestowed upon them, Kim and Kanye were definitely embracing their look. In the light tunnel featured at the event, the pair took turns working it like they were the stars of a very expensive, very metallic runway:
No matter how you feel about Kim and Kanye and their fashion #vibes, you gotta admit – they took the Met Gala theme seriously, and they deserve some credit!