Abstinence-only sex education actually hurts kids, according to new study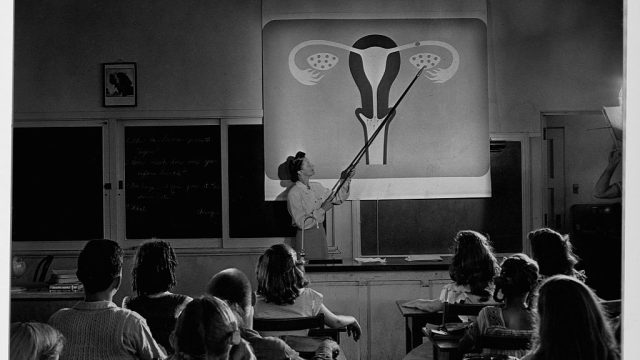 Starting back during the Reagan administration, the U.S. government has given money to support abstinence-only sex education. Now, a new study proposes that abstinence-only sex ed does much more harm than good, as opposed to educating kids and teens about the full scope of birth control and STI prevention.
The Journal of Adolescent Health published research written by the Society for Adolescent Health and Medicine and a team of researchers from Columbia University, University of North Carolina, the Guttmacher Institute, and the Children's National Medical Center at George Washington University, and others.
"Abstinence from sexual intercourse can be a healthy choice for adolescents, particularly if an adolescent is not ready to engage in sex," the abstract reads. "However, government programs exclusively promoting abstinence-only-until-marriage (AOUM) are problematic from scientific and ethical viewpoints."
It all goes back to the Adolescent Family Life Act, which Ronald Reagan signed in 1981.
The act was the first abstinence-only funding program. But the Journal of Adolescent Health points out that these programs do little to stop teens and young adults from having sex before marriage. In addition, they don't effectively teach about safe sex measures that can reduce the risk of pregnancy and STIs.
The study concludes that the "information" provided by these programs is "incomplete."
"AOUM programs inherently provide incomplete information and are often neglectful to sexually active adolescents; lesbian, gay, bisexual, transgender, and questioning adolescents; pregnant and parenting adolescents; and survivors of sexual assault. Promotion of AOUM policies by the U.S. government has undermined sexuality education in the United States and in U.S. foreign aid programs to prevent HIV infection."
This all points to comprehensive sex ed as a vital resource for young people. Also, the study is especially relevant during Trump's administration with Republicans in Congress continuously trying to defund organizations like Planned Parenthood that, in addition to being a medical resource, provide all sorts of tools and guidance for young people.
Whether or not teens decide to have sex, they deserve to have all the information needed to make that choice and carry it out in the healthiest, safest way, and that most definitely includes information about consent, LGBTQ+ resources, birth control, and sexual health.