When the right to choose is under attack, abortion providers refuse to back down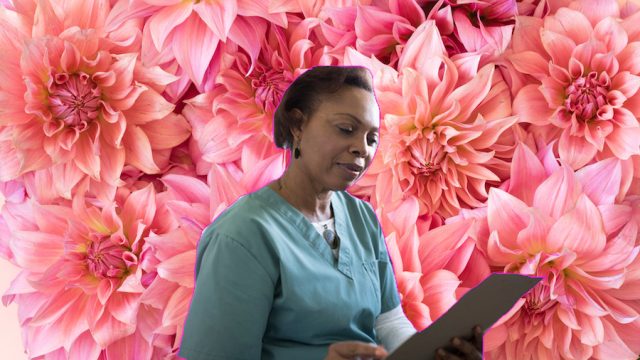 On March 10th, 1993, abortion provider Dr. David Gunn was shot and killed by an anti-choice extremist. Now, March 10th is National Abortion Provider Appreciation Day, when we honor the doctors who dedicate their careers to upholding reproductive freedom in spite of increasingly oppressive legislation and dangerous politics. Here, Nikki Madsen, Executive Director of Abortion Care Network, uplifts the work of abortion providers at independent clinics, who are the sole reason why there is any abortion access at all in several states.
The attacks on abortion care in the United States have reached unprecedented heights. Just this week, politicians in Missouri advanced an omnibus bill that will make abortion care virtually impossible in a state that has only one remaining provider. Eight states have introduced bills this year to ban abortion care before most women know they're pregnant. And hateful, inflammatory rhetoric about people who have abortions and providers who care for them is on the rise. And yet, every day, independent abortion providers display unwavering courage and compassion in the face of these relentless attacks, refusing to give up on their patients or lessen their commitment to providing quality care to their communities.
Shortly after Roe v. Wade, the 1973 Supreme Court ruling that legalized abortion in all 50 states, feminists and physicians began opening community-based, independently owned abortion clinics throughout the country. These independent clinics set a new standard for abortion care—laying the groundwork for compassionate, affordable, quality services that center patients and their needs.
Today, these independent abortion clinics provide care to three out of every five people who have an abortion in the United States. They are vital to ensuring that abortion care is available throughout a pregnancy, and without them, getting an abortion after 16 weeks would be virtually impossible.
We've reached a pivotal moment for abortion care in the United States. The balance of the Supreme Court has now shifted against our rights. Anti-abortion politicians in states like Mississippi, Kentucky, and Ohio have made it clear they'll stop at nothing to ban abortion entirely. This federal administration has launched an all-out misinformation campaign about abortion designed to stigmatize patients and providers, and ultimately ban abortion.
But during such a trying time, abortion care providers remain fierce advocates for women and their communities.
Today, independent abortion care providers in Hawaii, Maine, Ohio, Montana, Arkansas, Mississippi, Kentucky, and Washington state are all serving as plaintiffs in lawsuits to keep clinics open, lift bans on abortion coverage, and fight restrictions that push abortion out of reach. In Texas, when politicians passed an extreme law that shut down all but a handful of clinics in the state, it was an independent abortion provider—Whole Woman's Health—who sued the state and won a landmark Supreme Court victory in Whole Woman's Health v. Hellerstedt.
Three years after that historic ruling, Hope Medical Group for Women in Louisiana is poised to be the state's only abortion provider should the new Supreme Court allow a law to stand that would shutter all but one clinic.
It's times like these when the grit and dedication of independent abortion providers inspires me.
When the stakes are high, abortion providers refuse to back down: they fight for their patients' ability to get the health care they need, without needless restrictions.
Unfortunately, due to a tsunami of such restrictions (as well as other factors), independent abortion care providers operate the only remaining clinic in four states: Kentucky, Mississippi, North Dakota, and West Virginia (two additional states—Missouri and South Dakota—are served by a single Planned Parenthood). Wyoming and Louisiana rely entirely on independent clinics for abortion care, and in four others—Arkansas, Oklahoma, Georgia, and Nevada—independent clinics are the only providers of in-clinic abortion care.
Without these courageous health care providers, abortion access in the South and in the middle of the country would be nearly nonexistent.
Many independent abortion providers also offer prenatal, maternity, and postpartum care. After all, people who seek abortion care and those who decide to give birth aren't necessarily different people, but sometimes the same people at different moments in their lives. For more than 40 years, CHOICES Center for Reproductive Health has provided reproductive health care—including abortion care, LGBTQ+ inclusive fertility assistance, gender-affirming care, and prenatal care—to the Memphis, Tennessee community. This year, CHOICES plans to open the city's first birth center and the nation's first fully comprehensive, nonprofit, midwife-led sexual and reproductive health center, providing truly inclusive care throughout their patients' reproductive lives.
Some clinics are going even further to serve those in our communities who face the greatest barriers to care. Independent clinics, such as Women's Health Specialists in California, are located in some of the most rural areas of the country, provide care to LGBTQ patients, and work with their communities and local abortion funds to ensure that care is available to patients who are struggling financially.
But here's the heartbreaking thing you might not know about independent abortion care providers:
Due to restrictions passed by anti-abortion politicians, these clinics are closing at an alarming rate—148 closures in just the past five years.
When clinics are forced to close, communities lose abortion access—and it doesn't end there. When an independent abortion provider is forced to close their doors, patients lose trusted providers who put their needs first and treat them with dignity and respect. Often, they lose the only source of affordable contraception, cancer screenings, gender-affirming hormonal therapy, prenatal care, and more. In turn, communities lose neighbors who care deeply about their health and well-being and advocates who fight like hell for the people they serve.
Politicians show no signs of stopping their fervid attacks on abortion care in our country. But despite what's to come, I'm comforted by the fact that the independent abortion providers I have the privilege of working with will remain steadfast in their dedication to providing compassionate abortion care.
Whatever comes their way, they put patients and their communities first. That's why I celebrate them each and every day. And you should too.