ABC might already reboot Roseanne but without its title star — and this is both a good and bad idea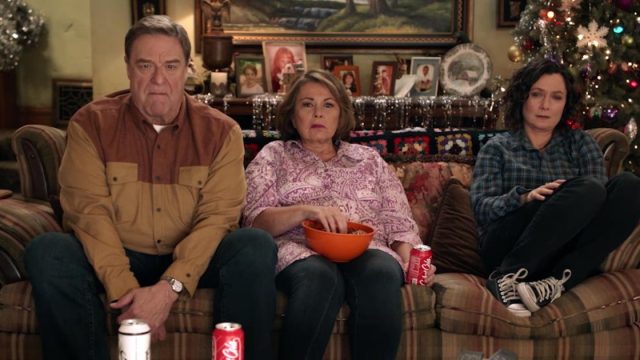 ABC may have axed Roseanne following its namesake star's latest racist tirade on Twitter, but it seems the network isn't quite done with the rest of the Conner family just yet. On May 29th, president of ABC Entertainment Group Channing Dungey announced that the network had canceled the popular reboot due to Roseanne Barr's racist remarks about Valerie Jarrett, despite renewing the revived series for a second season in March.
But while ABC is certainly done with Barr in a very big way, the network is reportedly looking for a spinoff of sorts with the rest of the Roseanne cast — which includes Hollywood heavyweights John Goodman and Laurie Metcalf. According to Entertainment Weekly, ABC is in the process of "salvaging significant parts" of the long-running sitcom and is currently determining the plausibility of moving forward with the rest of the Roseanne cast, including Sara Gilbert, Michael Fishman, and Lecy Goranson, and new additions Emma Kenney, Ames McNamara, and Jayden Rey.
Honestly, we'd watch Laurie Metcalf read a 1998 telephone book every Tuesday at 8 p.m. ET if it meant continuing to see her on our screens every week.
Part of the appeal of creating a new — or refurbished — series for Goodman, Metcalf, and the rest of the cast is the financial obligations ABC and Roseanne producer Carsey-Werner have. EW reports that March's Season 2 renewal saw the cast options picked up for another 13 episodes, meaning Carsey-Werner is still contractually obligated to pay the cast, despite the series' sudden cancellation. Shelving the series would also be costly to ABC, considering it had ordered the series for another season and was projected to be receiving major ad revenue because of the series' popularity.
However, there is at least one major roadblock to seeing the not-Roseanne sitcom come to fruition and that is Barr's potential profit from a spin-off. Barr created the sitcom and its characters alongside Matt Williams and, according to EW, could potentially continue to profit from the series — even as it attempts to explicitly distance itself from her.
While it remains to be seen as to whether the series could fully sever ties with Barr and continue, it seems ABC is doing what it can to assess the situation and see if there's anything that can be done for the cast and crew already committed to another season.