Abby Wambach is engaged, and we're so thrilled for the adorable couple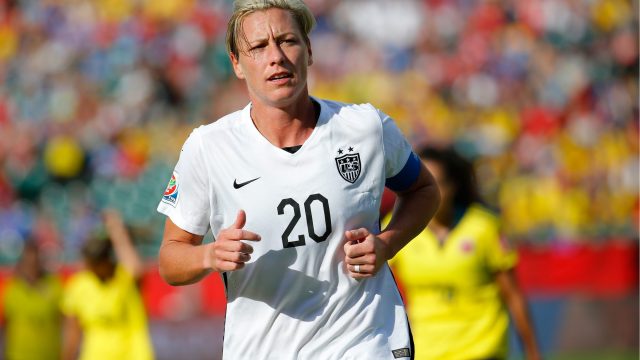 Big (and totally great) news! Abby Wambach is engaged to Christian mom blogger Glennon Doyle Melton. Melton made the announcement on Facebook on Saturday, February 18th.
The Love Warrior author, 40, shared a gorgeous black-and-white photo that showed off their elegant diamond engagement rings as they held hands.
"Abby and I have decided to hold hands forever. Love Wins," Melton captioned the post.
Wambach reposted the image the next day adding, "Happy. #iseethemoonnow."
Abby Wambach, one of the biggest stars out of the Rio Olympics, first revealed she was dating Melton in November 2016.
Melton had announced her divorce from husband Craig Melton three months earlier, and just two months earlier, Wambach had separated from wife Sarah Huffman, also a pro-soccer star. Wambach had been open about the issues within the 3-month marriage, which were impacted by her struggles with drugs and alcohol, and the two-time Olympic gold medalist's DUI arrest in April 2016.
It seems the athlete has turned her life around.
On Valentine's Day, Melton posted a selfie with the caption, "And then one day it all makes sense. Every bit of it. And you can finally see your past as one long, blessed road leading you home. And you understand that every bit of it was necessary and that every bit of it was holy. Thank you for being my home @abbywambach. I love us."
And if that isn't the dang sweetest Valentine's message we've ever read, there's no such thing as love.