These pictures of Aaron Paul holding his newborn daughter will melt your heart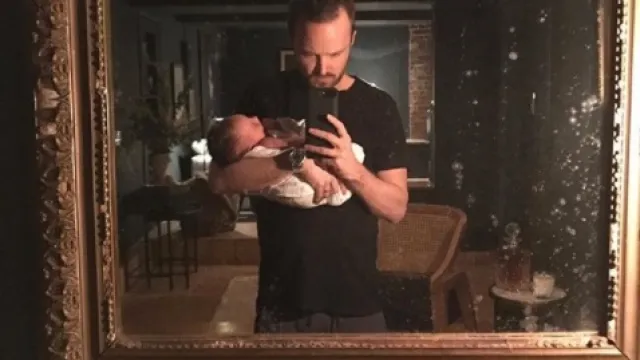 We're beyond thrilled for Aaron Paul and his wife Lauren. On Friday, February 9th, the couple announced the birth of their new baby girl! And the pictures are already crazy adorable. Both the Breaking Bad actor and his wife took to Instagram to share photos of their new bundle of joy, and they're the proudest parents ever. After meeting at Coachella years ago, the couple married in 2013 at a Great Gatsby-themed wedding. They revealed the news of their pregnancy last September.
Lauren and Aaron Paul haven't announced their little girl's name yet, but we're loving seeing him step into the role of proud papa. There's nothing like a bunch of baby photos to brighten your day, and these are definitely no exception. It's clear that this little girl is very loved! Lauren, the co-founder of the Kind Campaign, gushed over her husband in a particularly sweet post. "I have never loved you more than I do right now," she wrote. "We are so lucky to be your girls forever." Not gonna lie, the Pauls are seriously our new #couplegoals.
Aaron Paul's first Instagram selfie with his baby girl is ridiculously sweet.
Lauren also shared a photo of their newborn daughter, along with her Pinterest-worthy bedroom.
We're a little bit jealous of that cozy nook.
Aaron Paul has a busy year planned. The latest season of his show The Path premiered on Hulu on January 18th, and he's set to appear in several upcoming films. Despite his crazy schedule, it's clear that Paul is already embracing fatherhood with both arms, and we're absolutely loving it.
We can't wait to watch this little girl grow up. If she ever needs a babysitter, give us a call!