The new "A Wrinkle in Time" poster is a beautiful optical illusion
Months after dazzling us with the first trailer at the D23 expo, Disney has released a gorgeous new poster for A Wrinkle in Timeahead of a new trailer set to air during the American Music Awards on Sunday.
The highly anticipated Ava DuVernay directed sci-fi adventure film — adapted from the book of the same name by Madeleine L'Engle — follows teen Meg Murray, along with her brother Charles Wallace and friend Calvin, who embark on a mission across the dimensions of space and time to find her missing and renowned scientist father, guided by three celestial beings.
Boasting an all-star cast of Oprah Winfrey, Reese Witherspoon, Mindy Kaling, Michael Peña, Zach Galifianakis, Gugu Mbatha-Raw, Chris Pine, and newcomer Storm Reid, A Wrinkle in Time is sure to be one of 2018's biggest.
And the new poster promises the film will be a space and "time wrinkling" epic like never before.
It depicts our heroine Meg (Reid) and her two cohorts, brother Charles (Deric McCabe) and friend Calvin (Levi Miller), alongside their celestial guides: Mrs. Who (Kaling), Mrs. Whatsit (Witherspoon), and Mrs. Which (Winfrey), who are ready to leap across dimensions by means of a tesseract. They all appear to be headed toward the captive Dr. Murray (Pine).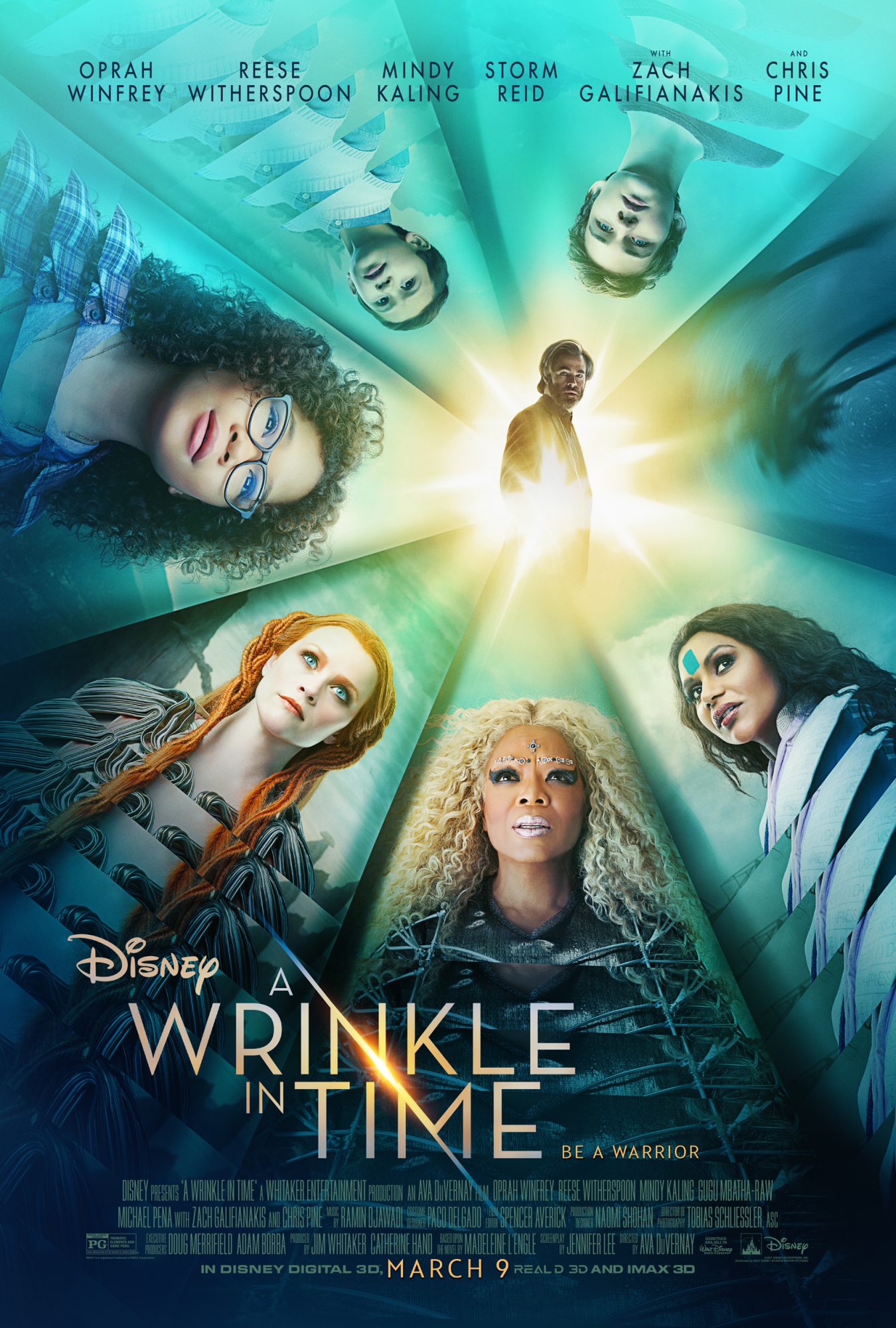 The first trailer gave viewers a brief glimpse of what to expect from the adventure film, teasing the masterful scientific breakthrough Dr. Murray uncovers before being taken captive, as a darkness threatens the universe — and it's up to Meg to stop it. It depicts the kids traveling to an eerie Stepford Wives-like planet, visiting the "Happy Medium" (Galifianakis), and coming face-to-face with the ominous red-eyed man (Peña), who may just be the key to finding Dr. Murray.
"Your father has accomplished something extraordinary but also dangerous," Mrs. Which ominously explains to Meg in the trailer. "He's trapped by a darkness that's actively spreading throughout the universe and the only one who can stop it is you."
https://www.youtube.com/watch?v=E4U3TeY2wtM?feature=oembed
As if this wasn't mind-bending enough, we'll get another look at the film when a brand new trailer airs during the American Music Awards on Sunday (November 19th) on ABC!
A Wrinkle in Time will cross dimensions and land in theaters on March 9th, 2018.