A Texas teacher's suspension shows why we need federal LGBTQ anti-discrimination laws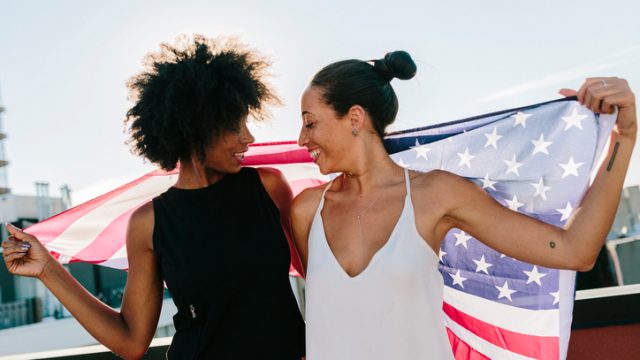 This week, students and parents protested at a Texas school board meeting after a teacher was suspended for talking about sexual orientation, and it's the perfect example of just why we need federal LGBTQ anti-discrimination laws. The situation is pretty infuriating. Stacy Bailey, a 31-year-old art teacher at Charlotte Anderson Elementary in Arlington, Texas, reportedly wrote an email late last summer to school board members about changing the district's anti-discrimination policy and adding language such as "sexual orientation" and "gender identity" to the policy.
She also reached out to counselors at other schools in the district about getting them on board and seeing what their options were to start going about it. In emails obtained by the Dallas Morning News, she wrote, "San Antonio, Dallas, and Austin have all added: 'sexual orientation, gender identity, and gender expression' to their non-discriminatory language. I think it is important that [the district] starts movement towards progress now. We have many LGBTQ teachers, students, and families in this district." Bailey wanted those students, families, and employees to feel "protected."
A day later, she was suspended from the Mansfield Independent School District with pay indefinitely and she's reportedly still not teaching, which is why parents and students have finally started to speak up. Given all of the attention drawn to the situation, MISD broke its protocol of not speaking on personnel decisions by releasing a statement to the media about the situation.
In their point of view, Bailey had done more than *just* ask the district to change its discrimination language. As an elementary school art teacher, she once showed a slideshow of pictures in class that included a picture of her wife, whom she identified as such. Who didn't have a teacher in elementary school who might mention their spouse or family in class?
It's a pretty normal thing that comes up in conversation, especially with curious kids. She reportedly also spoke about the sexual identity of the artists students were studying and how they related to each other. This was unacceptable to the district and apparently parents, according to the emailed statement it sent to HelloGiggles. MISD maintains that Bailey wasn't fired for bringing up the non-discrimination policies and that the district "welcomes that discussion" through proper channels.
"Rather, the District's concern is that Ms. Bailey insists that it is her right and that it is age appropriate for her to have ongoing discussions with elementary-aged students about her own sexual orientation, the sexual orientation of artists, and their relationships with other gay artists."
It added that there were multiple complaints from about Bailey "discussing her sexual orientation with elementary-aged students. After receiving the complaints, administration met with the teacher more than once regarding the concerns. However, Ms. Bailey refused to follow administration's directions regarding age-appropriate conversations with students."
MISD added that her suspension is "a matter of parents having certain rights pertaining to the topics to which their children are exposed and the District's right and responsibility to ensure age-appropriate instruction."
Bailey's lawyer, Giana Ortiz, directed HelloGiggles to the statement she gave to the Dallas Morning News, saying:
"Stacy Bailey is a model educator—and has faithfully and effectively served MISD for a decade.  She is a two-time teacher of the year.  For Stacy, this entire ordeal began when she spoke with the students about her family which, for Stacy, included her wife.  The District appears to speak for Stacy when it states that she "insists it is her right and that it is age appropriate to discuss matters including ongoing discussions about her own sexuality.  This is absolutely false.  Further, she never received directives to change her behavior—and never refused to follow any directive."
Ortiz adds, "MISD is trying desperately to change the narrative and to silence the families and staff at Charlotte Anderson who have pled with the District, both publicly and privately, to return Stacy Bailey to work. MISD has resorted to a press release, misstating the facts and attempting to paint Stacy as lacking judgment or moral compass. The fact is that she was placed on leave after years of exemplary work based on a single parent complaint. " false
Bailey is beloved by students and parents. Florence Bruner, whose fourth grade daughter has taken classes with Bailey since kindergarten, told the Star Telegram, "As a parent, we ask a lot out of our children and our teachers, but there are two things we hope for the most — one is a teacher whose love of the subject inspires students, and the other is a teacher who cares deeply for our children. Stacy Bailey is without question both of these." She added, "You are talking to kids who sound like they have art majors."
But even if Bailey was a terrible teacher who just made kids finger paint while she scrolled through her phone all afternoon, it's ridiculous for the district to insist that the teacher was not having "age appropriate" conversations with the students. If that were so, every cisgender, heterosexual teacher who mentions a spouse in a classroom would be breaking the rule.
Remember that teacher that had a picture of her whole family on her desk, dogs included? Was that age appropriate to show us, as elementary school kids, that they had procreated? What are we really talking about here? Imagine how many great LGBTQ teachers there are that might be scared to talk about their personal lives for this very reason and the kinds of connections they're missing with students, especially the kids who might be looking around for an LGBTQ role model as they grapple with their own sexual and gender identity. false
Although we don't know how the sexual orientation of artists was brought up in her classroom, there are tons of ways that could have been important to the lesson plan. A third grader doing a report on famous female painters will definitely find out that Josephine Baker was one of Frida Kahlo's loves and inspirations on Google and might add it to a poster board presentation. (Do kids still do this? They really should.)
Basically, talking about sexual orientation or gender identity isn't abnormal or "too much" in most cases, and there are ways to do it that are age appropriate.Yet, the district is totally allowed to consider a parent's bigotry because of the lack of laws protecting LGBTQ people, especially at work.
https://twitter.com/udfredirect/status/979314827637215232
Currently, there are laws against discriminating against people based on their sex, race, color, national identity, or religion, but there's no language about sexual orientation or gender identity. During the 2016 election, then presidential candidate Hillary Clinton promised she would make the Equality Act a priority and update the Civil Rights Act of 1964 to include sexual orientation and gender identity language when it comes to employment, housing, accessing federal services, or even being allowed to exist in public places.
https://www.youtube.com/watch?v=Np7mkzEvzFo?feature=oembed
Since she lost, and this administration has rolled back all kinds of LGBTQ protections, it doesn't look like those federal anti-discrimination laws are going to happen anytime soon. One bright side is that the Second Circuit Court of Appeals recently ruled in another case that LGBTQ discrimination does violate the Civil Rights Act.  But that only applies to the Second Circuit, which means Connecticut, New York, and Vermont. The Trump administration actively opposed the ruling and the case could head to the Supreme Court, where it can be overturned.
Until then, our LGBTQ co-workers, like Bailey, can be fired or denied housing just because someone doesn't like who they love or doesn't "believe in" gender identity, just like companies could refuse to hire women and realtors could turn black families away from neighborhoods decades ago. To make up for the lack of federal protections, states and private companies have amended their nondiscrimination clauses to recognize the humanity of LGBTQ people, which is what Bailey was attempting to do, but it's not enough. Until "sexual orientation" and "gender identity" are protected in federal anti-discrimination laws, there's no equality for LGBTQ people.