Stop what you're doing — the first A Star is Born trailer is here, and it shows Lady Gaga as we've never seen her before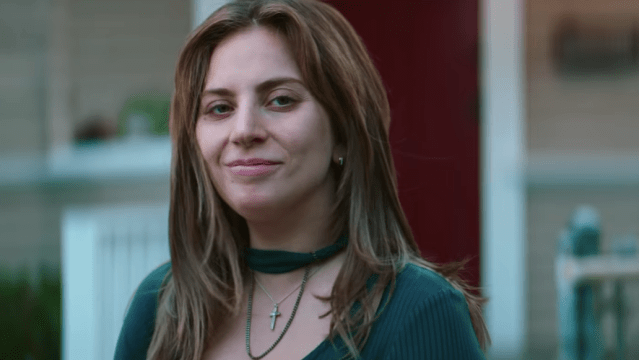 Here's a sentence you probably never thought you'd read: There's a musical film on the way starring Lady Gaga and Bradley Cooper. It's a remake of a classic that previously starred Judy Garland (in its earliest iteration) and Barbra Streisand in the leading role, and now it's Lady Gaga's turn to shine on screen. The first trailer for A Star Is Born is here, and it will make you examine the way you look at Lady Gaga — as well as movies, musicals, and heck, even Bradley Cooper.
A Star Is Born stars Bradley Cooper as an aging music legend whose career is declining when he meets an up-and-comer, played by Stefani Germanotta — aka Lady Gaga.
It's a completely different look for them both. Cooper appears weathered — scraggly, sunburned, almost defeated in way we haven't seem him before. He knows his career is long past his peak, and while the fans are still there, we can see he's started to have a drinking problem. Lady Gaga, on the other hand, is as fresh-faced as we've ever seen her. Never seen her, perhaps. It's the first time that the icon has leaned into a role where she's so wholly vulnerable. Little to no makeup and a shaggy brunette chop can't disguise her power, though, and as much as she wants to seem unprepared to take the stage — people know what's to come.
https://www.youtube.com/watch?v=nSbzyEJ8X9E?feature=oembed
Both of these roles are interesting casting choices, because the stars are sort of playing against type. When you think of Bradley Cooper — who also directed A Star Is Born — do you think scruffy, aging folksinger? When you think of Lady Gaga, do you picture insecurity? Not really.
So it's a testament to both of these performers that they're selling it in this trailer. The leads are unrecognizable, but they have this bananas chemistry that makes you think the whole thing has to work out in the end. Also, Dave Chappelle and Halsey both have supporting roles in it. This is definitely shaping up to be a film we don't want to miss, and it hits theaters on October 5th.