The trailer for Emily Blunt and John Krasinski's first film together will send chills down your spine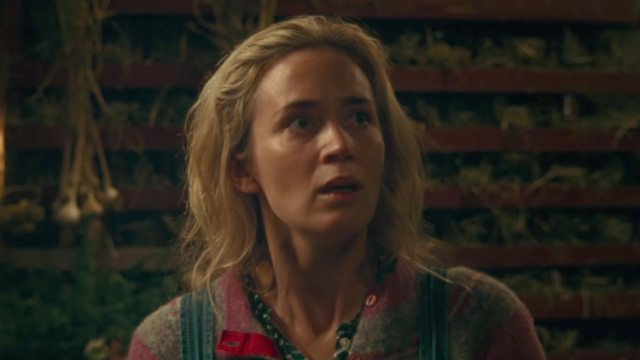 One of our favorite celebrity couples is finally starring in their first film together — but warning, the trailer for A Quiet Place might be one of the scariest things you'll see all day. Emily Blunt and John Krasinski not only teamed up for the film, they appear to play a married couple with two kids in it. That may *seem* like art imitating life, but it is a horror film so the swooning ends…now.
A Quiet Place follows a family living in the rural countryside who live in complete silence in order to hide from a mysterious evil force that uses sound to find its victims. Throughout the trailer, the family moves silently — using sand and carefully marked spots to hide the noise of their footsteps, and sign language to communicate — until the son knocks over a lantern and the glass shatters. From there, it's a terrifying fight for survival.
And honestly, due to the eerie music and the overall quiet nature of the trailer, the sound of shattering glass is absolutely harrowing.
As if you weren't already about to have nightmares, this classically horror message flashes across the screen throughout the trailer: "Listen closely, move carefully, and never make a sound. If they can't hear you, they can't hunt you."
https://www.youtube.com/watch?v=p9wE8dyzEJE?feature=oembed
There are plenty of quick-cuts of the family trying to elude the descending evil force — most notably, Blunt serving up the perfect horror-film scream (in a bathtub, no less). But we definitely have a few questions: What's the deal with the cross on the bridge? Will we learn why this family seems to be the sole survivors of an apocalypse of sorts? Can Krasinski's character outrun the evil force? Is hiding in a bathtub really going to save Blunt's character from impending doom?
Regardless, we're pretty interested in seeing this film — directed by Krasinski and also starring Millicent Simmonds and Noah Jupe as the couple's children — when it comes out in April. That is, after we muster up the courage.