We can't stay quiet about badass Emily Blunt in the new A Quiet Place sequel trailer
This post contains spoilers for A Quiet Place, part one.
Update, January 1st, 2020, 12:35 p.m.: (*Whisper screaming*:) The full trailer for A Quiet Place Part II is here! (Shh!) As promised by the trailer for the trailer, 2020 has already given us a gift. And that gift is badass Emily Blunt taking center stage and taking charge of her family in the A Quiet Place sequel preview. She's in car chases, locking and loading her rifle, and leading her now-three children through the wilderness.
The trailer also shows that the sequel will flash back in time before the sound-sensitive monsters have taken over the world. Which means, yes, probably more talking than in part one. (So maybe you can get the crunchy snacks at the theater this time.) We also get a glimpse of new, mysterious characters played by Cillian Murphy and Djimon Hounsou. Watch the whole trailer below:
Excuse us while we shudder over that final line—"The people that are left are not the kind of people worth saving"—until we see the movie March 20th.
Original post, December 18th, 2019: True to its core concept, details about A Quiet Place Part II (why isn't it called A Quieter Place, we wonder?) have mostly been kept on the hush-hush. But now a teaser trailer has been released to give everyone an idea of what to expect. On Wednesday, Paramount Pictures dropped a 30-second snippet and a still image from the film, updating us on the whereabouts of the Abbott family. We're not going to lie to you, things look pretty intense.
The highly anticipated follow-up sees survivors Evelyn (Emily Blunt), Regan (Millicent Simmonds), Marcus (Noah Jupe), and the new baby making a sojourn into the unknown, further beyond their soundproof home and trails of soft sand. You'll notice Evelyn holding onto a newborn child—presumably the same baby she gave birth to in the first installment—carefully avoiding crunchy leaves with her bandaged foot. If you can still recall, her foot was injured in the previous film.
So, it looks like the sequel to A Quiet Place picks up soon if not immediately after the action of part one.
Trailing behind Blunt's Evelyn are her kids with bags in tow and a heavily-marked map in hand. Spooky!
Paramount Pictures also released the eerie new poster for A Quiet Place Part II.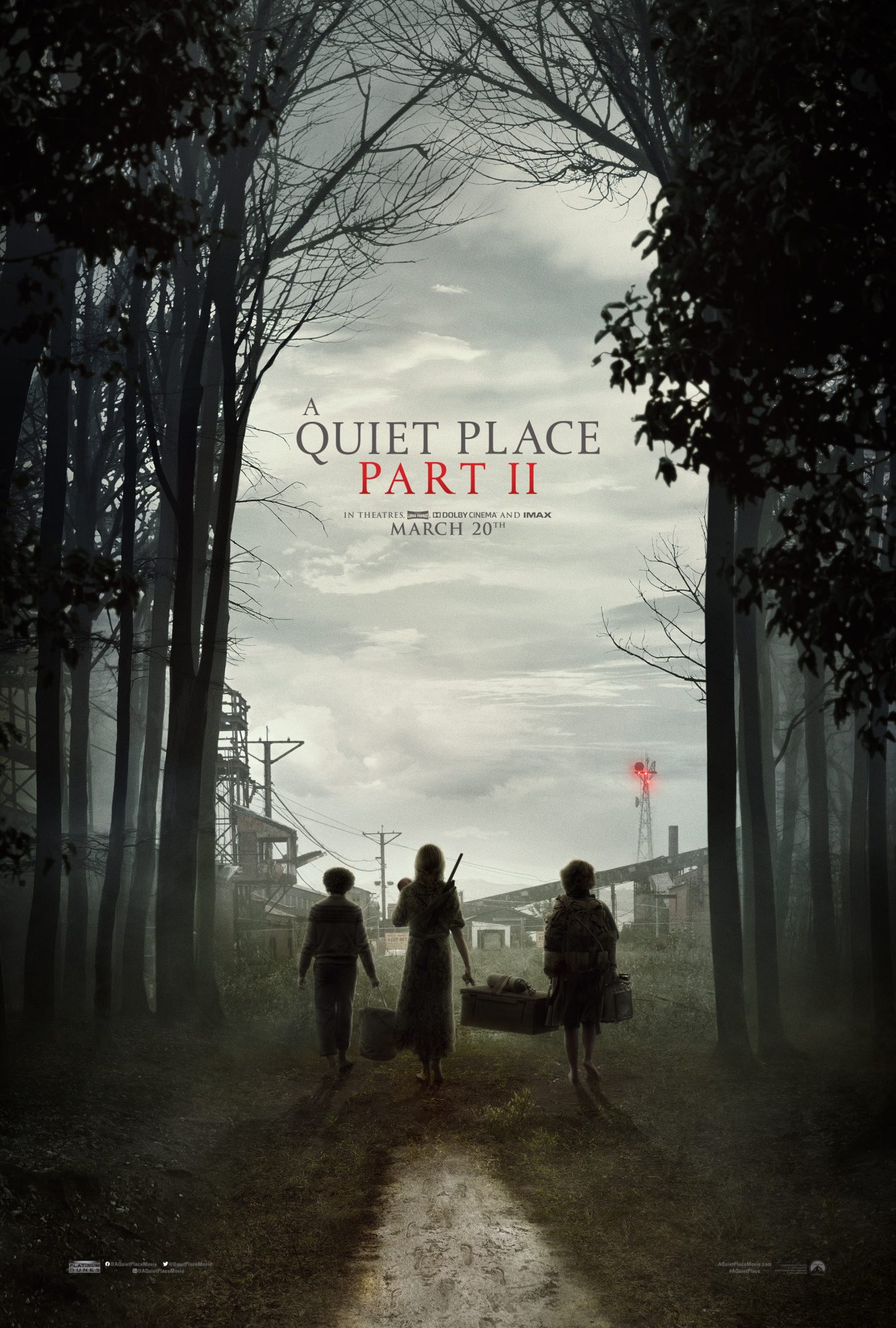 Written and directed by John Krasinski, the sequel is meant to show what it means to thrive, rather than just survive.
Krasinski had previously shared a photo of himself and his wife, Blunt, from the movie set:
Rounding out the cast are Cillian Murphy, whose character is a fellow survivor who may or may not have nefarious intentions with the Abbotts, and Djimon Hounsou.
A Quiet Place Part II arrives in theaters March 20, 2020. Practice your inside voices.