Emily Blunt shot the bathtub scene from A Quiet Place in one take, in case you weren't already impressed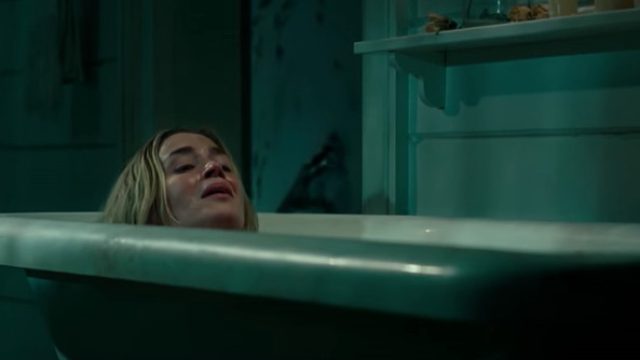 It's official: John Krasinski and Emily Blunt's new movie, A Quiet Place, is a box office hit. And there's one scene in particular that everyone is talking about. Even if you've only seen the trailer, you still know the one: the A Quiet Place bathtub scene.
Without spoiling anything about the film, at one point, Emily Blunt's character Evelyn gives birth in a bathtub. By herself. With predators lurking, ready to pounce, just a few feet away. After having JUST stepped on a nail. Oh, and did we mention that she has to remain perfectly silent while giving birth or else risk being snatched away by aliens? Yeah. It's intense.
A Quiet Place offers further proof that Emily Blunt is good at literally everything. And no one is prouder of her than Krasinski. During a recent interview, Jake Hamilton asked Krasinski (who co-wrote, directed, and stars in the film) if he learned anything about directing from working with Blunt. Of course, Krasinski took the opportunity to gush about his incredibly talented wife.
Krasinski explained that when he was looking for an editing bay for A Quiet Place, he ran into Rob Marshall, who was working on Blunt's upcoming movie Mary Poppins Returns. Marshall posited that Krasinski wouldn't understand the full extent of Blunt's talent until he saw it in person.
"He said, 'It's not until you're in the room when she does what she does will you know how good your wife is.' And I thought, 'That was a really interesting thing to say.'"
Krasinski went on to say that Blunt shot the A Quiet Place bathtub scene in just. One. Take.
If you haven't seen the movie, here's a preview of just how intense it gets.
"We only did one take. And it completely changed how I looked at her, truthfully. Not only because she was insanely talented, but because she was prepared. She could harness that magic like nothing else. As soon as it was done, she asked what was for lunch. She's able to do this so unbelievably well. But more than that, she was the most positive energy on set, she had the greatest ideas for script, for shots, for all these things. I know it sounds corny, but I'll never have a collaboration as good as I did with my wife."
Wow. We knew Emily Blunt was good at everything, but now we're impressed on another level.
A Quiet Place is now playing in theaters!