A new study says teens are still smoking way too many cigarettes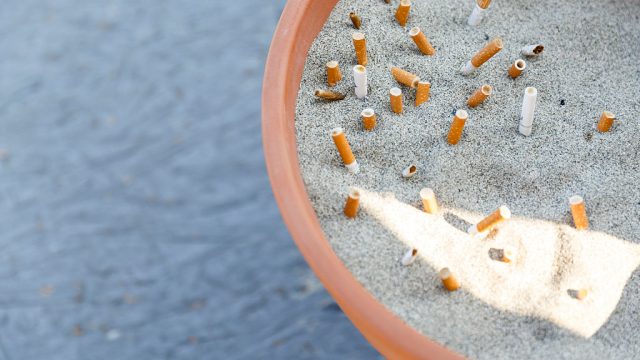 According to a new study, the largest group of smokers in the world are teenagers. Most smokers start in adolescence, so the Centers for Disease Control and Prevention went straight to the source: asking 13- to 15-year-olds if they smoke and how they feel about it. Worldwide, teens are still into sneaking a cigarette, despite all the public health campaigns urging them to just say no.
The agency looked at 170,000 teens in 61 countries. The numbers vary from country to country, and some are disproportionately higher, especially among boys. In Timor-Leste, for example, the study found that 61 percent of early teen boys smoke, whereas in Jordan, 33 percent of boys do. In Bulgaria, 29 percent of girls have had a smoke in the past month. In Portugal, 40 percent of girls light up.
Funny enough, most teens also want to quit. In 40 of the countries, more than half of the teens said they wanted to quit smoking, though that, too, varies. In Uruguay, only 32 percent wanted to quit, but in the Philippines, 90 percent do. Indu Ahluwalia, the Global Tobacco Control Branch Chief at the CDC's Office on Smoking and Health in Atlanta, one of the authors of the study was heartened by the results. Not because kids are smoking, obviously, but that the majority of them are ready to stop. So this new data can be used to convince government agencies to beef up their campaigns to help teens quit the habit.
Overall, rates of teen smokers are decreasing, but they're still high.
Because apparently those campaigns help, as does making tobacco hard to find and super expensive. Almost all of the countries in the study have ratified the World Health Organization's Framework Convention on Tobacco Control, which are recommendations for countries to lower smoking rates. Some are better at following them than others, though, according to NPR.
Another study found that raising the price of cigarettes by 10 percent reduces demand for cigarettes by 4 percent in high-income countries and banning tobacco ads decreases the rate of smokers by 16 percent in high- and middle-income countries. So these small changes can work.
It's especially important to prevent teens from smoking, since their adolescent brains are prone to become addicted. And as anyone who's ever smoked knows, it's really super hard to quit, even when you know it's bad for you. Addiction is no joke. But it's super encouraging to see that through small policy changes, countries can help keep teens healthy.