A look back at 15 of the most hyped beauty products that blew us away this year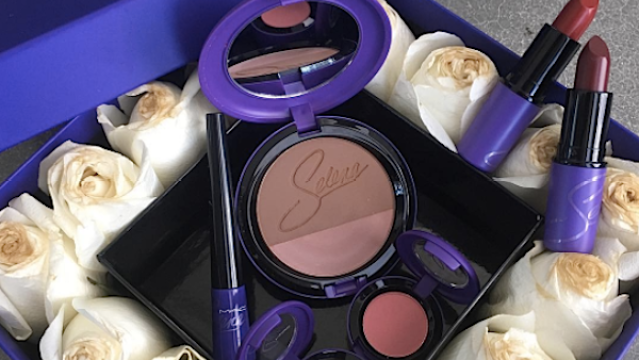 2016 was all about the collab. From Kat Von D's Better Together palette with Too Faced to MAC x Selena, two heads proved to be better than one this year. The most refreshing releases of 2016 supported a less serious approach to beauty. How can you not crack a smile at the sight of rainbow highlighters, Harry Potter makeup brushes, and shower jellies?
To top it all off were the brands near and dear to our hearts who heard our cries for diversity and inclusion. Much love to every line that was expanded and every new shade that was created. There's still a bit of work to do but hey, that's what 2017 is for.
https://www.instagram.com/p/BKWNQQWBqLb
Grab your Funfetti palette, a few peach-ish liquid lipsticks, and your pizza highlighter. We're about to get nostalgic for the not-too-distant past and rattle off some of the products that made 2016.
Etsy shop Bitter Lace Beauty really made a name for itself with their rainbow highlighter, appropriately named "Prism." It even inspired Wet n Wild to make their own version since imitation is the sincerest form of flattery and alladat.
MAC x Selena deserves to be dubbed "the people's collab." What started as an online petition became a sold-out phenomenon.
The credit goes to Unicorn Lashes UK for starting this trend that was later replicated by Tarte.
Not even the most minimal makeup lover could resist the power of these pigments. We expect to see quite a few lids and lips covered in Metalmorphosis on NYE, and we are NOT complaining!
Inspired by tetrachromacy, a rare condition where a person can see over 100 million colors, MAC released a collection of their most pigmented lipsticks EVER. We're hoping to see the 24-shade line expand in 2017, they're that good.
https://www.instagram.com/p/BJgs_yphtHu
When Kylie announced she had created a nude lipstick from brown skin tones, we were a bit skeptical. She really did her thing with the Brown Sugar shade, it's pretty much a staple at this point.
Anastasia really set the bar high with their 28-shade foundation collection. From very fair to very deep, there's a pretty good chance there's a shade for you (and your undertone!)
https://www.instagram.com/p/BGw8DoiLTWQ
Sure, these look like something that would have been advertised on Nickelodeon in our heyday, but they're more than just a novelty. We couldn't stop staring at them on IG and once we got our hands on them we were instantly addicted to their sudsy goodness.
One woman's DIY took IG by storm and made us pretty hungry in the process. Hopefully someone has given this creative genius a distribution deal by now.
Mariah Carey managed to out Mariah Carey herself with this uber fabulous holiday collab with MAC. From the shimmery shades to the over-the-top packaging, this was one of the most stunning collections of the year.
https://www.instagram.com/p/BI8GwklBPFM
Forget about the shadows, the beautiful notes between Jerrod and Kat had us reaching for the tissues. Most heartfelt collab EVER, amiright?
We're calling it, Storybook Cosmetics is the brand to watch in 2017.
Will 2017 bring another collab between Mario Dedivanovic and Anastasia Beverly Hills? We hope so! ::cough::make highlighters::cough, cough::
We waited ANXIOUSLY for this palette, blush, brush, mascara, and gloss set to be released and it did not disappoint. But then again, when has Too Faced ever let us down?
This was by far the biggest, most anticipated collection from Too Faced and it was deserving of all its hype.
SO many releases this year. Which one was your fave?