John Legend and Chrissy Teigen shot an entire fake '90s sitcom intro for their NBC special—and it's glorious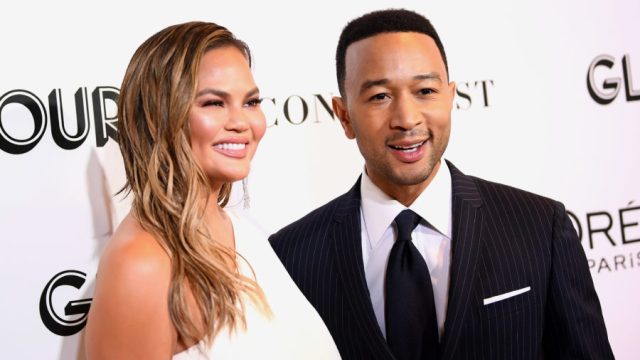 John Legend and Chrissy Teigen served Family Matters-meets-Full House realness in the promo for their first TV special, and our '90s sitcom hearts just might implode. Teigen took to social media on Monday, November 26th to share the duo's first teaser for their upcoming NBC holiday special, A Legendary Christmas.
Watch the promo for A Legendary Christmas below (and yes, you're hearing Legend's dulcet tones).
As if the baby Luna and Miles sightings weren't enough, the promo also teases a plethora of guest stars. Yes, that's Kim Kardashian and Kris Jenner! Yes, those are Parks and Recreation stars Ben Schwartz and Retta! Yes, that's Crazy Rich Asians actress Awkwafina! Following the release of the nostalgic teaser, Teigen joked on Twitter: "it KILLS me that Luna is throwing the ball the wrong way before the next frame but I swear it'll be good"
Legend took to Twitter to share a clip from the upcoming special as well, which features the duo caroling alongside Darren Criss, Raphael Saadiq, Meghan Trainor, and Jane Lynch. The all-star carolers surprise unsuspecting families with some holiday tunes.
A Legendary Christmas premieres on NBC on Wednesday, September 28th at 10 p.m./9 p.m. central. This is truly a gift for the masses.