Amazon is developing a "League of Their Own" TV series, and no, we're not allowed to cry about it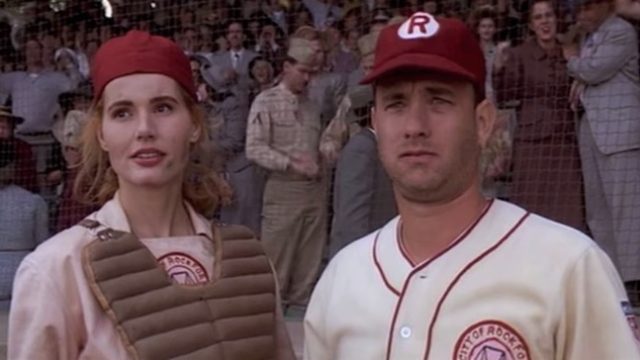 'Tis the season for reboots and revivals, and Amazon Studios is just the latest to step up to the plate. The online retailer-turned-streaming service has been developing a television series based on the iconic '90s movie A League of Their Own, and we cannot contain our excitement.
The reboot of Penny Marshall's beloved film — which starred Tom Hanks as Jimmy Dugan, Geena Davis as Dottie Hinson, and an amazing ensemble cast featuring the likes of Madonna and Rosie O'Donnell — is being described as a modern look at the story that, well, isn't quite the traditional reboot.
Broad City co-creator and star Abbi Jacobson and Mozart in the Jungle producer Will Graham will co-write and produce the story. There's no word on a potential premiere date, as Amazon hasn't officially green-lit the series. In the meantime, there's a "mini-writers' room set to open and deliver scripts," according to The Hollywood Reporter.
And though Jacobson won't have an onscreen role on the show, it's sure to be a grand slam.
Still need convincing? Here's Amazon's official description of the project:
"A League of Their Own is a half-hour comedy infusing the warmth, humor, and DNA of the classic film while taking a contemporary spin on the stories of the women surrounding the All-American Girls Professional Baseball League. The show will begin with the formation of the league in 1943 and follows the Rockford Peaches season to season as they struggle to keep the team alive through close games, injuries, late-night bar crawls, sexual awakenings, not crying, and road trips across a rapidly changing United States."
The logline continues:
"The series dives deeper into the issues facing the country while following a ragtag team of women figuring themselves out while fighting to realize their dreams of playing professional baseball."
The original A League of Their Own was named to the U.S. National Film Registry in 2012 as "an enjoyably nostalgic film about women's choices and solidarity during World War II that was both funny and feminist."
Seriously, we can't wait to see what Amazon comes up with for the TV version of A League of Their Own. We love seeing more female-led TV shows and movies, and we can only hope the rise in diverse representation in the media continues.