A Korean beauty brand released a Marvel collection, and now we have superhero makeup dreams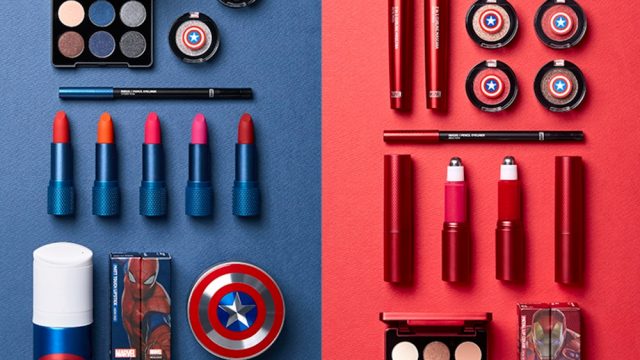 If you're a fan of the Marvel franchise and themed makeup collections, then the world is your oyster. In a beautiful act of creativity, a Korean beauty brand released a Marvel collection so we can now paint our faces with the fury of the Avengers.
The inventive Korean beauty brand known as The Face Shop has drawn inspiration from the Marvel comic books for their latest summer makeup collection, and the results are as brightly-colored and dynamic as we'd hope for. The collection includes everything from bold lipsticks, to mascara, eyeshadows, and BB cream.
A lot of the packaging is directly inspired by Captain America's shield.
We think he'd be flattered to be immortalized as a beauty icon.
As you can see, the color palettes are as graphic and bold as Marvel's comic book illustrations.
We want all of these lipsticks.
Captain America isn't the only superhero who gets a cameo in the collection: Spider-Man, The Black Widow, and Iron Man also flex their cosmetic prowess.
https://www.instagram.com/p/BWSo01bF6cc
It looks like there is a good deal of mascara options, for winking while you destroy Marvel villains.
This makeup set would create the ideal look for a fighting montage.
For the most part, products from The Face Shop are sold exclusively in Korea. However, if you're stateside, you can shop some of the collection through Yes Style as well as Cosmetic-Love online. Their single-shadow Marvel eyeshadows go for $6 on Yes Style. Makeup products on Cosmetic-Love run from $8.24 to $22.41.
Now we can finally channel our favorite superheroes through our makeup selection.
That is, unless you're a DC comics fan.