We talked to Filipina-American restauranteur Patrice Cleary about women's empowerment and of course, delicious food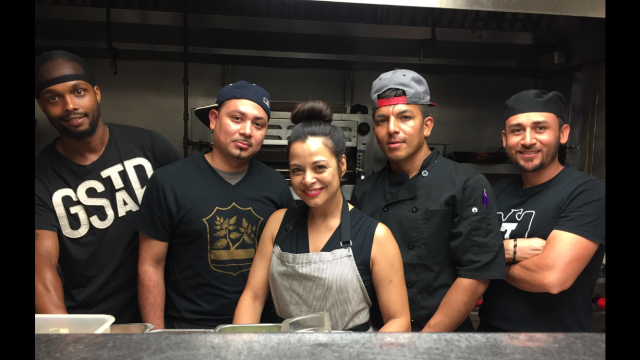 Filipina-American restauranteur Patrice Cleary is bringing her unique and delicious spin on Filipino food to Washington D.C. with her popular restaurant, Purple Patch.
We learned of Patrice and Purple Patch through multicultural entertainment network Myx TV's show, "My Motto." In the episode, Patrice shares the story of opening her restaurant to share delicious Filipino food with her community and foster a sense of identity. Inspired by the recipes her mother taught her as a little girl, the restaurant also features American comfort foods and delectable fusions of several cuisines. Purple Patch is now one of the top Filipino restaurants in the United States.
We caught up with the busy chef, businesswoman, and mom to get her perspective on women's empowerment, self-care, and the therapeutic effects of sizzling sisig.
HelloGiggles: What's your number one item on the menu right now?
Patrice Cleary: I would probably say the sizzling sisig. It's pork belly and shoulder served on a sizzling platter. I could probably open a restaurant just on the sizzling sisig alone!
HG: You guys have a lot of vegetarian items, which is kind of unusual for Filipino food. Do you get a lot of people ordering these dishes?
PC: For me it's not just about representing Filipino food, it's about offering different varieties of our food. So that somebody that is vegan, or vegetarian, or gluten-free, I am able to present our dishes to them in ways that they're able to have them.
If something I've grown up with was made with pork, like for instance, laing, I make that vegan and vegetarian because I feel it's important for different people to try our food. I often use tamari instead of soy sauce when people come in with who have celiac or are gluten-free.

HG: You have a lot of fusion items on the menu. What's another food culture that you like?
PC: A lot of people ask me why I put certain things on the menu. You know, I really want to be true to who I am. I'm not just Filipino — my father is Irish-American, my uncle by marriage is Lebanese, and I've lived in so many different countries. My husband is Australian. Because of that, it has allowed me to broaden my horizons with my menu. When I think about my menu and the foods I want to serve, I think about what makes me most happy, what brings me comfort. It's going back to those fond memories as a child.
I don't feel that I need to have a waffle with fried chicken and syrup. I love ube ice cream, so why not pair it with ube ice cream? And instead of doing regular chicken, why not do Filipino fried chicken to add a crisp to it? Do ube pancakes and instead of bacon, serve lechon kawali with it.
PC: I am all about women's empowerment. So when I opened up my doors to the Women's March, I wanted to serve mimosas and ube pancakes to the women in the Women's March and I didn't want to charge a dime. Everybody that comes in here, I want you to know that I fully support you. I believe in the empowerment of women and going after what you believe in.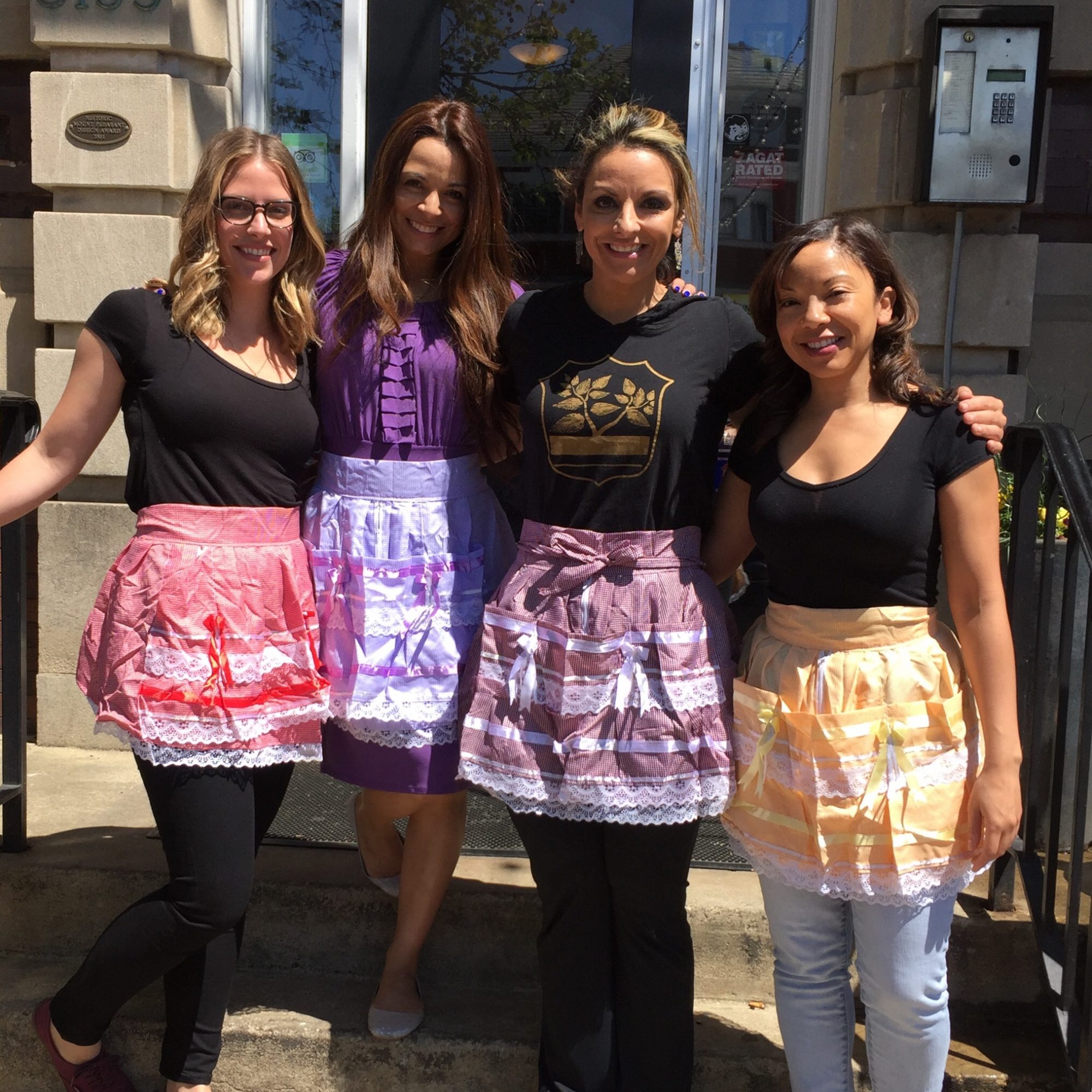 HG: So you identify as a feminist?
PC: I spent eight years in the Marine Corps. Am I a feminist? I just really believe in standing up for what's right. If you would call me a feminist in that right, then by all means I must be a feminist.
HG: What's some advice that you would give to young women who are aspiring restauranteurs or businesspeople?
PC: I think especially being Filipino-American, being Asian, a lot of times what we feel in our hearts, we are scared to go out and push ourselves to do because we feel like it may not be right by our parents or our culture, but at some point in our lives you just really have to accept your desires.
I've never thought that my passions would come to fruition, but I realized that what I loved to do would be something that I could turn into my work. As long as you can turn your hobby into your work, you'll always be successful. If you truly believe in what you're doing, then you're always going to be successful no matter what. Because even if you're a failure, you still feel like a success.
What I would say to young women that have the desire to want to do something, eventually you can't deny it — you're going to have to follow your dreams and your passions.
HG: What do you do for self care? What do you do to relax?
PC: Besides the sizzling sisig and the steam that comes up in my face every day that makes my face glow ever so much…I'll be honest, when I get off work I really like to relax with a nice hot bath and a glass of red wine. That ends my day for me. Maybe an inspirational read to motivate me for the next day ahead because I can't change anything that's happened today. I can always look forward to tomorrow and potentially change the days that are ahead of me. I always like to end on something positive before go to bed, whether it's writing myself or my son a note saying, "I love you, I appreciate you," or taking some red lipstick and writing it on my mirror. I can wake up in the morning and see "You're beautiful," then I have to wipe it off before I get myself together. It helps motivate me when I get up.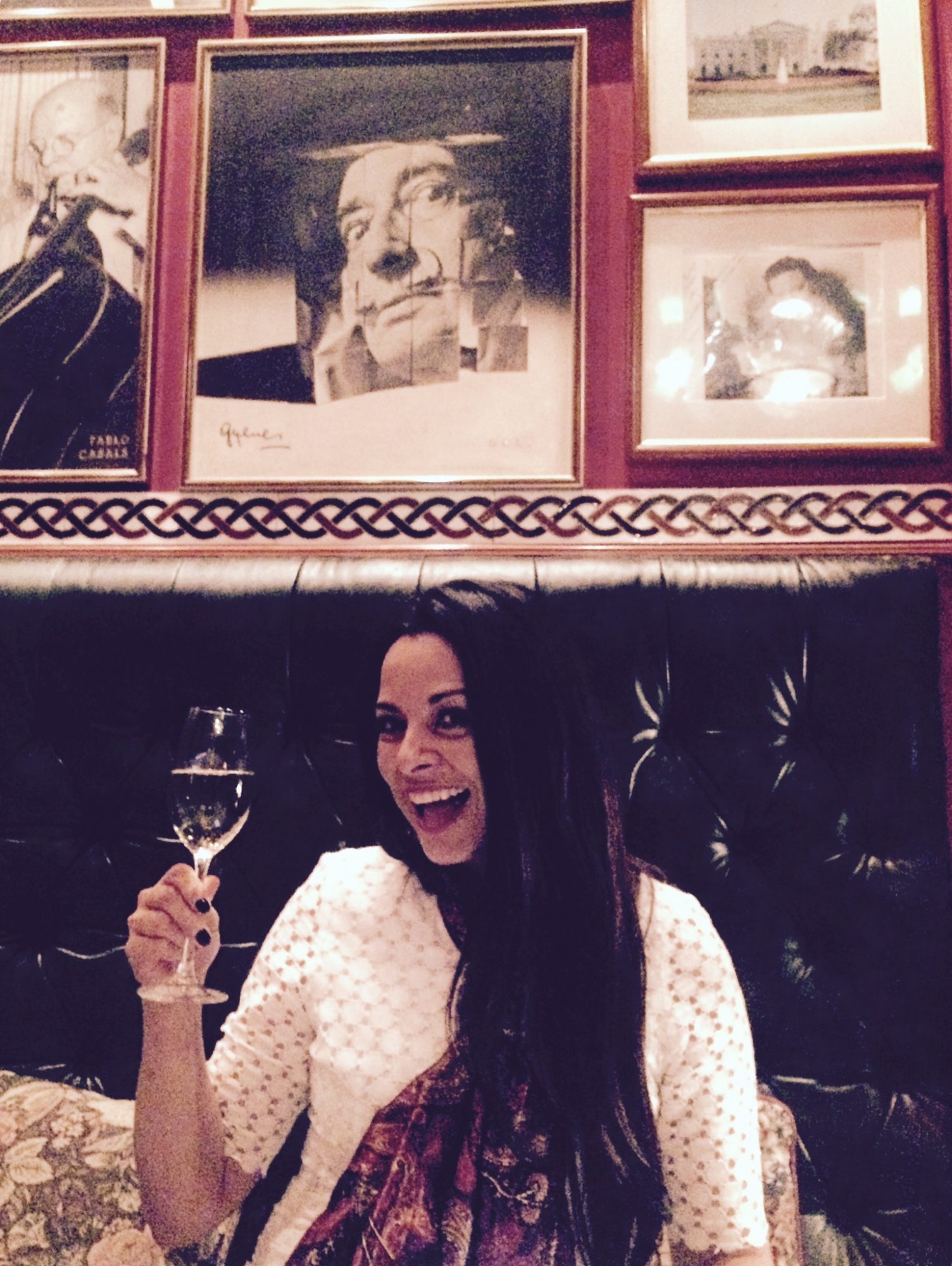 HG: Balut: yes or no?
PC: No. I've had balut. I don't care for balut.
HG: Any last thoughts you'd like to share?
I never thought in my wildest dreams that when I started to do this, I would have gotten the attention that I've received. I'm so honored to represent my culture and cuisine in the nation's capital and for other people see what I'm doing, and say, "It's amazing what this young woman is doing." I hope I can help other young Filipino entrepreneurs  open up more restaurants because there's not many of  us.  At the end of the day when I say, "This is hard, this is tough," I think of others who can take over for me after I'm finished who can say, "She did it. I know that I can do it too."
Check out the "My Motto" episode featuring Patrice:
https://www.youtube.com/watch?v=MztL4Z_Seg4?feature=oembed
Visit Purple Patch in Washington, D.C. to experience Patrice's delicious talents for yourself!