If you're curious about microneedling, we talked to an expert to get the 411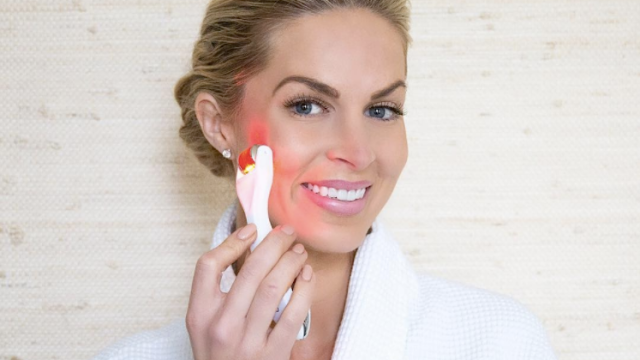 One of the hottest skincare trends right now is a dermatologist sticking a bunch of tiny needles in your skin, but it's formally known as the practice of microneedling. For those of us squeamish to needles (particularly near our sensitive face skin) the concept of microneedling our face sends a wave of shivers down our backs.
However, despite our fear, the trend of microneedling is only growing in popularity, with more and more people turning to it as a way to refresh their complexion. At home-friendly products, like GloPRO's Microstimulation Facial Tool, are paving the way for microneedling to become a mainstay in skincare. Back in December, WWD reported that HSN sold 22,000 units of the GloPRO tools, which equated to $4.4 million, in just 22 hours.
https://www.instagram.com/p/BQk0V4SFXnK
In order to get an expert opinion on the growing trend, HelloGiggles talked to Dr. Blanka Orloff, the founder of Skin Matrx in California, to find out how it works.
She explained:
"Microneedling is a non-invasive way to help stimulate natural collagen production in the skin. By creating tiny areas of injury, which stimulate new collagen growth, you are able to use these small channels to deliver growth factors and other active ingredients deeper into the skin.  You can therefore treat more skin cells and obtain more optimal results."
https://www.instagram.com/p/BIVuir-DsZR
What results can you expect after the needles have grazed your skin and activated your collagen stimulation? According to Dr. Orloff, there are a variety of possibilities.
"Results will vary from person to person; however, the most noticeable results one will see after a microneedling treatment is improvement with fine lines and wrinkles, acne scars, skin texture, and overall, the skin should feel tighter."
https://www.instagram.com/p/BQi_DN1jIat
On average, a 45-minute microneedling sessions costs around $150, so we naturally felt curious about the uptick in at-home microneedling kits, and whether they're safe and effective.
Dr. Orloff shared her thoughts, saying: "Professional treatments are always your best option. Disposable and sterile needle cartridges are used at your doctor's office. Additionally, most of the at home devices would not penetrate the skin as much as a professional device can, so you won't get the same level of results.
https://www.instagram.com/p/BQjRUrhFoo7
Due to the imagery of tiny needles pricking our skin, it makes sense to assume that microneedling isn't safe for the under-eye area or other sensitive spots, but Dr. Orloff said that if your doctor is gentle, and does minimal passes, it can be safely used to improve the texture of sensitive skin.
https://www.instagram.com/p/BQj10JmAaCi
In conclusion, we asked Dr. Orloff is she sees microneedling as a passing skincare fad, or a form of beauty enhancement that's here to stay.
She said: "Because of the impressive benefits that this treatment provides, I do believe that it will continue to grow in the market. As companies become more advanced with the technology, the procedure is only going to improve over time, delivering better results, faster."
https://www.instagram.com/p/BKHPF3YD_9q
If Dr. Orloff is right, it looks like microneedling will continue to become more and more commonplace.
If you're thinking about getting your own, you can snag the GloPro for $199 here.