A Coldplay fan crowd-surfed in a wheelchair to the stage, and it paid off big time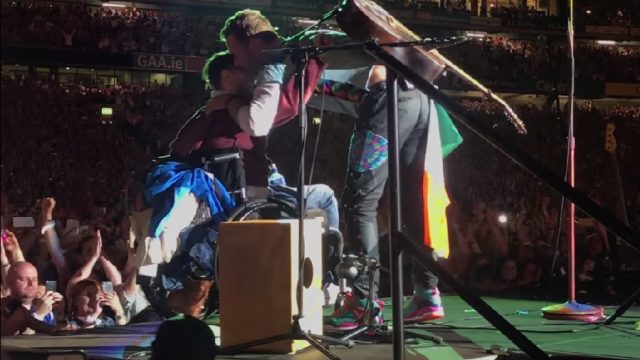 When you're really feeling a live show, you might feel inspired to crowd-surf. One lucky Coldplay fan didn't let a wheelchair stop him from taking part in the tradition. The concert, which happened in Dublin, suddenly turned into the definition of rock and roll after the fan — named Rob — made his way closer to lead singer Chris Martin.
But, things quickly became way more special. Martin, impressed by Rob, decided to invite the fan on stage. And from there, a memory was made that Rob will never forget.
Martin began improvising a song about Rob and Dublin, and as it turns out, Rob managed to have a harmonica on hand with him.
https://www.youtube.com/watch?v=v35DxJxorvo?feature=oembed
As you can see, the concert was absolutely packed — and everyone seemed super supportive of Rob's journey to the front.
Rob wasted no time busting out the harmonica, which makes us wonder if this was his plan all along.
We're also impressed with Martin's ability to improv a song.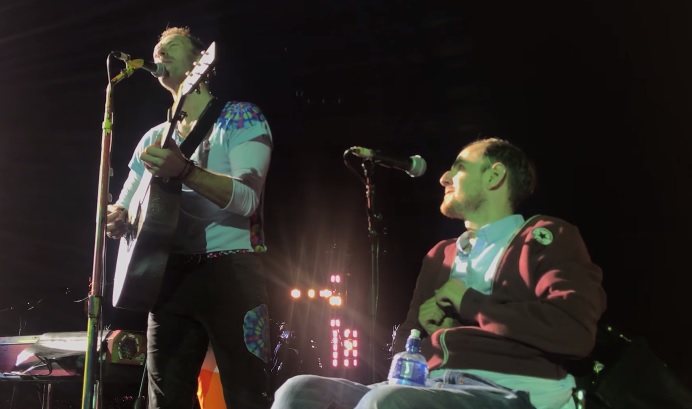 "Well here we are in Dublin, me and my friend Rob, he is 29-years-old and training is his job," he sang. "Well here we are in Dublin and what an awesome crowd, I've been all over the world and I've never seen anybody so loud."
After the song, Martin made sure to give Rob a big hug. Perhaps this is the beginning of a beautiful friendship. (Or, who knows? Maybe Rob will be asked to come back during Coldplay's next Dublin show.)
No matter what, our appreciation of Martin has skyrocketed even further.