This a capella "La La Land" mash-up has put us right back in the city of stars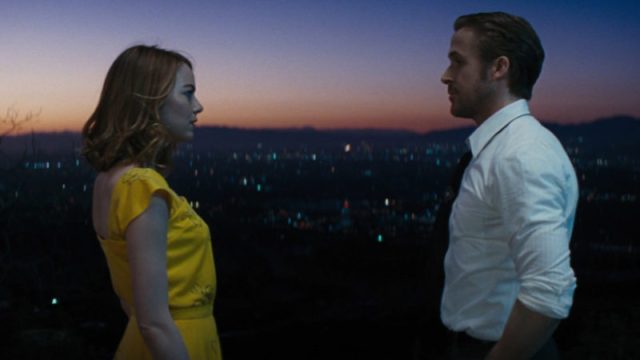 Nearly six months ago, we were gifted with the pure piece of magic that was La La Land. But now, a new a capella mash-up of songs from the film is making us feel like it just came out yesterday.
Serbian "metal/pop/rock" choir Viva Vox remade the Academy Award-winning film into a five minute-long mini-musical. The music video shows a ragtag group of aspiring actors cleaning a stage. While singing "Another Day of Sun," and "City of Stars," they are transformed into a glamorous acting troupe that performs in front of hundreds. They even have a cardboard version of Sebastian's maroon convertible!
https://www.youtube.com/watch?v=ZADYyUcaJO0?feature=oembed
Of course, all fantasies must end. Eventually, they turn back into their former selves with an audience of one — an old lady with a cigarette in her mouth. Hey, even a single fan is better than none?
This choir has a real life La La Land story
Viva Vox's own ascent to internet fame definitely gives us some La La Land vibes. Started by a group of high school graduates in 2005, Viva Vox rose to virality with their cover of "Du Hast," by German industrial-metal band Rammstein. They've since covered everything from Coldplay's "Paradise" to "Bohemian Rhapsody."
And they've also performed in the United Nations' General Assembly Hall in New York. Viva Vox was the first musical group to perform there from their region. Limits? Ha!
Add this to an already epic list of La La Land takes.
Like this cheery instrumental version.
https://www.youtube.com/watch?v=0RIZAY9e24Q?feature=oembed
And this guy's mad tap-dancing skills.
https://www.youtube.com/watch?v=NAEHObPrCtk?feature=oembed
If people continue making their own versions of La La Land until the end of time, that would be a-okay with us. Meanwhile, we definitely want to check out La La Land in Concert: A Live to Film Celebration, conducted by the composer himself, Justin Hurwitz. Endless encores, please.