A behind-the-scenes teaser for "Pitch Perfect 3" just dropped
Grab a box of tissues, because this might just be the most emotional BTS video ever. It's not quite a trailer, but it's a more intimate view of the making of Pitch Perfect 3. The third installment of the a cappella musical-comedy is likely to be the last featuring the Barden Bellas that we know and love, so watching the video of the cast having so much fun together makes it all the more bittersweet, and we do know that the Pitch Perfect girls have fun together.
Aside from all the melancholy that series endings incite, we can't get too sad yet — because we still have to see the movie!
From the looks of this behind-the-scenes teaser, it's going to be the best Pitch Perfect yet.
The video features Pitch Perfect 3 director Trish Sie (give it up for female directors) giving us a peek into what goes on during filming, and honestly it gives us major FOMO because they're having so much fun.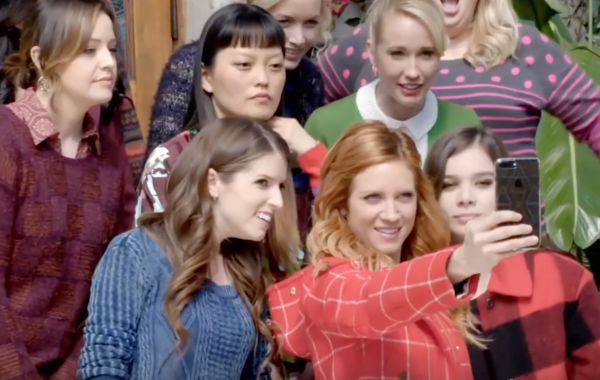 Sie tells us what the movie's going to be about, saying, "We're taking you on a global tour with the Bellas," which sounds really, really good to us. The video includes a compilation of social media posts that cast members have published — as if we haven't seen them all already — but it's fun to see some of the scenes from which they come.
For example, we got a peek at the scene that Anna Kendrick had posted about shooting at 5 a.m. on Instagram, and it looks like it involves jumping into a pool — poor girl! We also got a bit of inside scoop about who John Lithgow's Bella-BFF is.
Sie says in the video, "Rebel and John are just like peas in a pod." She then goes on to say, "DJ Khaled is amazing, he's a force of nature." Because yeah, there are going to be amazing cameos in Pitch Perfect 3!
Take a look at the video for yourself, but get ready to feel sentimental.
https://www.youtube.com/watch?v=vpLRHyenvNM?feature=oembed
We can't wait for the movie — it comes out in July — and, in the words of DJ Khaled, we'd like "another one" after it too, please.