The 96-year-old "accountant of Auschwitz" is now going to jail
The German federal court has ruled that a former Nazi, known as the "accountant of Auschwitz," must serve time in prison despite his failing health and old age. For the role he served at the Auschwitz concentration camp during the Holocaust, Oskar Groening was sentenced to jail for four years in 2015. Now, despite appeals from Groening's lawyers, he will have to serve that time.
In July 2015, a then 94-year-old Groening was convicted on 300,000 counts of accessory to murder. While he never killed anyone directly, he served as a bookkeeper by sorting through the money that was taken from the victims of Auschwitz when they arrived at the Poland concentration camp.
Auschwitz was the largest of the Holocaust concentration camps in which an estimated 1.1 million people were killed. The Associated Press reported that Groening's case specifically dealt with the time period of May through June in 1944. During those two months, approximately 425,000 Hungarian Jewish people were brought to Auschwitz and at least 300,000 were immediately sent to the gas chambers to die.
Groening, who was 21 years old when he began working at Auschwitz in 1942, said he was an enthusiastic Nazi at the time, but admitted at his trial that he is morally guilty. He gained public attention in 2005 when he gave interviews about his work at the camp. As the BBC reported, Groening felt the need to come forward when he heard about Holocaust deniers, since he saw the gas chambers firsthand. He also stated in the 2005 BBC documentary Auschwitz: The Nazis and 'The Final Solution' that when he was a Nazi, he believed he was doing the right thing. The six-part documentary is currently available to stream on Netflix.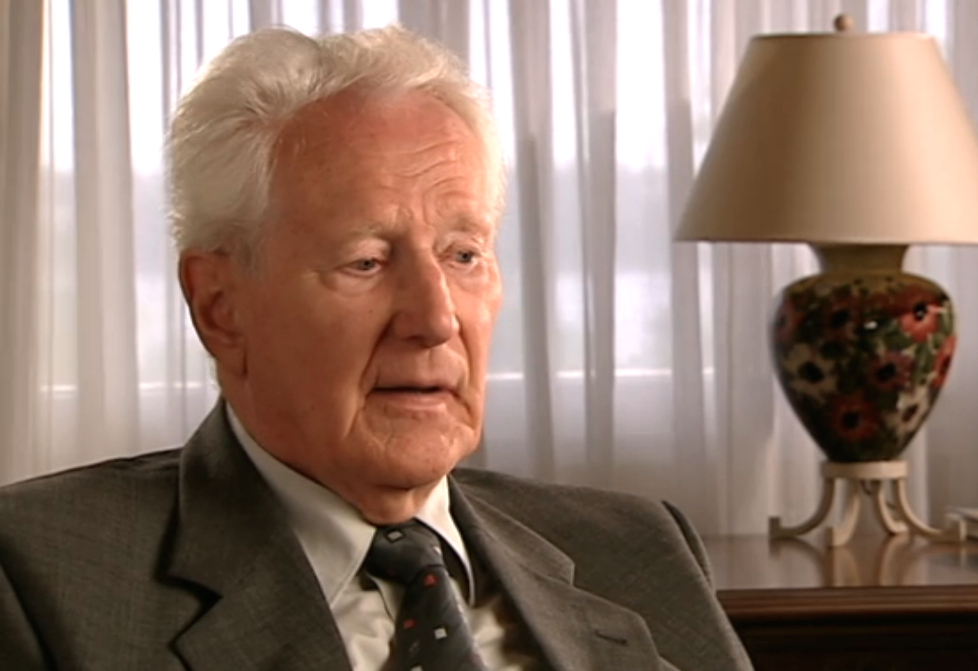 Holocaust survivor Eva Mozes Kor flew to Germany in 2015 to testify against Groening. She spoke to NPR after she testified about her experience at Auschwitz, where Kor and her twin sister were experimented on by Dr. Josef Mengele when they were 10 years old. Kor said:
"If there would be hell on Earth, Auschwitz looked to me like that and in some way it was. Within 30 minutes, my whole family was gone. I was left orphaned not knowing really what will become of us."
She took a photo with Groening after her testimony, which went viral.
She said Groening pulled her in for a kiss, which surprised her. After the photo, some were outraged that she had spoken of forgiveness toward Groening and the Nazis. But she told NPR that just because she chooses to forgive them for the sake of her own healing, that does not mean they are absolved of their crimes. Rather than put Groening in jail, she would want him to travel around Germany and speak to neo-Nazis to explain why there should never be another Nazi regime.
Yet, Germany's federal constitutional court ruling from this December means that Groening will serve jail time. He has been free since the 2015 ruling since his lawyers appealed the sentence on the basis that the 96-year-old former Nazi's fundamental right to life and physical safety was being violated. A lower court ruled in August that Groening was fit to serve and the supreme court in December saw no reason to overturn this ruling.
"The plaintiff has been found guilty of being accessory to murder in 300,000 related cases, meaning there is a particular importance to carrying out the sentence the state has demanded," the federal court stated.
When Groening will go to jail was not specified. The constitutional court also noted that German law states that jail sentences can be interrupted if a prisoner's health deteriorates significantly. Yet, after 70 years, justice for Groening's crimes will be served.